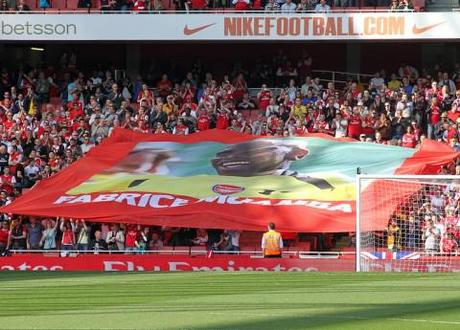 Arsenal fans pay tribute to their ex-player Fabrice Muamba. Photo credit: Ronnie Macdonald
Since 23-year-old Bolton Wanderers midfielder Fabrice Muamba suffered a cardiac arrest during the FA Cup quarter-final at White Hart Lane on 17 March, the football world's reaction to the shocking event has been under the media microscope. Fans and player's response has been mostly praised but there are those in the sports commentariat who increasingly feel it has all become more than a little bit mawkish.
In the build-up to last night's rearranged FA Cup tie, which Spurs won 3-1, both sets of players wore t-shirts emblazoned with the "Uniting for Fabrice" solidarity message. The Daily Mail reported there was a display of "affection, respect and goodwill" at the ground and that Trotters fans sang Muamba's name for 60 seconds from the 41st minute – the time which he collapsed in the original match. Players from both sides will sign their match shirts and then auction them on eBay with the proceeds going to the London Chest Hospital, where Muamba is being treated, and three other heart charities.
Enough with all this self-indulgent schmaltz! In an editorial, The Independent acknowledged that Muamba "deserved every sympathy" but insisted that, "these mawkish displays of public emotion in football are getting out of hand. First came the rash of calls to pray for the sick man. Then last weekend, when Mr Muamba's Bolton team played its first match since his collapse, the midfielder was given the formal one minute's applause that usually honours the dead – despite the fact the 23-year-old was, by then, well enough to sit up in bed and the following morning watched part of Match of the Day." The newspaper argued that, "such mass emoting bears all the signs of self-indulgence. Of course, we all wish Mr Muamba well. Now that he is on the mend, however, he does not need all this schmaltz."
Pray4Muamba: Spontaneous and authentic. At The Guardian's Sport Blog, Richard Williams said the popularity of the 'Pray4Muamba' social media reaction is "both surprising and uplifting." "The widespread exhortation to prayer made an impression even on an observer such as this one, who veers between a vague agnosticism and, in darker moods, outright atheism," wrote Williams. "It seemed an unusually immediate and vivid representation of a reflex rooted in some profound, even atavistic instinct, one that may be rarely acknowledged in the normal course of life but emerges in moments of extreme duress or, in this case, imaginative empathy with a shocking public event." "When it comes to exaggerated displays of mass grief, I find myself sympathising with the view … that such outpourings are fuelled, in the post-Diana world, by self-indulgence rather than genuine sorrow. But the response to Muamba's collapse was surely too quick to have been other than spontaneous and authentic."
Footballing routines resumed. Phew! Amy Lawrence, who reported from White Hart lane for The Guardian, was thankful that Tottenham and Bolton were able to "play out just an ordinary FA Cup tie … For everybody who was here for the original match ten days ago, there could be no greater symbol of recovery. As the players warmed up in the evening sunshine and the crowd filtered into White Hart Lane chattering and cheerfully greeting their friends, beneath the superficial bonhomie was an appreciative relief that everybody was able to gather again for this rematch in an atmosphere of optimism. It could escape nobody who witnessed the moment and the frantic and fearful minutes that followed Muamba's collapse with a cardiac arrest, that but for a whole series of medical interventions this gathering could have happened in the most awful circumstances imaginable."