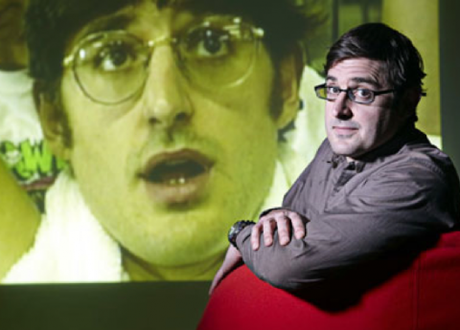 Louis Theroux's new documentary about porn. Publicity still.
The background
Louis Theroux last made a programme about pornography 15 years ago. Since then, he has returned to America to look at the industry, and found it to be in crisis. His programme, Twilight of the Porn Stars, will be shown on BBC 2 on Sunday 10th June. It looks at how the internet has changed the pornography industry: stars are paid much less, and the industry is in crisis. But others argue that in fact the internet has made pornography more mainstream.
Porn has also been in the news recently, with philosopher Alain de Botton suggesting we need a new kind. Read about it on Periscope Post.
Pornography is in crisis
Theroux wrote a long article for The Guardian, in which he said that around 2007 the adult industry had gone into "commercial tailspin" as consumers went for free content on the internet. Consumers feel no loyalty to porn studios; performers find themselves out of work. Companies that remain in business are making "high-end" stuff, with more "female-oriented scenes," as well as parodies such as "Captain America XXX." The sad thing is that now many female performers are prostituting themselves on the side, using their films as adverts. This isn't the same for male performers, who are finding their work increasingly lower-paid. It's hard to see where the hardcore movie business is going to go. Spare a thought "for the legions of performers, qualified for nothing much more than having sex on camera, who have no money saved, and no future." The fact is, it points to a bigger problem – you can't sustain an industry if people are used to downloading things for free.
Pornography has never been healthier
Nonsense, said Gail Dines and Dana Bialer on The Guardian. In fact, the internet is making backstreet players come into the mainstream. This is typical of what happense to industries that grow. In fact, now there are "more professionaly managed businesses" with "a level of economic, political and cultural power that is reshaping the industry." In reality, so-called "free sites" are actually teasers for pay sites – and in fact are owned by the same company – Manwin, which owns Brazzers, Digital Playground (paysites) as well as YouPorn, PornHub, Tube8 and Spankwire (Free.) The industry's "cracking down" on piracy too. Amateur porn, too, is "just another market segment." Finally, porn is being "taken seriously by Wall Street, the media and the political establishment." Porn isn't being sidelined – it's gone mainstream.
Theroux's film is bittersweet
Michael Hogan previewed Louis Theroux's programme on The Telegraph. Theroux finds that of the porn stars he interviewed in his last film, "one has fled, one was sent to prison on obscenity charges, and another has killed himself." Theroux's "trademark gentle yet direct interviewing style is ideally suited" to this subject, and the film is "insightful, sad and wryly bittersweet."
Theroux's views are slanted
Violet Blue (an "expert in the field of sex and technology") on Tinynibbles was not happy with Theroux: "So with his incorrect claims and narrow examination of only one avenue in the US porn market it's readily apparent that he's set to get everything wrong. I'm taken aback that a man who made an exciting career out of questioning assumptions has ceased to question his own." She called his article "eye-opening," said that she was now a "former Louis Theroux fan," and suggested that the reason that he wrote such a "slanted opinion piece" was that he was a "puritan" who supports the UK firewall which would censor porn – because "he can't be bothered to work porn filters for his own kids."