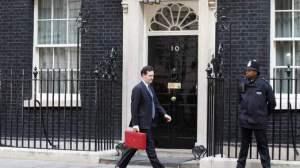 Has George Osborne forgotten to do an Equality Impact Assessment on his budget again?
The chancellor was criticised by the Equality and Human Rights Commission (EHRC)for failing to carry out the exercise to identify whether his 2010 budget discriminated against sections of society.
Today there was no sign of any Equality Impact Assessment amongst the treasury's documents to accompany Osborne's third budget.
Last November David Cameron pledged to scrap EIA's however this has not yet come into force and Britain's public authorities – including Whitehall departments – are still obliged to write them.
A few weeks ago equality ministers Jo Swinson and Don Foster told a meeting of Black, Asian and minority ethnic (BAME) Liberal Democrat activists that EIA's were not being axed despite the Prime Ministers' comments.
Today the treasury's own budget document on the impact on households does not even mention the word equality let alone an EIA, and neither does their document on 'fairness' in the budget.
So have the Coalition already ditched EIA's even before they've been officially binned? It may appear so.
Why does this matter? Well, as the EHRC pointed out in 2010 the budget did discriminate against certain groups. That year the Fawcett Society took out a judicial review over evidence that the budget unfairly penalised women.
More recently the all-party Social Security Advisory Committee pointed out that an EIA by the Department for Work and Pensions proved that ethnic minority benefit claimants were "disproportionately sanctioned."
This is precisely why EIAs are so important. They identify real aspects of discrimination caused by Government and public authorities and give politicians a chance to put it right.
But without information about how policies discriminate it is much easier for decision-makers to avoid taking action, or even claim there is no evidence of discrimination.
With all the evidence of disproportionate discrimination against BAME communities – not least the fact that Black youth unemployment is at 56 percent and Black people of all working ages are twice as likely to be unemployed as white people – it is imperative that the treasury carry out an EIA on the budget to assess whether new measures will increase unfairness and whether the budget does anything to address the existing unequal outcomes.
By Lester Holloway @brolezholloway
Please only click on the maroon-coloured links! WordPress are inserting unwanted ad links in my blog posts which are not maroon.