The big spending club from the north-west did it. On a dramatic last day of the season, full of twists and turns, they finally held on to clinch a historic triumph and deny Manchester United at the death. Full of expensive signings, they had justified the huge investment made in the club and seemed set to go on and dominate English football for years to come. However, the summer saw a reliance on the players who brought them to the plate. A lack of key investment whilst in a position of strength had cost them dear, as hated rivals United recovered to recapture the title and their position at the top of English football.
Whilst I could be writing about Manchester City in 2012/13, I could quite easily be telling the story of Blackburn Rovers in 1994/95. On both occasions, clubs have had the chance to stamp their dominance on the English game and both have come up short.
For Jack Walker, the crowning glory of his multi-million investment in his boyhood club was the league championship success in the 1994/95 season. Lead by the 'SAS' strikeforce of Alan Shearer and Chris Sutton and ably supported by the likes of Tim Flowers, Graeme Le Saux, Colin Hendry and Tim Sherwood, Rovers were a formidable outfit. However, qualification for the Champions League (at a time when it was actually a tournament for league champions only) meant that strengthening would be required.
The decision of Kenny Dalglish to move 'upstairs' and be replaced by Ray Harford may have had an adverse effect on the team. One could also question whether the team thought they had 'done it' and the motivation to retain the title was not as strong as the motivation to win it in the first place. All the more need therefore, to introduce some new blood to ensure a competitive squad for the following season.
It is sometimes forgotten how Rovers were viewed at the time financially. They were believed to have the highest wage bill in the league and paid top fees for players – as the combined £8.6m on Shearer and Sutton proves. To put that into context, you would have to something akin to £85m on that partnership today. Having won the league and with a new manager, this represented the perfect time to spend big and solidify their position as the new flag bearers of the English game and build a dynasty for years to come. Yet all Harford chose to do was to sign Matty Holmes from West Ham. To act as a reminder in the summer of 1995, some of the players who moved clubs were David Ginola, Phillipe Albert, George Weah, Andrei Kanchelskis, Stan Collymore, David Platt, Denis Bergkamp, Juninho, Paul Gascoigne and Ruud Gullit. Any argument that there was no-one available to strengthen or improve the existing squad simply does not hold up. Whether Harford had too much belief in the championship winning team or Walker decided to rein in the spending, the decision taken was clearly incorrect.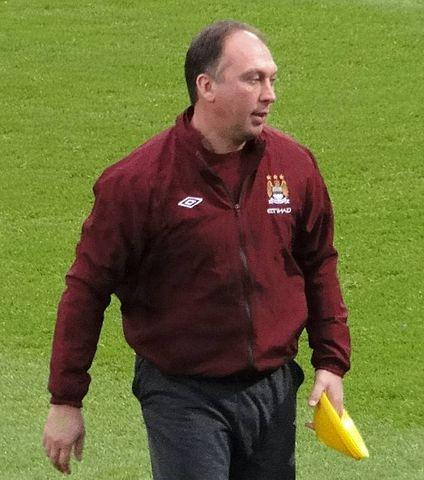 David Platt now coaching at Manchester City. Courtesy of Egghead06
One lesson that Sir Alex Ferguson has learned from the successful Liverpool juggernaut from the 70s and 80s is the need to consistently freshen up his squad. Ferguson has previously made mention of Liverpool bringing in two players and moving on two every summer as a template for ongoing success. Not only does this strengthen the squad, but it maintains competition for places and avoids any complacency starting to creep in. Had Harford strengthened during the summer with Gullit and Ginola for example, history could have been completely re-written. Instead of bombing out of Europe, finishing seventh in the league and seeing star striker Alan Shearer sold in the summer of '96, Rovers could have competed and remained a domestic powerhouse. The decision not to strengthen was fatal.
This leads us to a review of Manchester City's transfer policy last summer. Coming off the back of their memorable title success, City were in the perfect position to strengthen their squad and make a genuine statement of intent. The argument that there was no-one available to improve the squad is a weak one. Zlatan Ibrahimovic, Thiago Silva, Javi Martinez, Marco Reus or Luka Modric would all have been an expensive improvement, but would have ensured the squad did not start to rest on its laurels. The obvious target that City went for was Robin van Persie, but surely once they realised that he was heading elsewhere, a plan B should have been place?
Fingers have pointed at a disagreement in policy between manager Roberto Mancini and Director of Football, Brian Marwood. One would have expected that coming from the Italian system where incomings and outgoings are commonplace (a case in point being Juventus selling both Vialli and Ravanelli having won the Champions League with them), Mancini would have wanted some significant change. For example, bringing in Martinez and Modric while moving out Balotelli would have had a significantly positive effect on the strength of the squad whilst also eliminating the complacency that Mancini has referred to in the likes of Samir Nasri.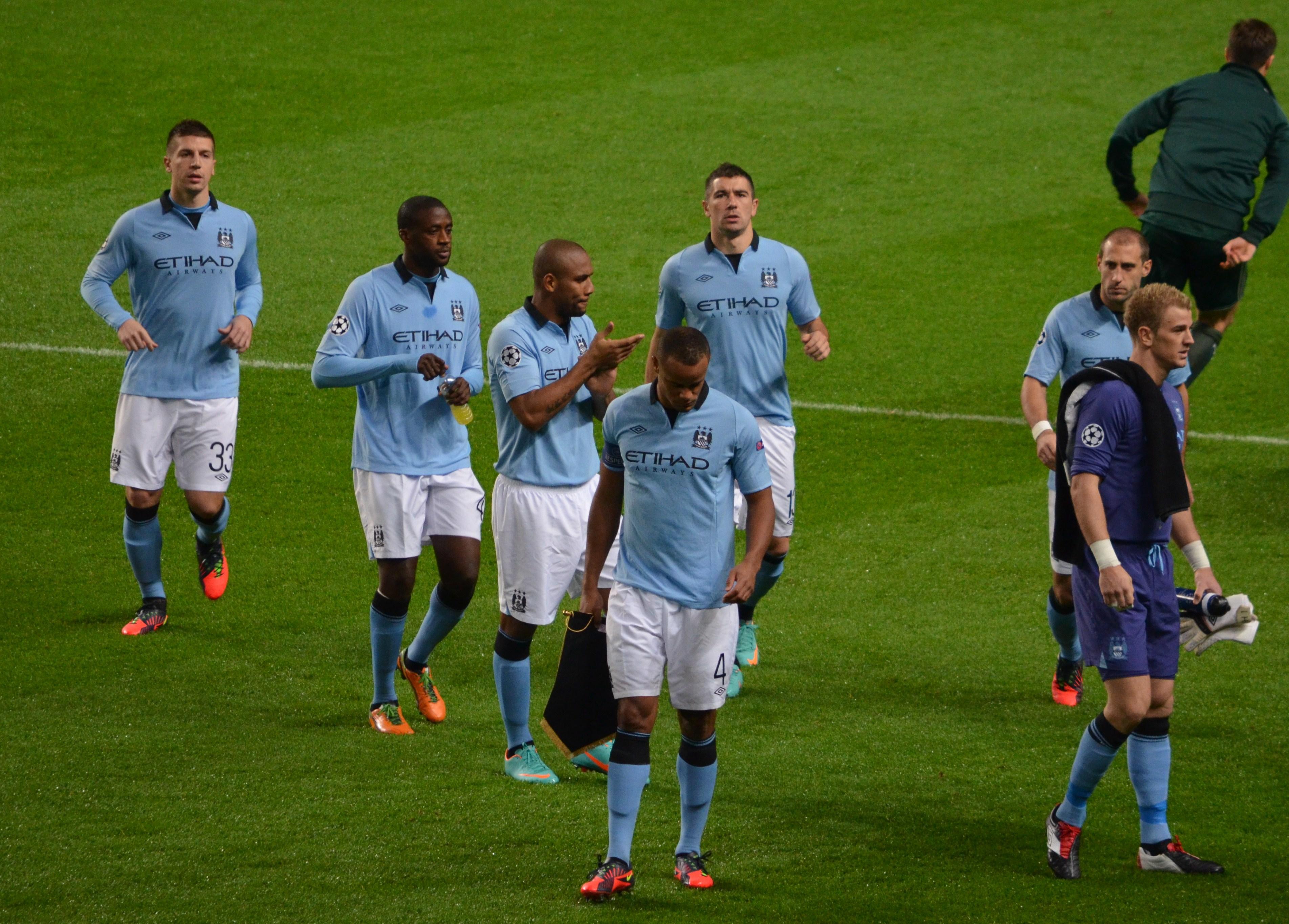 Some of the Man City trooping off after the Champions League game against Real Madrid in November. Courtesy of John Urquhart
Of the players that Mancini ended up bringing in – Maicon, Scott Sinclair, Javi Garcia, Matija Nastasi? and Jack Rodwell, they have started only 42 league games combined at the time of writing and failed to make a real impact on the side, Nastasic being the exception. Whilst having an undoubtedly difficult Champions League group and facing a determined United side in the league, City have failed to capitalise on their position as champions. Whether this means a busy summer for Mancini and co ahead is uncertain, however they will not have the allure of being English champions to attract new talent. The indecisiveness and hierarchical conflict over transfer policy has cost City, just as it did with Blackburn.
The one team (aside from United) who have successfully strengthened their squad from a position of power was Chelsea. Having won the title in 2004/5, Jose Mourinho splashed out £50m+ on Del Horno, Essien and Wright-Phillips, leaving all contenders in their wake and marching to a successive title triumph, the only side to achieve this apart from United. This demonstrates the importance of continuing to improve a squad when in a position of strength. Essien and Wright-Phillips had interested Man United and Arsenal respectively, but it was the champions who splashed the cash and the champions that the players chose to sign for. The following season Chelsea did the same with Ballack and Shevchenko and despite the wisdom of the time that these players cost Chelsea, it was only a Ronaldo/Rooney inspired United who just managed to pip them to the top spot.
One can make an argument for it being more difficult to defend a title, as sides will always raise their game another 10% when playing against the champions. All the more need I would argue, to expand your playing squad with the required quality to cope with these demands. Indeed, many so called experts say that it is harder to win the league the first time and that once you have that experience, it should prove easier to do it again.
Both Blackburn and Manchester City invested heavily in their playing squads and became champions of England. They also had the opportunity to continue to strengthen and build a legacy and to dominate the domestic league. Due to various factors, be it complacency, unwillingness to keep spending or boardroom politics, they both failed. It begs the question, who will be the next team to have their chance at the top and will they learn the lessons of those that have failed before them? Time will tell…
Born Offside