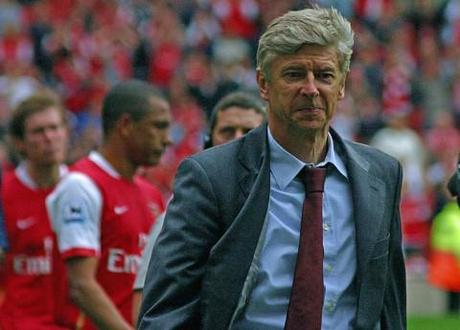 Arsenal manager Arsene Wenger, in happier times. Photo credit: Ronnie Macdonald
Arsenal's 2-1 home loss to Manchester United on January 22 means the gunners have now lost three on the bounce and face an uphill struggle to make the top four and qualify for the lucrative Champion's League. The dip in form has seen once-revered manager Arsene Wenger again come in for stinging criticism from fans of the north London club who have endured six trophy-less seasons.
The latest round of Wenger bashing was triggered by the French manager's decision to substitute impressive 18-year-old starlet Alex Oxlade-Chamberlain with the under-performing Andrey Arshavin in the second half of the Manchester United game. So vociferous was the criticism from the stands that the sports commentariat are wondering if Wenger's hugely successful 15-year stint as Arsenal manager could be nearing its conclusion.
During the Manchester United game, Wenger was subjected to scornful chants of "You don't know what you're doing" from the stands. Such chanting would have been unthinkable at the Emirates Stadium a few years ago.
Wenger losing his grip? At The Daily Telegraph, respected ex-Arsenal player Alan Smith identified five reasons why Wenger is "starting to lose his grip." He accused Wenger of "panic buying" to replace Samir Nasri and Cesc Fabregas, "losing his eye for a player" and refusing to spend big – "if one thing frustrates Arsenal fans more than anything else it is Wenger's reluctance to go the extra mile when pursuing a transfer target. The Frenchman seems fixated with buying at the right price, rather than paying a little more to tie up the deal and secure players who can make a real difference." Smith also suggested that Wenger has been guilty of "tactical naivity … Wenger has never been a tactician. His gifts always lay elsewhere, like earmarking talent and giving it the platform to shine in an open, attacking style. Nevertheless, there are times when the need for caution should not be ignored." Smith suggested that much of the current malaise can be traced back to Arsenal's calamitous Carling Cup final defeat to underdogs Birmingham last season: "Some might say it was only the Carling Cup but that trophy would have lifted some pressure off manager and players and perhaps changed the atmosphere at the Emirates. Instead, the fans trooped away from Wembley wondering how on earth their team had managed to blow it. Even worse, those players couldn't recover. A worrying mental frailty saw their season implode. More worrying still, Wenger was powerless to prevent the collapse, prompting a swell of doubt that is beginning to grow."
"There are few people on earth who would even do a comparable job at Arsenal to that done by Wenger in the last five years, never mind the decade before that. His recent record deserves questioning, but his contribution to Arsenal warrants far, far more respect", demanded Oliver Kay at The Times (£).
Sharpest football brain. Oliver Kay of The Times (£) said "Wenger deserves respect and fewer yes men." Kay accused modern football fans of "ingratitude and disrespect", yet acknowledged that Wenger made some crucial errors against Manchester United: "Wenger's mistake was to forget, or at least underestimate, the corrosive effect that the introduction of Andrey Arshavin can have on a team and a crowd through which panic, anxiety and insecurity spread at an alarming rate, as previously happened with Emmanuel Eboué, Denilson and Nicklas Bendtner on various occasions. With the lively Alex Oxlade-Chamberlain told to make way for Arshavin, the maligned Russian, the most shocking thing was not the volume of the disapproval but the venom." But, regardless of that error, Kay insisted that, "the worst thing about 'You don't know what you're doing' is that it portrays Wenger as some kind of scatterbrained fool. It is certainly legitimate to say that he has shown misplaced faith in certain situations in recent years — in the ability of Manuel Almunia and Philippe Senderos, the long-term development patterns of Gaël Clichy and Theo Walcott, the strength of Flamini's and Nasri's word during contract negotiations — but his football brain remain among the sharpest in the business." Looking forward, Kay said that Wenger's opinions and his philosophy "need challenging at times … What he needs is a strong assistant who can reinvigorate or re-educate the squad in the same way that Carlos Queiroz did upon joining Sir Alex Ferguson at United in 2002."
"The manager and I are fine and my relationship with the club is good", Arsenal captain Robin van Persie told The Sun. "There is no problem, there is no conflict, there is no controversy."
Has Wenger reached the tipping point? David Hytner at The Guardian's Sport Blog said there is "no end in sight to Arsenal's ever-decreasing circles." Arsenal's supporters are "back in mutiny mode and it was a complication for Wenger that Robin van Persie seemed to be on board with them", observed Hytner, who said "Sunday felt like a tipping point for Wenger because the dissent was so vociferous and widespread. Even the supporters who did not chant 'You don't know what you're doing' at him surely asked themselves the question." However, Hytner said that those calling for Wenger's head should be careful what they wish for because, in the Frenchman, Arsenal already have the best manager to steer a club "which is against high-risk spend-to-accumulate offensives" – the framework within which the board want to operate.