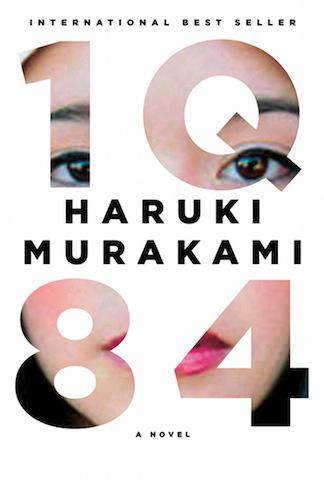 the banal reality of assassination,
the banal reality of re-writing,
the banal reality of Air Chrysalises, Maza's, Dohta's and Paedophiliac Sexual Rituals involving Total Body Paralysis, the Little People and some weird religious cult Leader.
Yes, it's all here in Haruki Murakami's new novel "1Q84" (ichi-kyu-hachi-yon). And for those of you who don't know this, Q is the Japanese way to say Nine, hence an allusion to George Orwell's novel 1984.
The hardback edition of 1Q84 I read contained books One and Two of a Three book series. 640 pages, which I read in a couple of days, so page-turnery and delicious was the insanity of the ride. And there, on the back dust jacket, "the surprising Book Three, which will be released as a separate volume." I never read dust jacket blurbs as they tend to say too much and not enough, and by that I mean, "They tend to spoil the novel I'm about to read, so I tend to shy away from them with a hunger."
Hmm, Book Three was released October 25th 2011. And this one got the Philip Gabriel translation treatment. I've gotta hunt this down, now...