Boredom has been responsible for many things in history. Some say that the reasons the Vikings invaded England was out of boredom of the long Nordic nights and lack of Marmite. Others say that Michelangelo only ever meant to touch up a bit of plaster in the Sistine Chapel but was bored on that Sunday afternoon, and six years later he had finished his masterpiece, the Last Judgement. My story is not really a game-changer, or a milestone in history. Back in December when work was slow I was surfing the FA's website and noticed an advert for the game versus Holland. Two minutes later I was the proud owner of two tickets for the game, my first visit to Wembley for an England game since 1st April 2009 when Ukraine were the visitors.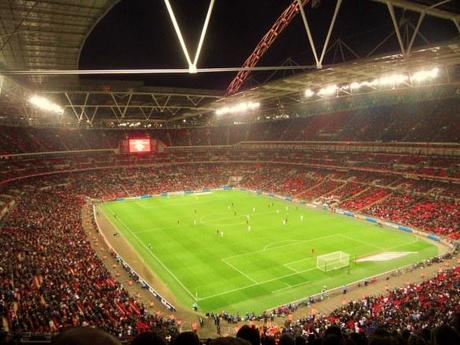 There wasn't one particular reason for my absence. I had actually been to a dozen away games since then. But England and Wembley had never been my favourite couple. Despite a relatively simple journey to and from the stadium (about an hour and one change from home), good ticket pricing (£35 for a good seat), a great stadium (still one of my favourite in the world) and being able to watch some of the best players in the world it just didn't float my boat. Whether it be the poor public transport organisation that sees fans queueing for an hour plus to get into the station post game (more of that later), ridiculous priced food and drink, or the stale atmosphere which is only made worse by stewards who can barely speak English, let along understand the English fan mentality I was just not in love. But perhaps the major issue had been the fact that neither the team nor the management ever appeared to give a toss.
Playing for your country should be the ultimate prize as a professional. But over the years, more and more money has flowed into the game and now an event like a friendly against one of the best footballing nations in the world would see a wave of players pulling out of the squad despite the fact they had played 90 minutes the previous weekend (and would play 90 minutes the weekend after). Playing for the Three Lions badge has simply become another chore for some players.
Perhaps some of this had been down to our recent managers who had all vowed to "shake the squad up" but then publicly talked about Lampard and Gerrard in the centre of midfield, bringing back Paul Scholes from retirement, or even still picking John Terry (and making him captain!). The (enforced) resignation of Fabio Capello for his views on life had resulted in a media clamor for 'Appy 'Arry Redknapp to become the next England manager. When that happens then my next visit to Wembley may be a bit longer than just the 2 years 10 months.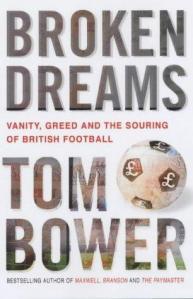 I lived through the Harry years at West Ham. I saw some ridiculous things in his time there, players would arrive for sums of money that made you scratch your head (£4.7m for Song and Camara from Liverpool), then disappear just as quickly. Whilst he managed to maximise some deals such as the one for Rio Ferdinand, there were some right old crocks as well (Gary Charles, Margas and Minto spring to mind). My words here cannot do justice to this period of the club's history but one man can. In 2003 Tom Bowers devoted a whole chapter to Redknapp's time at Upton Park in his book, Broken Dreams which went on to win the William Hill Sports Book of the Year. A summary of the chapter can be found
here
and is really worth a read. It is quite interesting that the clubs he has been involved with have experienced so many off the field issues (West Ham, Bournemouth, Portsmouth and Southampton) and whilst there is no link between Harry and the issues, at Spurs he has worked under Daniel Levy, a man known for his tough financial acumen and control where there has been more stability.
Harry is a loveable wheeler-dealer if you believe his press, and is an image he has never tried to hide. But what would happen if he gets the England job. What impact will he have on our national team? I am still unsure whether he is a good coach or a good general manager. Spurs have had success in breaking the top 4 this year but is that because of the ageing Chelsea team and inactivity at The Emirates to replace players? He has only one FA Cup to his name in the list of honours as a manager in nearly 30 years. Is this the right man for the job?
However, tonight it was all about Stuart Pearce. Again, wrong man in right place at right time? Pearce has hardly covered himself in glory as a manager at Manchester City (or Nottingham Forest when he was the caretaker). His stint at the helm of England Under21′s has seen a golden crop of young players come through but still we have flattered to deceive. In fact he has been a typical England manager – almost faultless in qualifying campaigns before disappointing in major tournaments. But at least there was some consistency. Pearce had worked with Capello since day one and so was taking over the reigns on a squad he was at least familiar with.
It was a baptism of fire for Pearce though, and his potential one game in charge could put him in the same bracket as other caretakers such as Peter Taylor (P1 L1) and Howard Wilkinson (P1 D1) as simple stop-gaps. Holland arrived in town with their FIFA ranking of 3rd best nation in the world fairly reflective of their past few years which had seen them play in a World Cup Final. The squad included 7 players plying their trade in the Premier League including Raphael Van der Vaart and Robin Van Persie as well as Arjen Robben and Wesley Sneijder.
The game was originally scheduled last August but the rioting in London meant that the police had bigger fish to fry than policing Wembley. Timing of friendlies is always wrong, if you believe the Premier League managers. August – too early in season and players don't have match fitness. October – In middle of European campaigns. February – Crucial time of year as clubs about to go for title run-in. May – end of season and players are tired.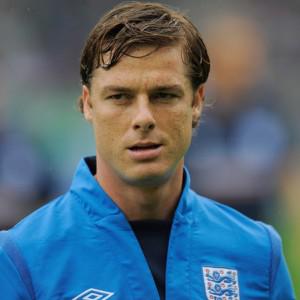 On the morning of the game Pearce earned top brownie marks from most fans and members of the media alike by naming Scott Parker as captain (Trivia fact of the day – Parker is the only international footballer named after two characters in Thunderbirds.  An honour he will keep until Virgil Ti-Tin makes his debut for New Caledonia in a few years). Does anyone, apart from
Andy Hudson
have a bad word to say about Scott? A player who lives his life away from the front pages of the media, who rarely courts attention and can never be accused of giving less than 100%. Normally, when players make the move from West Ham to fierce rivals such as Chelsea, Man Utd or Spurs, the vitriol reserved for them by Hammers fans is spiteful to say the least. Not so Scott. I think most West Ham fans would have shook him by the hand and wished him luck if he popped into the Dog and Duck pre-match last night.
I was taking a Wembley virgin to the game. Chris was over from Denmark doing some work with me and whilst being English, he had been fed on a diet of Handball over in Scandinavia for the past twenty-five years. I raved at the ease of getting there from London Bridge – just 30 minutes to Wembley Park so we enjoyed a couple of pints of George in the oldest pub in London, coincidently called, The George. We hopped on the Jubilee Line at 6.40pm. The sign said "normal service".
At 6.50pm we boarded a train. "Jubilee line has minor delays in both directions due to a failed train at Canning Town"…not sure why it would be delaying trains that were already on the track running westbound as Canning Town is in East London? Well this is Transport for London for you. It got worse.
At 7pm we had arrived at Waterloo. At 7.20pm we were still at Waterloo. Or just outside Waterloo. Driver "Ladies and Gents. We have no idea what the issue is at the moment. Every station platform is blocked."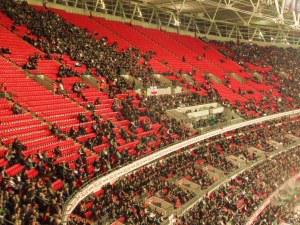 At 7.45pm whilst at Green Park we got a further update. "Green Park Control Room here. There are serious delays on the Jubilee Line. We still do not know why. If you are heading for the England game I am sure you will enjoy the second half." The truth hurts.
So off we got, made three different tube journeys and eventually at 8.25pm we arrived at Wembley Park. Not one member of London Underground apologised for the delays. Despite the fact the stadium looked half full (because thousands were still at various points on the Jubilee/Met Line) there was never a question kick off would be delayed.
England 2 Netherlands 3 – Wembley Stadium – Wednesday 29th February 2012
So after our mammoth trek up the Eigar, we got to our seats at 8.29pm.  The score was nil-nil and the view to our left and right backed up our fans still MITU (Missing in the underground).  By the look of the tweets on my phone it hadn't been the best opening half an hour.  In fact it was so dull that Steven Gerrard got bored (and was still sulking about not being made captain) and walked off, supposedly with a "tight hamstring" a few minutes later.  On came Daniel Sturridge, for what would be a bizarre forty five minutes.
As we all know, Leap Year Day has a tradition for women to propose to men.  We waited with bated breath to see who would be embarrassed in the ground but instead the FA showed us a film of "events" earlier.  A girl was on a tour around Wembley earlier in the day with her boyfriend.  We saw them in the dressing rooms and then they walked out onto the pitch where she "surprised" him by proposing in the centre-circle.  Two things FA – if you are going to try to create a story don't lie to the fans….A message on your website clearly says "TOURS TODAY: Tours are closed on Wednesday February 29th and will re-open on Thursday March 1st from 10:00″ - of course it does – there was an England game being played in the evening. And at what ground can anyone bar the groundsmen get within a foot of the grass, let alone walk onto the centre-circle.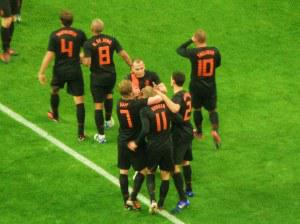 So to the second half.  We had hardly had our money's worth so far so I hoped for my credibility in Denmark would not take a bashing.  Fortunately both teams, probably through the lack of defending certainly delivered on their promise.  After Sturridge had seen his shot well saved the ball fell to Arjen Robben just inside the Dutch half.  He carried the ball forward, and forward, and forward.  At one point it looked like Smalling may challenge him, but instead he just allowed the ex-Chelsea player to skip past him and fire the ball low past Joe Hart.  He had run around 60 yards and not been challenged once.
Two minutes later one became two as Kuyt was given the freedom of the left flank, crossed and Huntelaar headed home, although both him and Smalling received bad knocks in the process.
England looked down and out and when Sturridge missed the kind of chance that would have any manager screaming blue murder it seemed our number was up.  But then out of nowhere the fight back came.  Sturridge was substituted, making his 50 minute cameo all the more strange when he was then named as the man of the match despite contributing very little.  85 minutes gone and a fantastic through ball caught the Dutch defence napping and Gary Cahill was able to turn and calmly slot the ball home.  I still have no idea what the centre-back was doing in a position where a forward should have been.  Four minutes later and unbelievably England were level.  Another smart through ball found Ashley Young in space and he deftly lobbed Stekelburg in the Dutch goal.
Chris was starting to get his value for money (although as he hadn't paid anything for his seat there wasn't any RoI calculation needed).  England looked to come out of this was a credible draw.  But again the defence dithered in the final seconds of injury time and didn't close down Robben again and he brilliantly curled the ball around a defender no more than a foot away from him and into the corner of the net. A goal worthy of winning any game.
We began our trek down to the tube on the final whistle.  Forty seven minutes later we made it onto a train, which of course was then seriously delayed because of another failed train somewhere irrelevant.  During July and August the Jubilee Line will be the main artery for the public transport plan to the Olympic site in Stratford.  Tonight was an example of how badly we can cope when minor things go wrong.
So what did we learn about a new manager?  Pearce certainly showed he was brave in some aspects, picking a young, inexperienced defence and a new captain who overall played well and showed some signs of promise.  But he still showed that he cannot let go of the past by picking Gerrard and then bringing on the same old tried, tested and underwhelming players such as Milner and Downing.  I fail to see what difference 'Appy 'Arry could make to the side to be honest.  I would have imaged his captain would have been nephew Lampard (after all, he does talk to Jamie about footballing matters every day, and we all know how cast iron cousin Frank is in his eyes) but the problem England have is that the available quality pool is simply not big enough.  That is not a management issue but one of poor direction, strategy and decision by our governing body.  And there is not a lot we can do about that today!