Have you been an avid fan of Harry Potter? You must have watched all seven—I mean eight—of its epic movies that really marked the movie industry with such excellence and excitement. If you really are the most avid fan of all, you probably have tried reading its books as well. All seven books must have been your ultimate completion that really marked your enthusiasts concerning Harry Potter.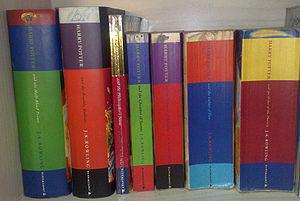 British versions of the Harry Potter series - My own collection by Mo HH92 via Wikipedia
Oh, who would not love Harry Potter? Along with his adventures with Hermione Grainger and Ron Weasley, he completed his quests in defeating Voldemort. From Book 1 to Book 7 simultaneously, you will follow how Harry, from being rejected and left alone became the most powerful wizard who defeated evil sorcery. Surely, you will want to follow his journey by reading his books right?
But relative to English language learning—perhaps even enrolled in language schools, do you know that there is already a recent update about Harry Potter E-books on sale? This update is posted by Charlotte Williams just few days ago.
Isn't this good news to learn foreign languages and make it an inspiring motivation to take foreign languages courses?
According to Charlotte Williams, the e-book editions of J K Rowling's Harry Potter series are now available in French, Italian, German and Spanish (Castilian) for the first time, joining the English-language versions on sale exclusively. The Pottermore shop started selling the English-language editions on 27th March, reporting sales of more than £1m worth of e-books in the first three days, to customers in more than 100 countries.
The e-books are compatible with e-reading devices and platforms including Sony's Reader, Google Play, Amazon Kindle and Barnes & Noble's Nook.
In addition, the Pottermore site, source where you can avail the e-books which CEO Charlie Redmayne said that they are proud to be opening the Pottermore shop in French, Italian, German and Spanish so soon after the English version went live. "This is the next phase in our plan to make the Harry Potter e-books and digital audio books available in every language, on every platform and for every device."