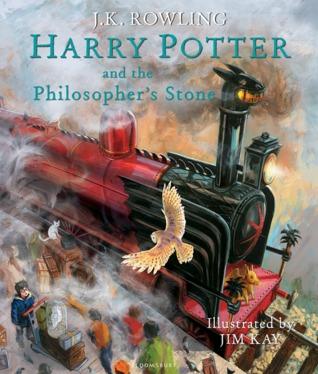 Harry Potter and the Philosopher's Stone (Harry Potter #1)
Author: J.K Rowling
Publisher: Bloomsbury
Pages: 247
Release Date: October 6, 2015
Rating: 5/5
Review:  "Mr. and Mrs. Dursley, of number four, Privet Drive, were proud to say that they were perfectly normal, thank you very much." Is the sentence that shaped my entire childhood and teenage years. That one hook line that I like to refer to as the 'gateway' into the fandom world and respectively catapulted me into the world of Fantasy reading. Although I had read this book several times since I first finished it in 1999, this was an entirely new and amazing experience.
It has never been difficult for me to immerse myself into the world of Harry Potter, but the beautiful illustrations that accompanied the story truly made me feel like a part of it. From the Cupboard under the stairs, to finding the perfect wand, it was almost as though I were experiencing all of these things for the first time.



Reading this book, and once again joining Harry Potter as he discovered things about himself and his past that he never knew. WE ARE HARRY POTTER. We were born and raised in the muggle world and as we read along in the story we too as experiencing Diagon Alley, Gringotts, Ollivanders, Hogwarts all for the first time, as someone who never knew any of this existed. I wouldn't say that I had forgotten what it felt like, but while the movies were an immersion all their own, the book always held the true magic for me and this new edition was precisely the reminder that I needed to bring it all back to life!
If you have not read Harry Potter yet, what are you waiting for? It is not a 'kids book' it is a book, a series that inspired and formed an entire generation! This new edition is also the perfect starting point to inspire an entirely new and upcoming generation. I cannot wait and sincerely hope they continue to release more illustrated editions.
I was part of the generation that got to wait in line for hours just to attend the midnight release for books 4-7 and it was truly amazing, I only hope others, and future generations get the same experience.
Over all? If I could give this more than 5 stars I definitely would, I didn't think it was possibly to take one of my favorite books and make it better but that's exactly what happened. Fantastic! 
Favorite Quotes: 
"Fear of a name increases fear of the thing itself."
"It does not do to dwell on dreams and forget to live."
"To the well-organized mind, death is but the next great adventure"
Recommendation: Everyone. I truly believe that there is something for everyone in Harry Potter.