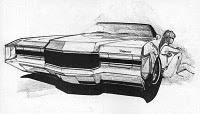 Harry Bradley has been my teacher at Art Center College of Design in Pasadena (here one of his famous drawings) and I decided to tell you about him a bit because he has been for me probably the best teacher I ever had.
Since I often write about drawings, perspective, shading, creativity, skills... I think I have to tell you about Harry.
First of all he was kind of crazy guy with a good humor, but most important he really knew how to teach drawing cars. He would sketch with and for us wih his dark and light graphite old pencils (the yeallow ones remember?), he would take a white paper and start sketching in perfect perspective up side down! Got the point?
Continue reading click:
Harry Bradley car design teacher in ACCD Pasadena