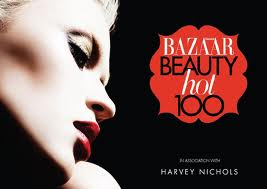 Last night we headed off to celebrate the Harpers Bazaar Beauty Hot 100 at Harvey Nichols Leeds to enjoy an evening of exclusive beauty treatments, cocktails and makeup masterclasses.
The evening's agenda went something like this:
7pm-Champagne cocktails
7.15pm-Aveda hair style demonstrations
7.30pm-Fill in forms (for everyone I know) to win
Beauty Hot 100
7.45pm-Lash lesson at Shu Uemura
8.00pm-Champagne cocktails
8.15-Mini Manicure courtesy of Nails Inc
8.30-Retail therapy at Clinique
8.45-Eyebrow shape
9.00pm-Goody bags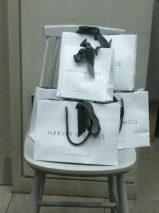 Things I learned:
1)Threading is the fastest route to fantastic eyebrows
2)This season's hottest nail trend is created with a magnetic force
3)The art of applying luscious lashes courtesy of ShuUemura
4)How to pronounce Shu Uemura  
5)The Clinique Moisture Surge lotion that I have been using for a year is not moisturiser, but in fact a moisture lock lotion that is designed to be worn over your normal face moisturiser
6)How much I love freebies/goodie bags
7Complimentary champagne cocktails=Pure
happiness
Tickets were £10 but this fee was redeemable on your first purchase of the night. A lovely night was had by all.