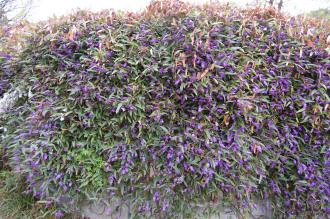 Hardenbergia violacea (04/04/2015, Kyoto Botanical Garden, Kyoto, Japan)
Position: Full sun to partial shade
Flowering period: Late winter to spring
Soil: Moist, well drained
Eventual Height: 2m
Eventual Spread: 1m
Hardiness: 9a, 9b, 10a, 10b, 11
Family: Papilionaceae or Fabaceae
Hardenbergia violacea is a fast growing evergreen twining perennial with a climbing habit. Its dark green leathery leaves are ovate to lanceolate with entire margins, up to 10cm long and 3cm broad. Its purple (occasionally pink or white) flowers are peal like, up to 1cm across and borne in pendent racemes which are up to 9cm long. Its fruit appears as a pod, up to 4.5cm long and contains up to 8 pea like seeds. Its roots are shallow rooted.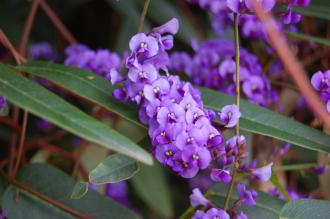 Hardenbergia violacea Flower (04/04/2015, Kyoto Botanical Garden, Kyoto, Japan)
Hardenbergia violacea, commonly known as False Sarsaparilla, Purple Coral Pea, Vine Lilac or Australian Lilac, is native to east Australia. In its native habitat it climbs over scrub planting.
The etymological root of the binomial name Hardenbergia is named after Franziska Countess von Hardenberg, a 19th century Austrian patron of botany. Violacea is from the Latin meaning 'violet coloured'.
The landscape architect may find Hardenbergia violacea useful as an evergreen climbing plant with a long flowering season suitable for growing on trellis'. This climber prefers a sheltered position.
Ecologically, Hardenbergia violacea flowers are attractive to pollinating insects.
The Royal Horticultural Society has given Hardenbergia violacea their prestigious Award of Garden Merit in 1993.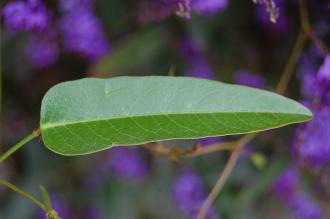 Hardenbergia violacea Leaf (04/04/2015, Kyoto Botanical Garden, Kyoto, Japan)
Hardenbergia violacea prefers moist, fertile, well-drained soils. It prefers a neutral to acid pH of soil. It dislikes dry soils.
Hardenbergia violacea requires little maintenance. Any necessary pruning should be carried out after flowering.