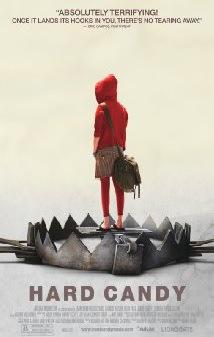 Director: David Slade
Writer: Brian Nelson (Screenplay)
Starring: Patrick Wilson, Ellen Page, Sandra Oh
Plot: A teenage girl raids a man's home, suspecting he is a paedophile, in order to expose him.
There may be spoilers the rest of the review
Verdict: Painfully Thrilling
Story: Hard Candy starts by showing the conversation through the internet between the Hayley (Page) and Jeff (Wilson). The two have a smooth conversation where nothing looks out of the ordinary, until Hayley talks herself into going back to Jeff's house to watch a live music performance. Things start to get uneasy when Jeff starts to explain what he does for a living, shooting models and things start to look like they are going in a certain direction.
Things take a very drastic twist when Jeff passes out after Hayley drugs him, leading her to explain her motives. Hayley wants to expose Jeff but he puts up the argument that he just likes to chat but slowly we see how far Hayley will go to uncover the truth that Jeff is a paedophile. She decides to take out her own means of justice but how far will she go?
Hard Candy is one of those revenge type films but also plays into the idea that Jeff could be innocent and Hayley could just be a psycho. We are left to decide because clues point to both being potentially guilty of more than they are letting on. With just the two characters on screen for most of the film we are left to see how far they can go and the further we get the more intense the story gets. If you do give it a second watch you will pick up on a certain couple of things you might miss in the first viewing too. (7/10)
Actor Review
Patrick Wilson: Jeff the potential paedophile who befriends the young girl, he ends up becoming subject to her own brand of justice. Patrick does a good job in the role where he spends a large portion of the film tied up. (7/10)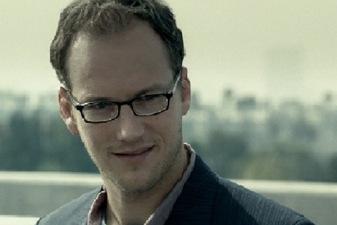 Ellen Page: Hayley our young teenage girl who wants to make Jeff pay for all his action including putting him through certain medical procedure. Ellen gives a good performance in a role you wouldn't imagine seeing someone that age act. (8/10)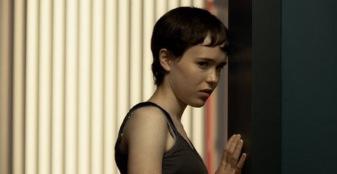 Support Cast: Hard Candy doesn't have a supporting cast of note we only have a couple of scenes where other characters turn up.
Director Review: David Slade – David does a good job directing this thriller keeping you at the edge of your seat throughout. (8/10)
Crime: Hard Candy uses the idea of justice against a potential criminal. (9/10)
Horror: Hard Candy has scenes that will shock giving it the horror approval. (9/10)
Thriller: Hard Candy will keep you guessing to what will happen next throughout and wondering how far Hayley will go. (9/10)
Settings: Hard Candy uses Jeff's house as the main setting which relaxes how his one safe place can turn into a nightmare because of what he might have done. (9/10)
Suggestion: Hard Candy is one for the horror fans to watch but most guys might skip one part. (Horror Fans Watch)
Best Part: The final reveal.
Worst Part: That scene.
Believability: No (0/10)
Chances of Tears: No (0/10)
Chances of Sequel: No
Post Credits Scene: No
Awards: Has won 9 Awards from a mix of small festivals.
Oscar Chances: No
Box Office: $7 Million
Budget: $950.000
Runtime: 1 Hour 44 Minutes
Tagline: Strangers shouldn't talk to little girls.
Overall: Horror Thriller With a Real Snip
Rating