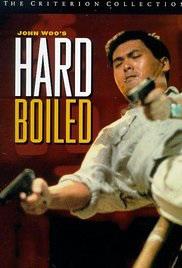 Director: John Woo
Writer: Barry Wong (Screenplay) John Woo (Story)
Starring: Yun-Fat Chow, Tony Leung, Teresa Mo, Philip Chan, Kwok Chun-Feng, Anthony Wong
Plot: A tough-as-nails cop teams up with an undercover agent to shut down a sinister mobster and his crew.
There may be spoilers the rest of the review
Verdict: Just Wow
Story: Hard Boiled starts as Inspector Yuen known as Tequila (Chow) is in the middle of a battle between two different sides of the Triads who are struggling for power in the international arms trade. He loses his partner in the latest attempt to bring members of the mobsters down but knows who are the people in play with Mr Hoi (Kwan) and newcomer Johnny Wong (Wong).
As Tequila gets closer to his answers he learns of the mysterious outsider Alan (Leung) who works on the inside of both sides will be Tequila's best assets when it comes to taking out the mobsters once and for all.
Hard Boiled is an action crime thriller that is just something that leaves you with the feeling of believing the hype. We get non-stop action sequences around the crime story which is easy to follow. The story can come off slightly thin because it is just about cops trying to take down criminals. We don't get many twists because this is all about the action.
Actor Review
Yun-Fat Chow: Inspector 'Tequila' Yuen has been trying to take down the mobsters for years and when he loses his partner he becomes even more obsessed with stopping them. He is constantly being held up by his superiors that are tired of the body counts each encounter leaves but now he is closer than ever with the help of Alan. Yun-Fat is great in this role as we see an action at his very best.
Tony Leung: Alan is working undercover within the mobs, he is doing the dirty work he shouldn't be involved with but it is anything to stay undetected by the mobs. He works with Tequila to finally finish his job. Tony is great in this role coming off cooler than the hot headed Tequila.
Teresa Mo: Teresa Chang is the on again off again girlfriend of Tequila, she doesn't like how much he risks his life if they are to stay together but they do have great chemistry. Teresa is good in this supporting role without doing too much over the top.
Philip Chan: Supt Pang knows both men are trying to take down the same people but isn't willing to let them know each other, he tries his hardest to control Tequila without much success. Philip does what you would expect for the character of authority in the story.
Support Cast: Hard Boiled has a supporting cast which includes the villains that are very typical for action along with the huge body count of victims in the film.
Director Review: John Woo – John gives us one of the most over the top action films ever with so much fire going on from start to finish all shot with the intensity needed for action.
Action: Hard Boiled is filled with the best action sequences you will ever see in film.
Crime: Hard Boiled is a film that is completely about the crime story the cops find themselves in the middle off.
Thriller: Hard Boiled keeps us on edge from start to finish through the story unfolding.
Settings: Hard Boiled uses the setting for added moments through the actions sequences which just adds to everything.
Special Effects: Hard Boiled has amazing special effects for all of the action sequences.
Suggestion: Hard Boiled is one for all the action fans out there to go and watch. (Action Fans Watch)
Best Part: The Hospital sequences.
Worst Part: Some people will say too much action.
Believability: No
Chances of Tears: No
Chances of Sequel: No
Post Credits Scene: No
Oscar Chances: No
Runtime: 2 Hours 8 Minutes
Tagline: As a cop, he has brains, brawn, and an instinct to kill.
Overall: Easily one of the greatest action films of all time.
Rating