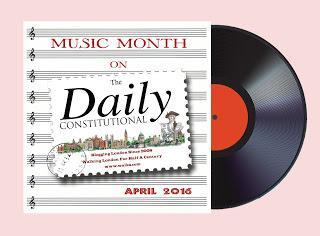 April is Music Month on The Daily Constitutional! And today is the 90th birthday of Queen Elizabeth II.

Happy Music Month everyone!

Happy birthday, Ma'am!

Here's Adam to combine the two events in one celebratory blog post…





Buckingham Palace has, in recent decades, developed strong associations with pop and rock music. The Beatles started it all, of course, but I'd like to begin with the most recent music story associated with the old place – that of Cat's Eyes and their "infiltration" of the palace posing as members of a renaissance music ensemble.
Cat's Eyes are an Indie duo comprising Rachel Zeffira, an opera singer, composer and multi-instrumentalist, and Faris Badwan of East London neo-Punk outfit The Horrors. Here's the film of their stunt, which took place at the end of March this year…


At the Diamond Jubilee Concert in 2013, North London boys Madness took to the roof of the palace to perform Our House – the most gentle, the most jolly, the most thoroughly low-key and British slice of political protest ever. For what is Buckingham Palace but OUR house? Nicely done, gents, made us all chuckle as we sang along. Oh, by the way: the knighthoods are cancelled.


The lads from Madness were not the first to play up on the roof – back in 2003 at the Golden Jubilee, Brian May of Queen, with a little nod to Jimi Hendrix and his take on The Star Spangled Banner, gave it large on a big hearted, passionate version of God Save The Queen…

Back when Jubileees were merely silver and the Sex Pistols roamed the earth, Buck House became the backdrop for a famous punk publicity stunt. The Pistols signed to A&M records outside the palace in March 1977…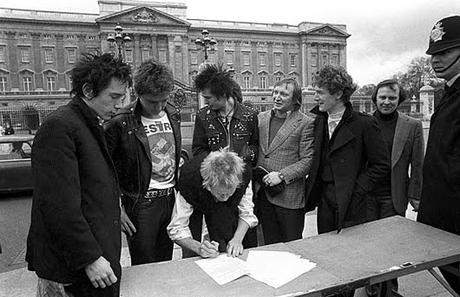 The story of pop and the palace all starts with The Beatles. Back in '65 they received their MBE's from HMQ and one of the best of all Beatle myths was born: that The Beatles smoked dope in the lavs at Buckingham Palace. These days, Paul pours scorn on the tale. What does Ringo have to say on the matter? The perfect 60s response, of course: "I can't remember." 
A London Walk costs £10 – £8 concession. To join a London Walk, simply meet your guide at the designated tube station at the appointed time. Details of all London Walks can be found at
www.walks.com
.