Happy Weekend & NYFW Recap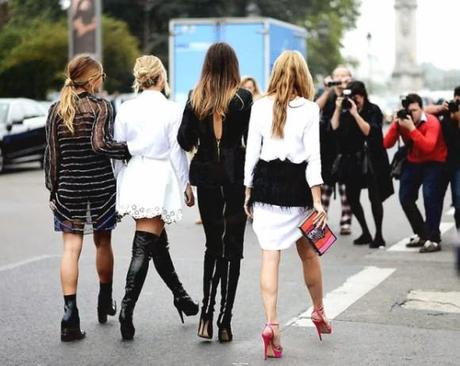 image via
Happy weekend! T.G.I.F. Although this was a super short week, I still love nothing more than the weekends. This weekend will consist of spin, time with the hubby, yummy dinners, late nights and of course sleeping in! Sounds like a dream if you asked me.
Ok, ok skipping around a bit today but I wanted to update you on some of the highlights of New York! Yes, we attended shows, visited showrooms and of course friends but the part that I haven't really talked about is where we ate and some of our favorite New York restaurants!! See below for some of my New York City favorite restaurants!
To Stay: The Viceroy. No if's ands or buts. The Viceroy is amazing. Located right on 57th street (basically across from Bergdorfs) this hotel is the bomb. The rooms are spacious and the bathrooms are beautiful (I can't be the only one who cares about a beautiful bathroom). Oh and the rooftop bar is one of the coolest in the city. Perfect views of Central Park!
To Eat: Wayfarer, Sara Beths (yummy brunch), Catch (best sushi), Claudettes (charming & wonderful menu), Fred's (restaurant in Barney's), Le Bilboquet (they have one in Dallas but the one in NYC is just as wonderful), Bobo (west village brunch hotspot), Tipsy Parson and Kingside (located at the Viceroy)
Coffee Break: Ralph's (Ralph Lauren's latest hot spot that is located on the second floor of his 5th avenue store)
To Booze: The St. Regis (most beautiful bar in the city), Wiskey Park (located in one of Trumps buildings, right on the park and they stay open until 4 AM!), The Roof (rooftop bar at the Viceroy Hotel), Kettle of Fish (total dive bar but super cool) & Smithfield Hill (irish pub)
Happy Weekend everyone! If you are on the East coast I hope you are staying warm! Oh and if you aren't already you should probably follow me on Snapchat (user: dallaswardrobe) as I'm sure this weekend will be filled with many a silly snaps. You're welcome in advance. xx
Best Weekend Sales
Nordstrom:

 Love these MSGM pointy toe pumps, this maxi dress would be perfect for any occasion this spring or summer, this Alice & Olivia dress is so girly (which I love) and this dainty pendant bar necklace would make such a great gift for anyone!

Neiman Marcus:

 This Theory dress is such a classic shape, thinking I just need to add this Milly dress to my closet (SO girly), this is the most perfect summer dress I have seen thus far and these ankle strap sandals are a must have in any shoe collection ($106).

Shopbop:

 This is such a pretty spring blouse, this is the cutest pajama set, this Tibi strappy ruffle cami is probably the cutest thing I have seen in a long time and I have these Aquazzura peep toe shoes in nude and they are my favorites but these are just as wonderful and I think I need to buy!