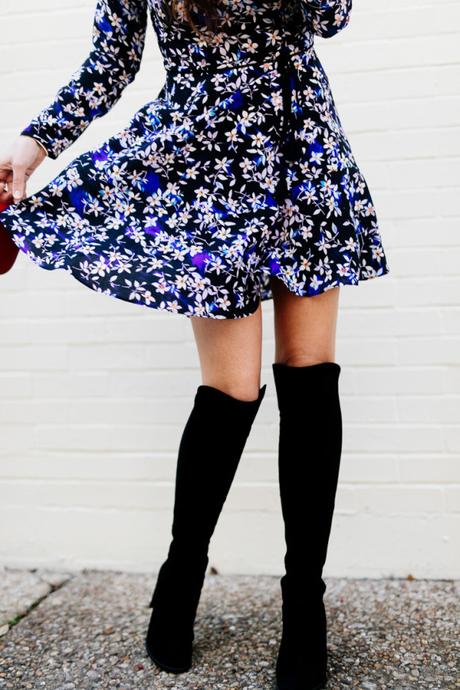 Happy weekend everyone! Who else had a wonderful Thanksgiving? Totally honest, this was one of my favorite Thanksgivings we have ever had. Of course it was amazing having baby Ralph with us but also having all of our friends and family at our house made it that much more special. Plus, the weather was literally perfect, so we ended up spending the majority of the day and night outside!After the fun that we had on actual Thanksgiving, we ended up having a wonderful dinner at Dolce Riviera with friends and then spent the rest of the weekend relaxing around the house. It Truly was a holiday and I hope next year is just as fun!
After the online rush of Cyber Monday, things finally started to feel normal online again. Totally honest, there were SO many sales, I really could not keep up!! I got a few things that I needed (a long dress, stationary and holiday cards) but other than that I really did not do too much shopping. The rest of the week went fast and on Wednesday we had the best time. On Wednesday my mom, grandmother and sister took baby Ralph to visit Santa at Northpark (you can read about it here). After Santa, we all went to a fun lunch and then did a little shopping. It really was the perfect way to get into the holiday spirit!
This weekend is going to be a quiet one for the first time in a long time. Wade and I have no plans tonight and then tomorrow consists of work out, brunch and then a fun dinner with friends!
I hope you all have the most wonderful weekend. xx
Lately
Baby Ralph met Santa for the first time and it was adorable (see photos here)
I shared photos from Thanksgiving here
Have you started your holiday shopping yet? If not I have some great ideas on what to get a hostess here and gifts that are under $100 here!
Obsessed with this navy dress.
How precious does baby Ralph look in these photos?
Best Weekend Sales
Nordstrom:

 I still think everyone needs this dress, obsessed with this pair of classic Stan Smiths and I have this pair of jeans and they are some of my favorites!

Neiman Marcus:

 Obsessed with the color of these Stuart Weitzman over the knee boots, this white blouse is so chic and these earrings NEVER go on sale…perfect for everything holiday and beyond!

Shopbop:

 Love the color of this coat (perfect for winter), the print on this sweater is adorable and these ballet flats look exactly like the Chanel flats except they are only $93!