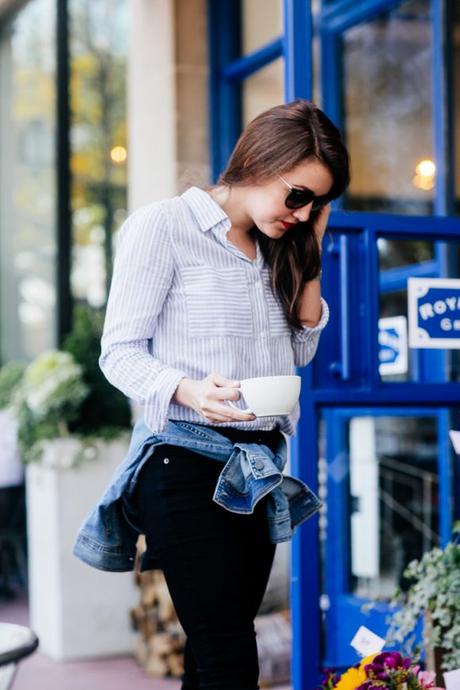 image via
Happy Friday my friends. What a week it has been! From FINALLY announcing our pregnancy (yippie), to discussing what we envision our nursery looking like, prepping our kitchen to me demoed next week, more work than I could dream of and of course trying to stick to a normal routine; this week has been quite exciting.
Yesterday I had my 16 week doctors appointment (I go once a month and have since I was 8 weeks) and thankfully everything is normal, which is always good to hear. We heard the heartbeat which is always so crazy to hear! For those of you who have been asking, yes, we know the gender of the baby and YES I am going to share with you all in the next couple of weeks. Any guesses?
Looking forward to the weekend ahead. Today (Friday), I am having lunch with my grandmother and we are going to pop in a couple of local baby stores that we have been dying to go into. Having not ever been in a baby store while pregnant, I am SO excited to look around! I am so clueless with everything from gear to clothing (specifically sizes), so I am really looking forward to begin learning what will work best for us.
Side note: any tips/tricks/advice/product suggestions are always welcome!
Saturday will consist of a spin class, brunch and running errands. Ever since we found out I was pregnant last November (yes I figured it out when I was only 4 weeks), we have really been taking it easy on the weekends. I have found that if I do to many activities I get a little tired. Sunday we are really looking forward to watching the Super Bowl (commercials) while also packing up our kitchen.
Ok, enough about me. Do you all have any fun plans this weekend?
Lately
Ever wondered how I got where I am today? Sharing my career path here.
You can see our pregnant announcement here!
For $98 this white bell sleeve dress needs to be in everyones closet. It really is the perfect dress for luncheons, spring/summer parties and even for a bride to be!
This is my favorite printed blouse.
In case you had not heard, green is the pantone color of the year! Sharing 10 green things that would be perfect additions to your closet
Curious about how I found out I was pregnant? Read about it in this blog post.
Sharing my current active routine here.
My current go-to outfit is this…
Best Weekend Sales
Nordstrom:

 The back of this sweater is really cute, this should be your new 'go to' little black dress, I need this sweater and the bows on this pink dress are so cute!

Net-a-Porter:

 Love this spring off the shoulder dress, I need a beach dress just to wear this maxi dress, this would make a really cute cover up and how cute is this striped sweater dress?

Shopbop:

 Obsessed with this blue off the shoulder blouse, this dress looks so comfortable, love this white blouse and I have yet to buy maternity jeans but this pair looks really cute (and comfortable)!