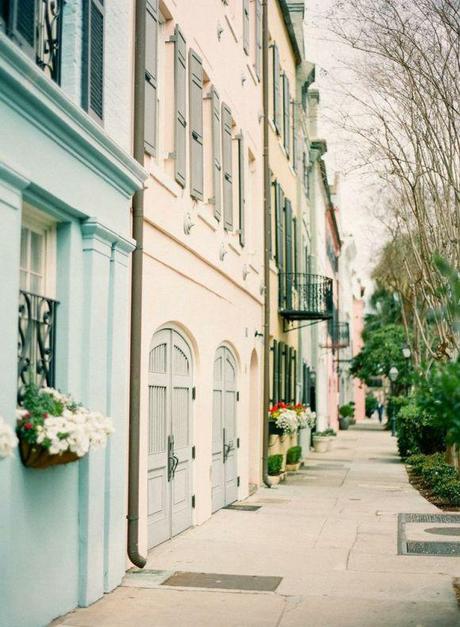 image via
T.G.I.F. Happy Friday! I cannot tell you how excited I am that it is FINALLY Friday. This week has been one of the longer weeks I have had in a long time. Lots of work projects & so many e-mails but thankfully the weekend gets to start a little early since this afternoon (Friday) I am headed to Charleston, South Carolina for the very first time to see the city with some of my favorite babes.
I love exploring new cities and Charleston has been on my list for quite some time. The weekend in jam-packed with so many fun things. Tonight we are having a progressive dinner on Upper King Street, tomorrow (Saturday) we have an early wake-up call (wish me luck) and get to go on a private walking tour of Charleston! I cannot wait to see all of the charm in person and of course walk those cobblestone streets! We will do a little shopping in the afternoon and then Saturday night will begin with a Rickshaw pick-up, cocktails and then we head downtown for dinner! Sunday there is a little brunch by the pool that I know will be so much fun.
Make sure to follow me on Instagram (@DallasWardrobe) for many snaps from my very first time in Charleston! Oh, and if you have any favorite spots (restaurants, shops, etc) please leave a comment as I will try and check them out! I hope you all have a wonderful weekend! xx
Best Weekend Sales
Nordstrom:

 This RED Valentino black fit and flare dress is so pretty, I think everyone needs a dress like this in their closet, I got the Vince version of these slip-ons yesterday. I also think these pointed toe pumps are PERFECT to wear all fall/winter long, I can picture myself wearing this cashmere cardigan all season long & I love these sunnies.

Shopbop:

 I hope you got lots of goodies during their friends & family sale this week…don't worry, if you didn't there are still lots and lots of great things on sale! This pair of Joe's Jeans is a great casual jean that you can just throw on, these pumps are ah-mazing, love this printed flouncy dress and this tote is perfect for carrying everything that us girls carry around.

Neiman Marcus:

 I would live in this Kate Spade flounce dress if I could, love the color (and shape) of this dress, I have a similar (and red) version of this Zac Posen dress and these razor cut sandals are so cute!