I cannot believe a year has passed since this gorgeous Lake District wedding, possibly one of the best weddings in the history of weddings.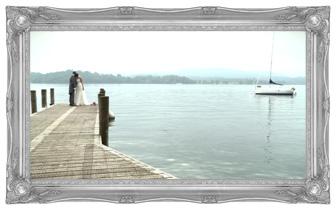 We had such a laugh with the couple and their guests that it really didn't feel like 'work'. Oh, and lets not forget all the reasons we laughed during the day, from the train of the dress getting stuck in the church door (thankfully I was behind her filming to unhook it), the priest being late as he was still getting changed, forgetting to exchange one of the rings, a bridesmaid nearly falling in the lake (there is a rumor she was pushed)…oh, and the day after the groom lost his ring in Lake Windermere. Perfect, huh? I love that they just embraced all the randomness and laughed when it went wrong.
You can read the original blog post here or just watch their wedding highlights to get a glimpse of their amazing wedding day…
Click here to view the embedded video.
Here is what they had to say about their wedding highlights…
"Ahhhhhhhhhhh eeeeeekkkkkkk that is bloody brilliant!! Charlene we love it! So so funny, brought back so many moments we had totally forgot about!
You have made our day and we are gonna keep watching it on repeat! Love the song- never heard it before but think it goes so well. We'll have a think about others and get back to you, now I must go and watch it again!!
Love you!!!"
Happy anniversary Mr and Mrs Cowan. Here's to many more years of chaos and happiness!!
Charlene xx
Wedding photographer – Caroline Hancox
Wedding ceremony – Our Lady of the Wayside, Grasmere
Wedding reception – Langdale Chase Hotel, Windermere
Hair and Make-up – The Hair lounge and Beauty Rooms, Windermere