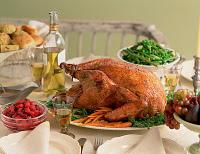 Happy Thanksgiving!
No tennis on the schedule for today. Instead, the usual - run the Turkey Trot 5K with my family, cook lots of super-fattening, super-delicious Thanksgiving foods, eat same, watch football and nap. And think about playing tennis later on.
And, of course, I'm thinking about all of the holiday fun we'll be having here at

Tennis Fixation

. So check back in throughout the rest of the year so you won't miss out.
Have a wonderful Thanksgiving!


© Kim Selzman 2011 All Rights Reserved