I am Irish and I hate corned beef and cabbage.  Good thing that's not actually a traditional Irish meal.  Not that I ate Irish food tonight though.  I did warn my children if they were not wearing green my pinchers would come out.  Since St Patrick's Day has fallen on a weekend we ended up celebrating it uniquely.
Time for a "sleep party"
My 4 year old son has been talking about a "sleep party" for the past week or so.  He has been saying his friends are going to come over and sleep over and I'll make cupcakes and they'll have juice.  And every night his friends don't show up he says it's going to be the next day and asks me to call his friends.  Unfortunately I do not have any of these children's phone numbers.
Big sisters to the rescue
So being that my son is lucky enough to have two fantastic big sisters who look out for him, they said they were going to his "sleep party".  We discussed it and decided we would do it tonight and I would make cupcakes and we would have all sorts of junk food.  Because that's what you do at a "sleep party" right?
Green cupcakes for St Patty's Day
I decided that green cupcakes were in order for the day.  So I got out my food coloring whipped up a white cake recipe I have and made a nice green cake batter.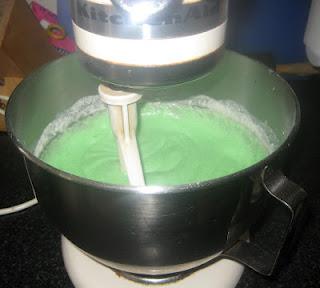 The big girls were skeptical about this, but my son said they were awesome!  I frosted them green and put some green crystallized sugar on top too.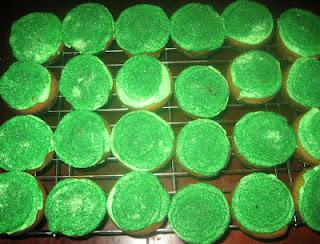 Final outcome

I had to cut it open so you could see the cake was green too...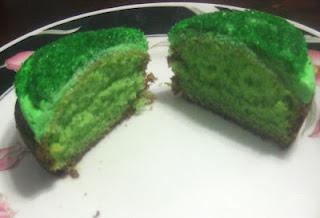 Green cupcake

 Now that's a whole lot of green on one cupcake!
Fun with frosting!
And when you have a party and make green cupcakes with green frosting you have got to squirt the extra frosting in your mouth, right?  Okay, well I do.  And a little dab for their face too...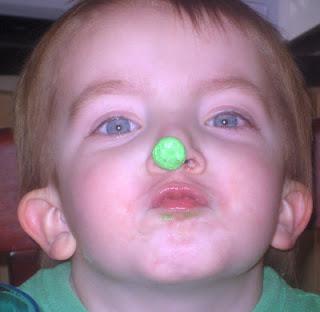 My son with frosting squirted on his nose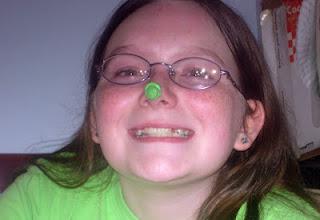 My oldest daughter with frosting on her nose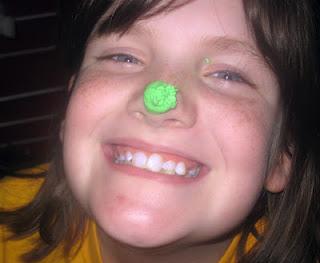 My middle daughter with frosting on her nose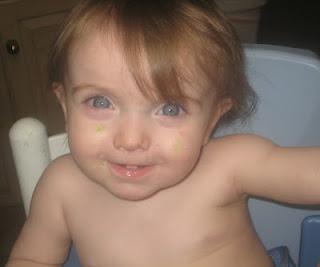 Baby girl, no frosting on her nose, but frosting everywhere else!

What a fun way to spend St Patrick's Day.  The three big kids are still up.  It's way late.  I'm going to go put them to bed in my son's room for the night.  Hopefully they sleep some.  They probably won't.  But that's what "sleep parties" are all about, right?
How did you spend St. Patrick's Day?  Do you want to come over for our next "sleep party"?