Welcome to the first day of March! I'm starting the weekend off with a visit to our local lighting store to look for pendant lights for our kitchen along with a new ceiling fan for the master bedroom. Afterwards I'm going to spend part of the afternoon on a date with my incredibly handsome, adorably cute, rambunctious 1 1/2 year old nephew Noah. The finale will be dinner with Christopher with a movie afterwards. I think we'll watch the nominated Academy Awards film 12 Years a Slave. We meant to see it when it was in the theatres but never found the time.
On another note, I've been on a hot air balloon before, and I always stop and admire one when I see it airborne. Earlier this week I came across this image of a cluster of balloons rising up through the morning mist, and it really captured my attention! I love its play on colors and light. It's so soft and almost surreal.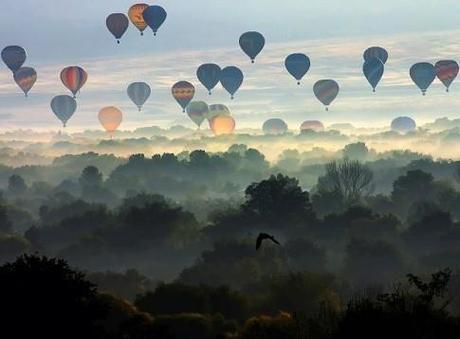 What a glorious experience it must be to see a hot-air balloon festival! Now I really want to see one. I see that the Preakness Celebration Balloon Festival in Ellicott City, MD is coming up in May 15-17, 2014, and that would be a nice one for people in the DC area to see. Others can be found at www.HotAirBalloon.com.
Have a great Saturday.
Simone