"My little dog-a heartbeat at my feet"..Edith Wharton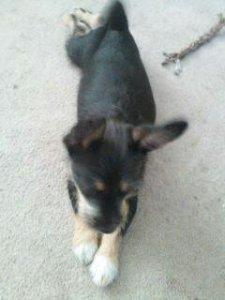 Happy Puppy Day to all the pups out there..but especially my Sweetie Bear..   Adopt a pup if you can….they add so much to  your life and worth every extra minute it takes to take care of them!
I  would have posted sooner but I was enjoying this day with her….We made her favorite..an eggplant parmigiana that is pup friendly…..
Eggplant Parmigiana (pup friendly version)-this one is not fried and does not contain garlic or onions, it does  contain cheese..my pup loves cheese. You can take out the cheese if your dog is sensitive to it..
1 fresh eggplant
1 handful of fresh parsley
1 can crushed tomatoes (!6 ounces)
2 tablespoons of extra virgin olive oil
1/4 cup parmigiana-reggiano
4 ounces shredded mozzarella
Preheat oven to 375 degrees. Slice eggplant into thin slices, set aside. Drizzle some of the olive oil on bottom of pan, place in some crushed tomatoes. Arrange eggplant slices in pan, then top with some crushed tomatoes, chopped parsley, grated cheese ,shredded mozzarella. Keep layering this way, top layer should be mozzarella cheese with tomato sauce
Bake for 40 minutes, cool and serve. I made a side dish of baked chicken breast for my pup since she need lots of protein. Wow..she loves eggplant parmigiana..it is one of my favorite dishes so I love sharing it with her…
Do you have a favorite dish you share with your pup? Share it with us here….in comments..
For more great recipes get your copy of  the gourmand World Award Winning book The Basic Art of Italian Cooking: Holidays and Special Occasions-2nd edition