We briefly interrupt the world of cupcakes to celebrate National Chocolate Chip Cookie Day. Chocolate chip cookies are a favorite American cookie for decades. According to Wikipedia, The chocolate chip cookie was invented by Ruth Graves Wakefield. She owned the Toll House Inn, in Whitman, Massachusetts, a very popular restaurant that featured home cooking in the 1930s. Then chocolate chip cookies became even more popular due to Toll House and Chips Ahoy. The cult hero of chocolate chip cookies is Sesame Street's Cookie Monster.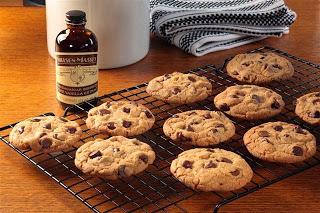 The intersection of chocolate chips and cupcakes happens more often than you think. Chocolate chip cookies are sprinkled on top of cupcakes. There are chocolate cookie dough cupcakes and
Vanilla brand Nielsen-Massey sent us a great chocolate chip cookie recipe.
Ingredients:
Chocolate Chip Cookies
1 ½ c. butter, softened
1 ¼ c. white sugar
1 ¼ c. brown sugar
1 T. Nielsen-Massey Madagascar Bourbon Pure Vanilla Extract
2 eggs
4 c. all-purpose flour
2 tsp. baking soda
1 ¾ tsp. salt
1 tsp. baking powder
1 tsp. cream of tartar
1-12 oz. pkg. semisweet chocolate chips. (2 c.)
Instructions:
Heat oven to 350 degrees. Mix butter, sugars, vanilla and eggs in large bowl. Stir in flour, soda, salt, baking powder and cream of tartar. Stir in chocolate chips. Drop with a #40 scoop (looks like a metal mini ice cream scoop) or a rounded measuring tablespoonful about 2 inches apart onto an un-greased insulated baking sheet. Bake 12 to 15 minutes or until light brown. Cool slightly: remove from baking sheet. Cool on wire rack. Makes about 4 dozen crackly, chewy-crispy bakery-style cookies. They are wonderful!
Recipe courtesy of Nielsen-Massey Vanillas and Renee Hartzler.