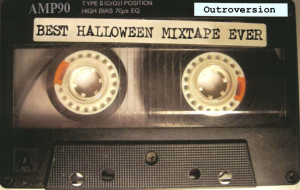 ~
I wanted to check out the old halloween mixtape I made for the blog but turns out it was on megaupload so it was lost. So I went and got all the track and uploaded them to mediafire! 
** FLASHBACK **
Oh MAN do I love halloween! Not because you get to dress up and people have fun with candy and you get to see this picture again but cos it's all dark and creepy :)
My favorite halloween song is this. It's basically clips from Nightmare on the Elm Street (one) the genre is probably acid house or something but I love it!
I mean you probably know by now i'm not into pop music so when i'm talking about halloween music I don't mean the monster mash. I'm talking haunting songs that genuinely unnerve you and make you feel uncomfortable in your own skin :D
haha the smiley faces take on a whole new meaning in this post.
There are some great rock songs that fit here. Feed my frankenstein by alice cooper and Red Right Hand by nick cave is a perennial inclusion in every modern day horror movie but nothing niche. Xiu Xiu's bunny gamer is included here, it'll follow you around like a demon for real.
My whole reason for this post is so I have more halloween music to listen to each year rather than just that one no matter how awesome it is. Originally I was just going to post up a few halloween songs to set the mood but, you may also have noticed i'm a bit obsessive about music and accidentally ended up putting loads of time and effort into it and have now made a Halloween Mixtape which isn't merely a bunch of awesome songs i've also ordered them to create a desired effect. Enjoy!
Outroversion's Halloween mixtape
Emily Axford- King Sized Candy Bars
Alice Cooper- Feed My Frankenstein
Nick Cave- Red Right Hand
O.Children- Dead Disco Dancer
Death In vegas- Aisha (Ft. Iggy Pop)
Dead man's bones- PaPaPower
Say Hi- Spiders
Xiu Xiu- Bunny Gamer
Halloween- Do you believe in the boogeyman?
Charlotte Gainsbourg- IRM
Evangelicals- The Halloween Song
Dead Man's bones- My body's a zombie for you
DOWNLOAD