copyright 2019 Art of Living, PrimaMedia,Inc/Maria Liberati
In honor of the most famous City of Carnevale if you are planning a trip?.. why not Venice. Venice is a city in northeastern Italy that is separated by canals and linked by bridges. It is Europe's largest urban car-free so there are only two ways to get around, on foot or by water. To get around the city quickly you can take the vaporetti, which is a water bus that's affordable. The gondola is another way to get around this city if you would like to have a romantic ride along the canals. The gondola is not as affordable as the vaporetti, but people also use them for weddings and other special ceremonies.
Venice is also known for its' art, architecture, and culture and nearby the island of Murano recently reopened its' glass museum. At this museum you can learn about the techniques of glass manufacturing and admire the art of handmade, colorful glass.
If you are looking for a place to wine and dine, check out Hosteria de Franz. This restaurant takes its name from Franz Habeler, an Austro-Hungarian soldier who adopted Venice as his home. At this seafood restaurant Chef Gianfranco and his son Maurizio prepare the food for their customers. Lastly, hotel Santa Chiara is a great pick for a hotel to stay when visiting Venice. Santa Chiara is the only hotel in Venice that that's offers guests the commodity of private parking if they are arriving by car or motorbike. As you can see is a place that is full of great attractions, for more sightseeing tips check out https://trifter.com/europe/italy/sightseeing-tips-for-your-venice-trip/.
Venice is at its' most colorful at Carnevale
Carnivale Di Venezia, is a very good reason to indulge the culinary senses. As food plays a significant role in celebrations, is there a better time to enjoy the annual apple harvest. The friendly competition of apple bobbing, or as the Scottish refer to it, dooking, remains a favorite. The most memorable part of Carnevale is the food, especially the specialty sweets made for this holiday. Celebrate the spirit of Carnevale by making the Carnevale sweet of frittelle
Ingredients (for 6 people):
Melt the brewer's yeast and sugar with a bit of warm water, then add flour, the eggs, grappa, milk and a pinch of salt. Mix everything and knead it for a while until you see some kind of small air bubbles forming on the surface. Cover then with a napkin and leave it in a warm place to enable it to rise. When the dough has doubled its volume, add the raisins (and pine nuts). Make balls with a teaspoon and gently slide them into the boiling peanut oil (The oil should be deep enough to cover the small balls but do not to put too many of them in at a time). When they rise to the top,, turn them over, so that they brown evenly. Dry them on kitchen paper, sprinkle with icing sugar and enjoy your fritoe! (Venetian dialect for frittelle
For more great recipes for any Holiday or to make any day a Holiday..get your copy of the Gourmand World Award Winning book The Basic Art of Italian Cooking: Holidays and Special Occasions-2nd edition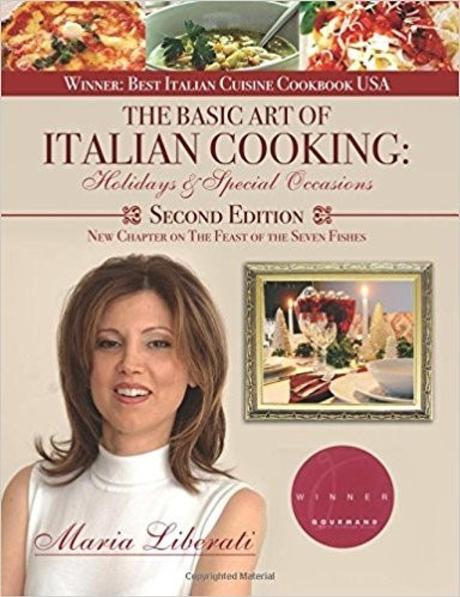 Maria Liberati