Birthday felicitations upon each and every one of you lovely people because today is the sixth anniversary of The Kissed Mouth!  It was way back in 2011 that I started this nonsense and haven't we come a long way?  A new edition of Stunner and two novels later, I feel we have all become such good chums.  I only regret that I can't have all of you round to tea for some cake today, but as I get 50,000 hits on this blog a month, I'm not sure I have enough chairs.  Anyway, I am grateful to each and every one of you for your support because without you I'd just be some strange woman, sniggering at her own jokes.  So what have we been up to in the last year...?
May 2016
Actually, in late April I featured a story about how Jane Morris helped some seamstresses in a time of poverty, which gave me a new respect for the normally silent Mrs Morris.  Into May, and I started with various images of St. Cecilia, playing her musical instruments and dying horribly.  I followed up with a piece about photographic genius Oscar Rejlander and his connection to Julia Margaret Cameron and Freshwater. One of my favorite subjects from last year was next, the story of the Silver Domino, which has to be my image of the month...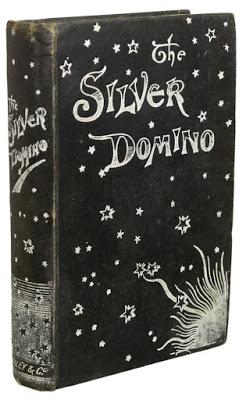 I must try and get hold of a physical copy of the book because that cover is so beautiful, but in the post I provide a link to download it for free. I followed it up with a post about singing, a subject dear to my heart, and of course you poor souls have been witness to my singing on this blog.  I finished the month with a review of the follow up film to Alice in Wonderland, Disney's Alice through the Looking Glass, which was even more bonkers than the first one and had absolutely nothing to do with the books...
June 2016
I thoroughly enjoyed the Tate's exhibition Painting with Light last Summer, reviewed here, so much so I saw it twice.   I also had the pleasure of reading the saucy Victorian shenanigans of Abigail Jones.  We chatted about 'The Gardener's Daughter' by Tennyson and its associated paintings.  Can I just repeat the phrase 'The lime a summer home of murmurous wings'? Goodness me, I may never get over how beautiful 'murmurous wings' is.  It was in June that I ruined my browser history by Googling 'golden shower' for my piece on

Danaë, from which my image of the month comes...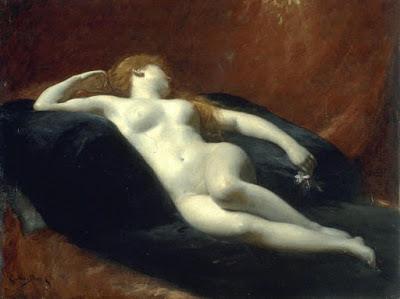 Danaë (c.1900) Carolus Duran
Smashing!  Last on the list for June was a piece on hammocks and the delights of swinging in a garden.  It's such a lovely day today, I wouldn't mind a bit of that right now. Snigger.
July 2016
We started July wondering why Burne-Jones' paintings had people endlessly reaching for each other.  I followed that with a review of A S Byatt's new book on Morris and Fortuny. It is possibly the strangest book I have read this year, not really a biography but more of a personal relationship with the work of the men and their relationship to each other.  Interesting and beautifully illustrated.  It is a very indulgent book, but in a nice way.  It was in July that I found I had never done a post on kissing.  How is that possible?! That was swiftly rectified and much snogging ensued.  In fact, have a bit more...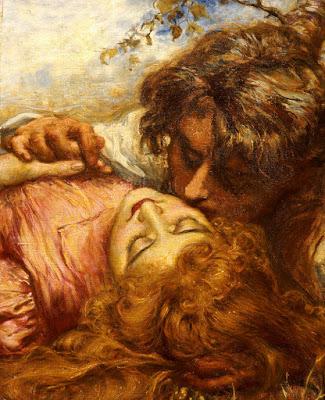 The Kiss Henry John Stock
I also reviewed a tiny book on Julia Margaret Cameron which is a concise version of Virginia Woolf's sort-of biography of her great aunt. Not only that but I reviewed a marvelous novel by William Rose, about The Strange Case of Madeleine Seguin. I also reached my 600th post in July and marked it with a piece all about images of visually impaired people in honor of my gloriously blind-as-a-bat daughter, who absolutely needs no-one's pity.
August 2016
August seemed to be the month I rambled on about my love of Tennyson illustrations, as both this post on 1920s illustration of his work and this one on a 1960s 'Lady of Shalott' occurred this month. I also talked about pubic hair far more than was necessary with a post about hiding your naughty bits in Victorian art. Come on, let's have a bit more nudity, this time with the lady covered up and the gentleman with his winkle out. Makes a nice change...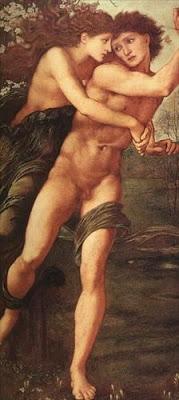 Phyllis and Demophoon (1870) Edward Burne-Jones
Finally, heading into the bank holiday, we visited the exhibition of Georgiana Houghton and her spirit drawings, which was absolutely fascinating and I hope we get more information about her incredible drawings in the future.
September 2016
In September I took up swimming and so obviously did a post about Victorian swimming images. There were a plethora of bathing machines, winsome maidens on rocks and mermaids, which is splendid stuff all round.  I also revealed how Julia Margaret Cameron's maid, Mary Hillier (my current obsession) worked for Tennyson in the place of her sister for two months, and how different those households must have been...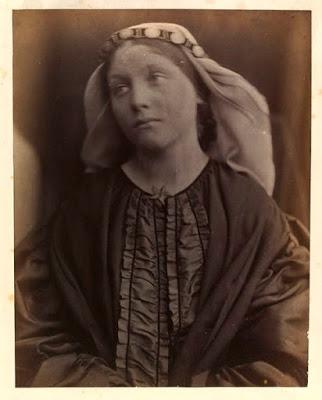 Mary Hillier (1865) Julia Margaret Cameron
Many thanks to everyone who encourages me with my book on Mary and I can report it is coming along fine, although slowly.  Writing non-fiction rather than fiction is a difficult business but I am having enormous fun.  Hopefully I will bring you more news soon...
October 2016
In October my washing machine broke and I spent a short and miserable time being a scrubber.  I have never wanted a mangle so much in the whole of my life.  It was also the month we launch #RememberFanny, about which I hope to talk to you some more soon. Not far from where I live is a railway station in the New Forest which sports a fascinating collection of Julia Margaret Cameron prints in honor of when she used to cross from there to the Wight, so we went and had a look at them.  It was also the month that I published this piece about what should and shouldn't be talked about in biography (a subject I would return to).  It was in response to a piece I had written on Beatrice Offor, which had led to me getting some particularly nasty emails from an apparent descendant of the artist who didn't like the fact I had reported (from facts, you know me) that someone had died in an asylum and Offor herself had committed suicide.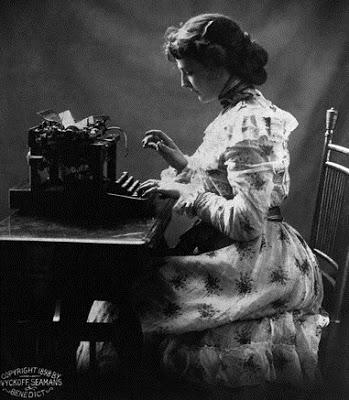 'Dear Ms Stonell Walker, me and my mates are coming round to duff you up...'
 I removed my piece on Offor because honestly, I get enough hassle from overly-intense people about subjects I really care about, but the whole encounter would give me a taste of what was to come when I reviewed Victorians Undone.  Ho hum, we live and learn. Anyway, the last piece from this month was a review of the utterly splendid The Last Days of Leda Grey. Spoiler alert - I only ever review books I really enjoy or that fascinate me, so if you see me reviewing something it's because I have something positive to say.  I can never understand people who go out of their way to be mean and critical about someone else's work. As we say in our house, people can be terrible, I'm glad we're not people.
November 2016
I told you about my exhibition of drawings by Violet Manners this month, which was a great honor for me.  This is the first time I have ever curated an exhibition and it was a pleasure to see the utterly gorgeous drawings and get to handle things like Violet's daughter Diana Cooper's note about the collection that were given to the Russell-Cotes.  The exhibition is coming down shortly but has been an education indeed. At the same time, the Russell-Cotes ran an exhibition about modern art from their collection and as a firm Victorianist, even I feel utterly swoony when faced with pictures like this...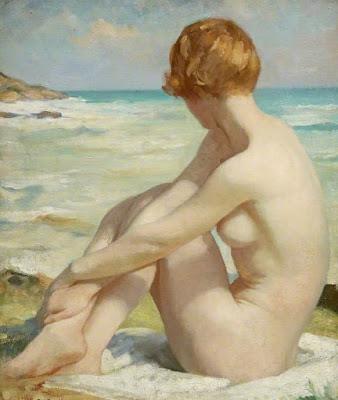 The Bather (c.1930) Thomas Martine Ronaldson
I rounded off the month by freaking us all out with a collection of dolls. Sorry. Dolly's secret is she will come for you in the middle of the night and the last thing you will feel is little cold, china hands.  Sorry again.
December 2016
This year's Blogvent went all classy with angels, a whole bunch of them.  What is the collective noun for angels? A flapping? A judgement? Apparently it is choir (predictable) or pinhead (oh, I like that one).  So I brought you a veritable pinhead of angels, my favorite being this one...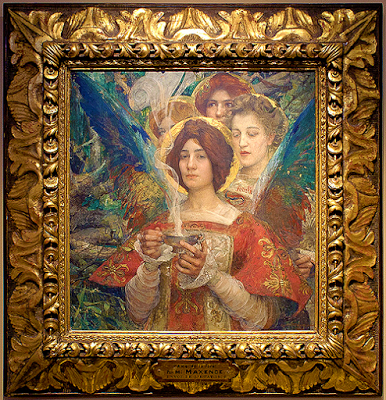 The Soul of the Forest (1898) Edgar Maxence
Such lovely parrot-y wings!  I also wrote a short story about murder, ghosts and avenging angels, which I enjoyed doing very much and so I think I might do that again this year, possibly around Halloween.... We rounded off the year with a collection of frankly odd New Year cards.  Happy 2017...
January 2017
We kicked off the new year in traditional fashion - with fresh fruit.  I finally got round to doing a post on pineapples in art, which is typical of how I work.  I get an idea then it might take me months to find all the images I'm after. I wrote a very personal piece about how lonely it can be to research and how it feels when the subject of your devotion becomes popular. It is hard to share, but in sharing, you find people who are like you in wonderful ways. Writing this blog has put me in touch with people who have become very special to me because although we live far apart, we share the same obsessions. Here's me and Fanny...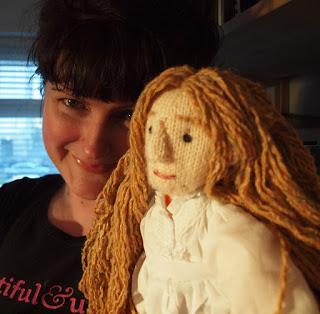 Anyway, I ended the month with a piece about the passing of Jane Morris, and I realised how many of the stunners died in the first couple of months of the year.  Strange but true.  Moving on...
February 2016
I started the month with a couple of reviews.  First, I visited the Lockwood Kipling exhibition at the V&A and discovered Mr Kipling and his exceedingly good art and design.  I also reviewed Victorians Undone which was an argumentative week of my life and I apologize to everyone who had to talk to me.  I still can be set off just by mentioning it.  It's both a great and disturbing book that says more about what we as readers want to know than it does about the subject of biographies. I also talked about the Keown family, subjects of Julia Margaret Cameron's photographs like this one...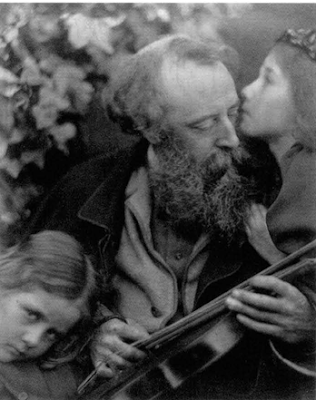 The Whisper of the Muse (1865) Julia Margaret Cameron
Finally this month marked the second time we could remember Fanny Cornforth on the anniversary of her death. I talked about how you should always question everything you are told, especially if it makes no sense.  Fanny's contribution to Rossetti's life and memory is now being acknowledged and so my work here is done.  Actually, it probably isn't.
March 2017
In March, I shared some massively disturbing images of Medusa because I'd seen them and I felt the need to inflict them on you lot too.  Blimey, some of them will stay with me for a while... Also, I finally wrote a piece I'd been working on for absolutely ages, on the Celtic Revival artist Meave Doggett.  She brings us the image of this month...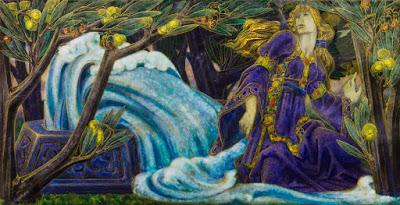 The Lady Shinain at the Well of Knowledge (1905-15)
Remember, if you see a Meave piece in a collection, give me a shout, as I'd love to know of others.  Her story is very typical of women artists in the past, as her art was forgotten in favour of other, mostly male, artists.  The reasons women don't continue their work are many, but maybe Meave gave up art for love.  When her husband returned from War, his injury might have been the inspiration for her change of career into physiotherapy.  Either way, Meave's work is gorgeous and it was a pleasure to find out more.
April 2017
So here we are, April, this month.  I've brought you women hacking off heads this month.  What more do you want? I didn't realize there were so many images of Judith and Holofernes and they are so gorgeous!  We also explored the new exhibition at Tate Britain all about the history of queer art, from 1861 to 1967.  That century held some gorgeous pieces and brought me together with my new best friend, Gluck...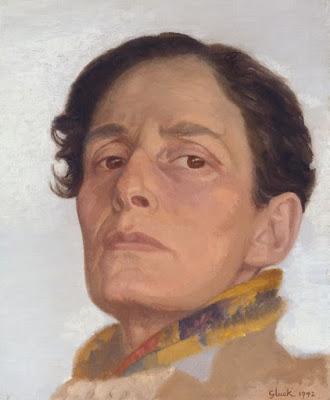 Self Portrait (1942) Gluck
Well, that's our sixth year together all summed up, so me and Gluck will leave you to it while I go off and write up a big post for May.  It truly is a pleasure and an honor to write my posts for you to read and love hearing from you.  Some of you have been here for six years, some might have joined us for the first time today, but all are welcome.  See you again soon...