This past week was my birthday.  I love birthdays.  It's one of the few days (Mother's Day is theoretically one of those days) I can sit and read a book, not cook dinner, throw off as many responsibilities as possible, and not feel guilty.  Brandon thinks I'm self-indulgent, and I agree with him.  It's great to be self-indulgent every now and then.
The day started out well, with homemade crepes with raspberries and whipped cream for breakfast, lovingly made by Brandon.  After the house was straightened up for the day, the children and I went to the botanical gardens to enjoy the lovely sunny day.  The gardens were, of course, deserted so they had a great time riding their bikes through all the paths and trying to find somewhere new.  We visited the peacocks, went to the children's favorite swing, and enjoyed a lovely morning out.
After dropping the children at home, I went to lunch with friends.  We had a marvelous time together and got so loud that we had to be shushed with the wait staff.  I love the friends I make in the Foreign Service; after a few months it feels like we've known each other for years and after a year it feels like half a lifetime.  Everyone is always up for something fun, and there's no time for snubbing or being mean.
I finished out my afternoon with a nap and a good book.  While I was gone, the girls had been busy making me a card, a coupon book, and cookies.  It's so sweet to see how much fun they have and how hard they try to make my birthday a special day.  I'm pretty lucky to have my wonderful children and fantastic husband.
Brandon and I celebrated my birthday Friday night by checking into a local hotel and leaving the children with our long-suffering housekeeper.  There is nothing more luxurious than, after sleeping in,  having someone else bring you hot chocolate, crepes, eggs benedict, and orange juice for your breakfast (and picking up pastries and sausages yourself) and then eating them all without having to get up a single time or feed another person.  I'm not sure why we took so long to figure out the in-town getaway, but they are awesome.
For my present, Brandon and I went art shopping.  I have a fondness for local traditional artwork, so we met with a local artist who is a master in kundal painting, a painting unique to Tajikistan.  It didn't take very long to pick out my present.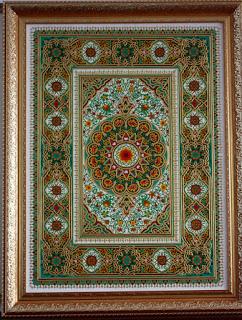 I know everything we have is just stuff, and could be dropped in the ocean or burned up without any notice, but I like having pretty things.  
I'm quite happy to be another year older and have all of wonderful experiences that I've had over the last year.  One day I may not be so happy about those years adding up, but for now I'm not complaining.