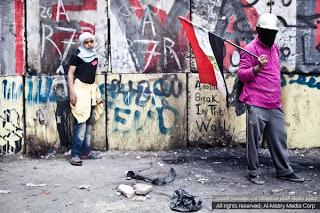 Destroyed wall in Qasr al Aini street
Today marks the second anniversary of the Egyptian Revolution. January 25, 2011 marks the day when the Egyptian Revolution really began.  Protesters took to the streets demanding "bread, freedom, and social justice." The protests would last 18 days, ending with the fall of former President Hosni Mubarak.
Where is the country of
Egypt
now? Some things in Egypt are much improved. The press is much freer. Women have used the opening up of discourse to raise some important issues that require discussion, such as the role of women in Egyptian politics, and the high rate of sexual violence against women in their country. Issues of inequality have been pushed to the fore, and there are signs of democracy. A parliament was elected, if only temporarily, and a president was also elected. These are promising improvements.
This has been a violent birthday for Egypt.
There were calls for major protests in Upper Egypt, Nile Delta and the North Coast, including the governorates of Aswan, Qena, the Red Sea, Assiut, Minya, Gharbiya, Kafr al-Sheikh, Damietta, Daqahlia, Suez and Alexandria, and of course, Cairo. Protestors are chanting "Bread, Freedom, and the President lost legitimacy." Others are waving signs saying the Revolution continues. Scores are dead. 
There are tensions between the ruling Muslim Brotherhood and more liberal and revolutionary groups. Clashes have erupted today in Suez and Alexandria. The Muslim Brotherhood has not participated in protests, organizing charitable activities in major cities instead. Many protesters are chanting slogans against President Mohamed Morsy, the Department of Interior, and the Muslim Brotherhood.
The National Salvation Front, led by Mohamed El Baradei, called for protests targeting the domination of Egyptian politics by the Muslim Brotherhood. Police have been firing tear gas on protesters. Hamdeen Sebahi and Khaled Ali also participated in the marches, along with other leftist leaders, and Abdel Fotouh.
Most of the media is going to focus on the challenges facing Egypt now, as well they should. I have said it before, and I will say it again, massive social change, such as the change Egypt is currently undergoing, is a time-consuming process. The French Revolution lasted at least 10 years, from 1789-to 1799. France required two more revolutions 1830 and 1848 before the modern country we now know took shape. Indeed, conservatively estimated, the American Civil Rights Movement took from 1955-1968, or thirteen years. Social upheaval is a time consuming process. A Luta Continua.