Today my polka dot princess is six years old…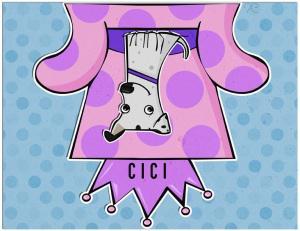 While I love this cartoon of Cici and think it is adorable, love the colors, the throne, her ears and spots, it does not quite capture the essence of my dog's quirky and goofy personality…  so I posted it upside down, because that is how Cici most likes to be.
Here is the artist's info…
web page: www.cutecartoonportraits.com
etsy: http://www.etsy.com/shop/CuteCartoonPortraits
Coupon code entitles you to 25% off the ENTIRE order… Put in the code 25OFF at checkout
and here is the princess herself… if you'd like to wish her a Happy Birthday, please feel free in the comments below…
here's more photos of my girl…
http://celiasue.com/photos/
How shall I spoil her today??? how do you spoil your dog?  do you have a birthday party? bake a cake?  take your dog some place special??
if you'd like to send her a gift, please feel free to drop a few into our paypal account or email me for our address.
Thanks !!