This year Kathleen turned ten years old.  In some ways this is pretty crazy - a whole decade!  Double digits!  The beginning of the end (or rather, the Troublesome Decade).  But also, I've been thinking of her as ten for several months now, so it isn't that shocking.  Only two more years until babysitting age (or maybe less, if you live in a country without CPS).  But I think we're all pretty happy with Kathleen turning ten - most of all Kathleen.
To celebrate we went out on the town.  Brandon's parents live in southwest Missouri, fifteen miles from the nearest stoplight (it's awesome, I know.  I'm jealous every time we visit), so the nearest town is Joplin, Missouri.  We started off the morning at Best Buy, looking for a UPS that works with 60 Hz power, but didn't find one.  But it was okay, because, America!  The kids had a great time looking at the big TVs and nifty electronic toys and all of those consumer electronic things.
Then we went to the mall.  On our way there, Edwin asked where were were going.  "The mall," I told him.  Puzzled, he looked at me, "What's a mall?"  Ah, the life of a child living in Tajikistan.
The children had a great time wandering around, looking at all the things money can buy.  They played at the play area and watched the guy at the drone store fly his amazing drone.  We got Kathleen's battery replaced on her watch and Joseph stared longingly at the candy machines.  It was very much fun for everyone.
We made a quick stop at Wal-Mart so that Kathleen could pick out her birthday cake.  Since I was too lazy busy to bake one, she got to pick any cake she wanted.  I'm a great mom like that.  And then, to top it off, everyone got to choose a box of candy from the candy aisle to sneak in to the movie.  There's nothing like a superabundance of sugar to make birthdays great.
After that was The Secret Life of Pets.  The last movie we saw in a theater was Frozen (and the one before that Tangled), so we figured we could splash out.  Ninety-five dollars later everyone was in popcorn-soda-movie theater heaven.  I managed to choke down the shock enough to enjoy the movie, which the children, of course, thought was hilarious.
Since every birthday should include a visit to a medical practitioner, we went and got our yearly eye examination.  This year Edwin was added to the roster and I was impressed as the office marched five of us through exams in an hour and a half.  Kathleen braved the Dreaded Eye Puff and got to pick out new glasses as a reward.  Edwin and Sophia escaped without glasses this year, but were warned that it was only a temporary escape.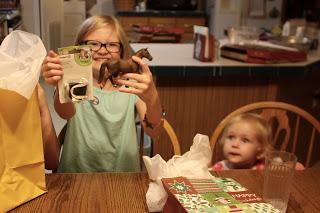 Then we finished with a pizza party at Grammy and Grandpa's house, followed by the best part of the day - presents.  Kathleen, being a grateful girl, was thrilled with her presents.  There's always something magical about getting toys just because you're another year older.  Sophia had very carefully chosen a horse with blanket and halter while we were in Frankfurt, which went very well in the horse trailer Brandon and I purchased for her.  Brandon's parents gave her a doll and her two oldest cousins (who were helping out their grandparents for the summer) very kindly gave her some clothes for the doll.  And to finish it up, my parents gave her the Harry Potter books.  I keep wondering when Kathleen will longer like toys, but I guess this year isn't the year.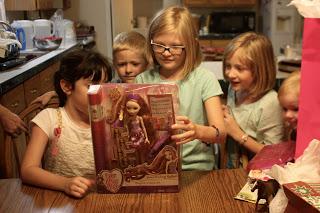 The day was, according to Kathleen, "the best birthday ever!" - which is the same thing she says every year.  I'm grateful to have such a sweet, loving girl who really wants to do the right thing and take care of those around her.  Happy Birthday, Kathleen!