Glasgow Rocks the Hard Rock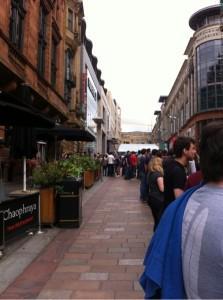 Waiting for opening time
© Food and Drink Glasgow Blog
1971 prices were the attraction on Saturday with Hard Rock Cafe Glasgow celebrating 43 years of HRC. Started by Americans Isaac Tigrett and Peter Morton, the first Hard Rock opened in an old Rolls Royce dealership on Park Lane in London. There are now 175 restaurants in 55 countries.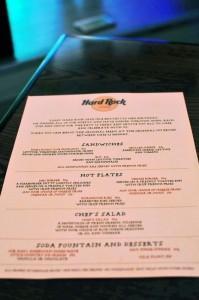 Birthday Menu
© Food and Drink Glasgow Blog
But for one hour only on Saturday, diners tucked into into a burger for just 50p as Hard Rock Cafe turned back the clock to 1971. We started with a cola float (25p) and an Island Spice Cocktail (Captain Morgan Rum, Monin Ginger Liquer and Monin Vanilla – £6.95) Mr Foodie is not a cheap date!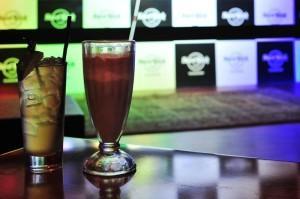 Cola Float and Island Spice cocktail
© Food and Drink Glasgow Blog
The float was amazing, just like the ones I used to make. We were still stuck with the menu. Even thought the choice was limited, it was hard to pick. The BLT passed by and looked full to the brim, the ribs looked lip smacking. We went for the ribs (80p) and a burger (50p) with a splurge to add Swiss cheese ( extra 10p).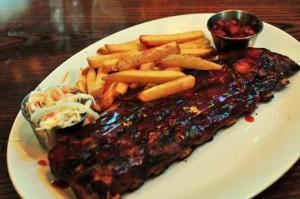 Ribs
© Food and Drink Glasgow Blog
Good size and came with fries, slaw and BBQ beans – can't knock that for 80p! The burger came with fries and HUGE onion and tomato slices.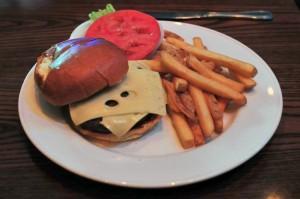 HRC Burger
© Food and Drink Glasgow Blog
Stuffed with the portions (and the cola float), we decided to share a hot fudge sundae (40p).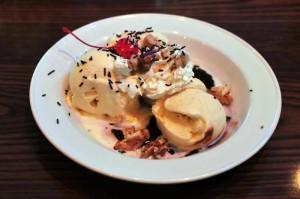 Hot Fudge Sundae
© Food and Drink Glasgow Blog
Full of whipped skooshy cream, ice cream and a splodge of fudge.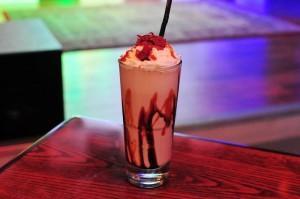 Twist and Shout Shake Cocktail
© Food and Drink Glasgow Blog
A twist and shout shake (£7.25) for the man. Rum, Guinness, ice cream, caramel sauce, chocolate sauce topped with whipped cream and bacon pieces – is there anything bacon doesn't go with?!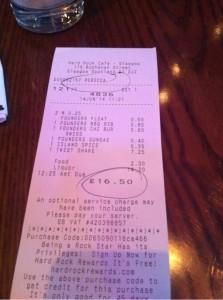 Receipt
© Food and Drink Glasgow Blog
At £16.50 what a feast, and sorted out Mrs Foodies aim to have more money spent on booze than food on a receipt – we might have to try this again with some real prices!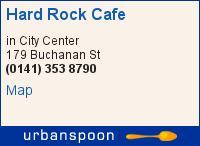 }