This week Eleanor turned six.  Uzbekistan has loosened up their lockdown this week, but all the fun places are still closed.  It made for a pretty quiet birthday celebration, but we were still able to help Eleanor feel special for the day.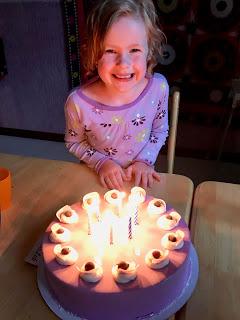 She got to have her favorite breakfast (apple cinnamon rolls), play birthday princess dress-up with her older sisters, have a family pool party, and order schawerma for her birthday dinner.  She also received a visit from our newly-emancipated Russian teacher who brought candy and a new tortoise.  When I asked her what kind of cake she would like, she opted to buy one from a local cake store instead of having me make one.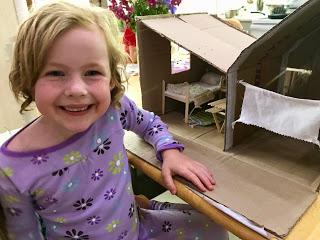 We had a fun time with Tashkent's semi-functional delivery system.  The pouch has been irregular and restricted to necessary items, so we weren't able to order a present from America.  Instead I turned to delivery here in Tashkent.  The first store I ordered from declined our order because they wouldn't take cash.  Thankfully, the second store was able to come through with a doll.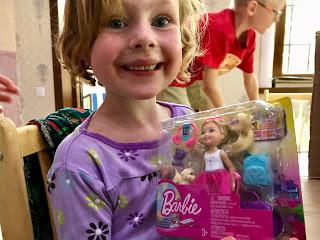 After ordering the cake, I got a phone call informing me that - despite being available on the delivery bot - the cake we ordered (pink) wasn't available.  It was at that point I decided that delivery really wasn't making my life earlier.  So instead I packed Eleanor and William into the car and we just drove a couple of miles to the store and picked out the cake in person.  There was no pink cake, so we got a purple one instead.  I think it was black currant.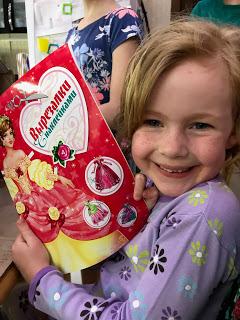 I'm still coming to grips with Eleanor turning six.  Being my fifth child, she's the oldest of the little kids.  I've always been used to her being in the baby category, but six is definitely not a baby.  She's almost done with kindergarten this year and is quite capable, having learned to write and spell in both English and Russian.  She loves to make bottles for her baby sister, and is a fish in the water, happily swimming for at least an hour every day. 
I remember Kathleen turning six and feeling like she was just about ready to head off to college, so it is strange to see my fifth child reaching that same age and being just as capable.  Eleanor, of course, is happy and proud to be such a big, grown-up girl.  Thankfully, she's still happy to cuddle up on my lap each evening for her story (despite being able to read all the books herself) and loves to have her daddy tell her stories every evening before tucking her in to bed.  I'm happy to keep her that way as long as she wants to be.