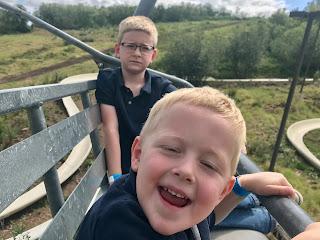 This week we had our last birthday for the year, Edwin's twelfth birthday.  His birthday falls right in the middle of the birthday season, where we have five straight months of birthdays, so we're definitely in the mode of celebrating.
On his birthday he got to pick the breakfast (German apple pancake), dinner (Georgian), and cake (lemon meringue pie).  Everyone had a holiday from school, so everyone was happy to celebrate Edwin's birthday with him.  There have to be some benefits to being homeschooled, and this is definitely one of them.  Recently Eleanor was feeling very sad for all those poor children who have to go to school on their birthday.  
We didn't do anything too terribly exciting on his birthday, but he was happy to help me make his birthday pie.  Edwin enjoys cooking, and is very good at following both recipes and instructions, so I was happy to have his pleasant company with me.  He got to make the meringue himself, and did a very good job at it.  But he was also equally happy to be let off the less fun part of cooking - the dishes - even though he offered to help.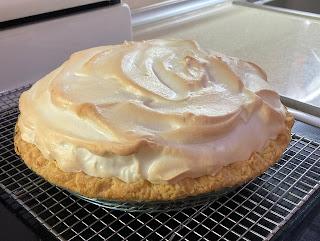 He was very happy to have a delicious dinner of Georgian food (and I was happy to order it instead of cooking), declaring that Georgian with its delicious cheesy khachapuri is now the very best food one can have.  He was even happier to have pie, but he was most happy of all to open his presents.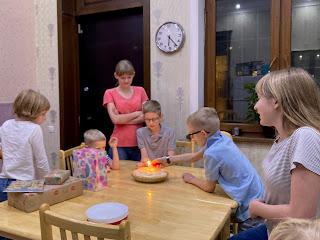 Twelve year-old boys are very easy to shop for, as they apparently can never have too many LEGO sets.  He was pleased with the sets that Joseph, Kathleen and Sophia, and Brandon and I gave him.  He was equally excited about the chocolate bar that Eleanor gave him.  I think that he was very happy with all of his birthday.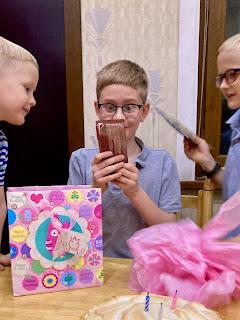 I've now watched two of my girls grow from children into young women, but Edwin is my first boy to start that transition from child to young man.  He is, as all of my friends with boys have promised, becoming quite enjoyable to be with.  I enjoy his funny sense of humor, quiet diligence, and concern for his younger siblings.  This doesn't mean that he doesn't also have his times of driving his siblings insane with brotherly tormenting, but he's usually amenable to a knowing look from me in order to leave them alone.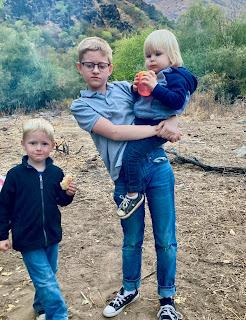 He hasn't yet reached the amazing feats of eating that I know is coming soon, but he's definitely starting to challenge his older sisters at eating contests, having outpaced me at meals several months ago.  He's almost five feet tall, which means that pretty soon I'll have three children taller than me, with four more to go.  
On most days, everyone is happy to have Edwin as part of our family (and I'm happy myself every day).  Happy birthday, Edwin!