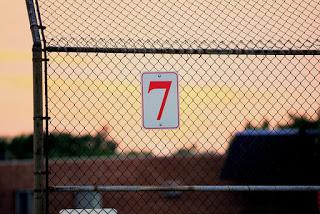 Photo by Jim Larrison.
Seven years ago today, I launched this blog,
The Generation Above Me
.
For the previous six years, I have posted the Top 10 or 20 Views over the life of the blog. When I checked the statistics this morning, the posts in the Top 20 stayed relatively constant over the last year.
If you want to peruse the list of most viewed posts, you can visit last year's blogoversary post:
Find Links to the All-Time Top 20 Posts from TGAM 
on the 6th Blogoversary Post
There are some posts that readers enjoy that haven't broken into the Top 20. Here are seven posts for your consideration, one for each year over the life of the blog.
2018: Ageless Soul by Thomas Moore: Book Review
2017: Older Americans Federal Report
2016: Care Partner: An Emerging Term
2015: Biomarkers for Longevity and Health
2014: Aging: Fight, Resign or Embrace
2013: Older Drivers Practice Self-Regulation
2012: Elderspeak: Baby Talk Directed at Older Adults
Thank you to those who visit the blog--whether you are a new visitor or a frequent visitor. Happy 2019 to all.
Related:
Happy 6th Blogoversary
2018 Top 10 Posts