Word has been received from Eli Polonsky via "Community and Independent College Radio" that today is student/community radio WMBR's (MIT, Cambridge, MA) 52nd anniversary.

Eli Polonsky52 years ago today, students at MIT completed an electronics project, threw the switch, and put WTBS 88.1 FM, the MIT college and community radio station, on the air with ten watts! Still student-run and maintained and programmed by an all-volunteer student, alumni, and community staff, WMBR now serves greater Boston and northeastern Massachusetts on the air with 720 watts, and the world online at http://www.wmbr.org/, with unique non-commercial original programming not heard elsewhere. Happy 52'nd to WMBR!
Across the Commonwealth are a half dozen community radion stations and maybe twice that independent college radio stations, but WMBR is one of a handful of hybrid community/indepenent college radio stations. For a complete listing click here.
Community and independent college are types of radio service that offer a third model of radio broadcasting beyond commercial and public. Community and independent college stations serve geographic communities and communities of interest. They broadcast content that is popular to a local/specific audience but which may often be overlooked by commercial/mass-media and so-called "public" broadcasters. 

Community and independent college radio stations are operated, owned, and driven by the communities they serve. Community radio is not-for profit and provides a mechanism for facilitating individuals, groups, and communities to tell their own diverse stories, to share experiences, and in a media rich world to become active creators and contributors of media.
HAPPY BIRTHDAY, WMBR!
stay independent!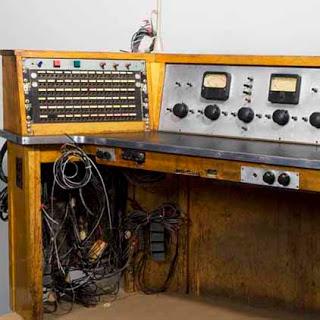 MK-60 Console
1960
In the late 19th century, the MIT electrical engineering faculty initially thought radio was a novelty, but that did not stop students from experimenting with the technology and forming the MIT Radio Society. Established in 1909, W1MX (originally 1MX) is believed to be the oldest college amateur radio station in the United States. The history of broadcast radio at MIT began as a campus-only AM broadcast when WMIT signed on in 1946. Students not only ran the station, but also built its equipment. Wanting to reach the fraternities located in Boston, the station began the process of obtaining a Federal Communications Commission license for an AM or FM commercial frequency in the 1950s. All the commercial frequencies and the call sign WMIT were taken, but the students persisted. On April 10, 1961, from this console, one of the first all-transistorized radio consoles ever built (again by MIT students), WTBS 88.1 signed on as part of MIT's centennial celebration. (The station's call letters changed to WMBR in 1979.) For 50 years, students, alumni, staff, and volunteers have broadcast an eclectic variety of music and news programming that serves the MIT community as well as much of eastern Massachusetts.
photo and text courtesy of the MIT Museum.