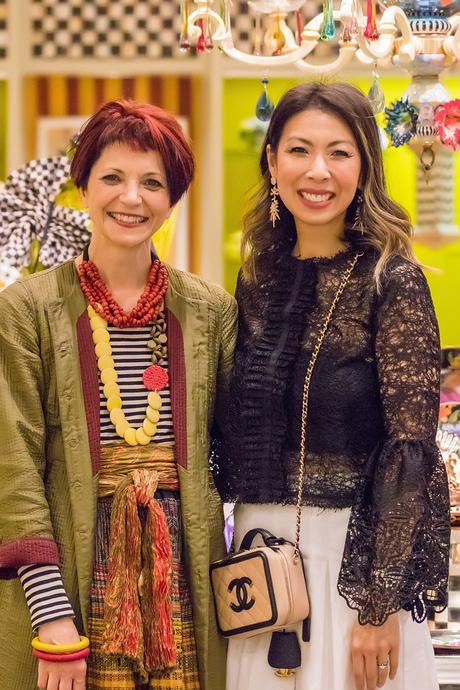 Last week, I had the divine opportunity to meet the creative director of Mackenzie Childs, Rebecca Proctor. She is such a kindred spirit, and it was an absolute blast to chat with her. She is so joyful, creative, genuine, and friendly! It was like having tea and macarons with an old friend!
Katey and I did a joint interview during her Twentieth Birthday Celebration of Courtly Check at Neiman Marcus Fort Worth. The Courtly Check hand painted black and white square pattern, originally named Roasted Marshmellow, is what the brand is most known for. If you follow me on Instagram Stories or Snapchat, then you saw that delightful Courtly Check tea kettle that I received!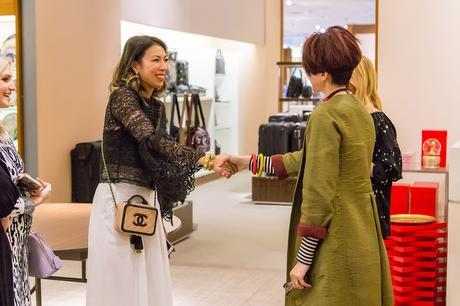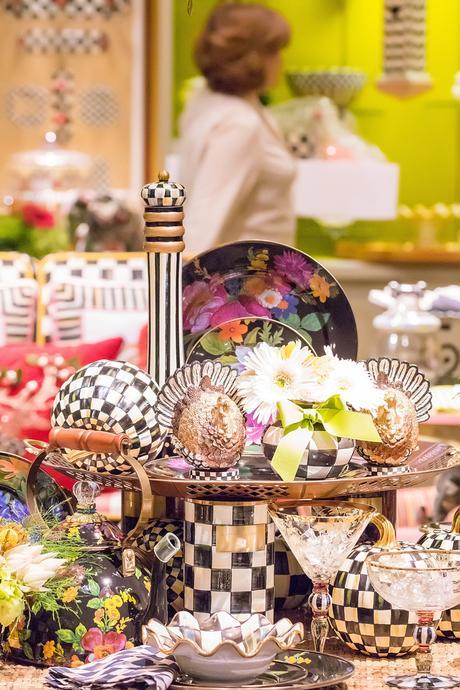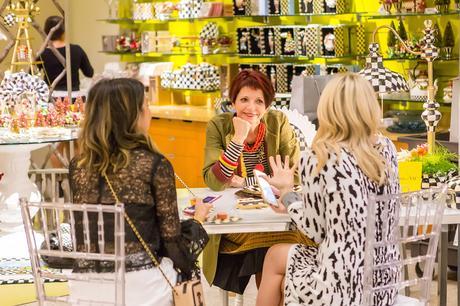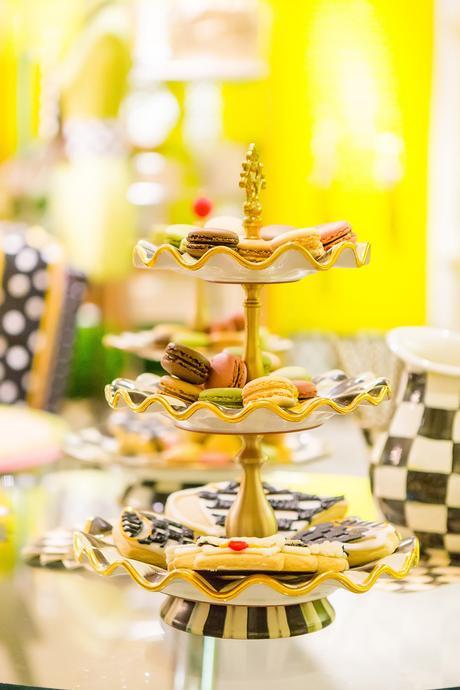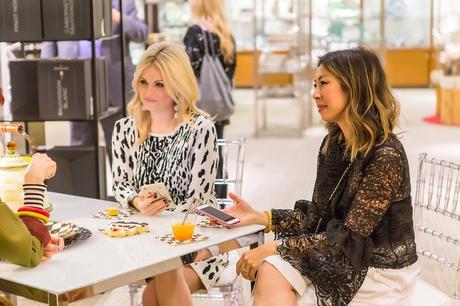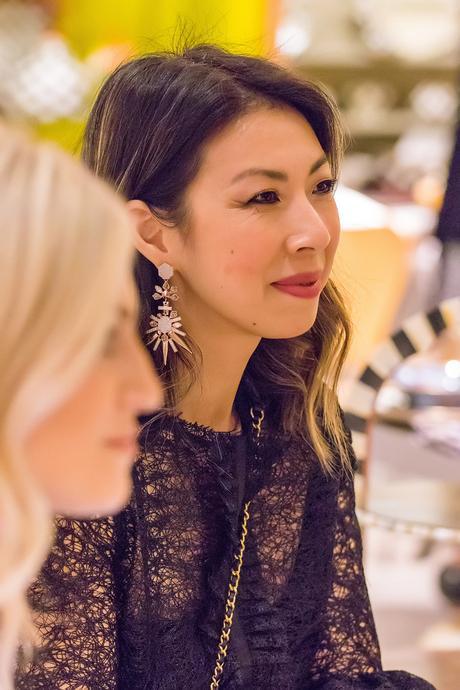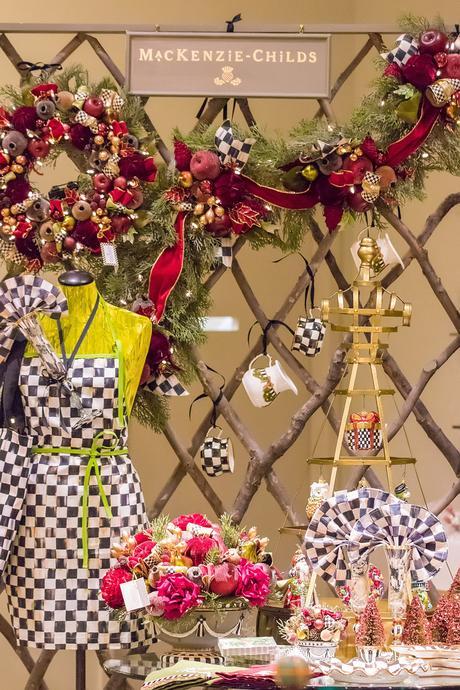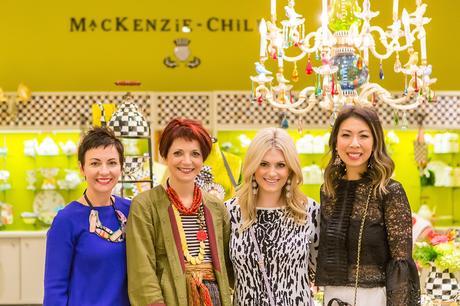 L to R: Jenny Davis, Rebecca Proctor, Katey Hellman, myself
// Photography by Elusive Images //
Without further ado, please get to know Rebecca Proctor... (Head over to Katey's blog next week to see what thoughtful questions she asked Rebecca!)
S: Which one is your favorite piece?
R: I used that word very generously! I love the tea kettle very much and it's a great starting piece. I have a mission to get a Courtly Check tea kettle on everyone's stovetop because when you walk in, it literally smiles at you. It makes such a statement on its own. Some people have only one piece, and some people fill their homes with many pieces. Now if you're a cook, then I'd recommend the 7-quart stockpot. If you were looking for furniture, then I would go with the Forest Fish Chair. What's unique about it is a landscape mural of what we see outside our window in Aurora, NY. It's handpainted and quite special. We have so many things depending on someone's interest - for babies, lamps, cooking, watering cans, etc.
S: Do your husband and son weigh in on new designs?
R: That's so funny that you asked! I was just talking having this conversation. My son is seventeen and since he was very little, he has been contributing his thoughts! In 4th grade, he wrote me a letter stating "This is What I Think Mackenzie Childs Should Make", and I'll be darned if we aren't making most of what's on that list. Also in 4th grade, he painted a Mackenzie Childs vase for me and it's framed in our house. They are really into it! My husband is funny because he's a Spartan by nature, and we got married and been so supportive and accepting of Mackenzie Childs. I don't have normal boundaries and filters. My life and my work and my play are really all one thing!
S: What has been your most recent inspiration? (to develop cookware category)
R: I do LOVE to cook. I have the tea kettle.... We launched cookware in 2003 (a very small collection), but the company we were working with had a really hard time making it the way that we wanted it. So, we paused for a moment and found a perfect partner. So it's always kind of been there, and we're bringing it back. The primary inspiration is the I love to cook. That's where our customer starts - She's an entertainer, creative, loves to cook and plan parties. It all starts in the kitchen. But I've always loved cooking... (me) So, it was like an evolution. Yes!
S: If you weren't the Creative Director for Mackenzie Childs, what would you be doing?
R: That's a really good question! I don't know! Maybe, I'd be a travel writer. I LOVE to travel. Or maybe I'd be promoting my son as a concert pianist or be his manager. Or maybe design a line of clothing. I've always wanted to do that! My background is apparel. (Katey: I read somewhere that you love children's clothing.) Oh, be still my heart!! I would LOVE to do kid's clothing.
S: Do you have a new piece in the works that you are excited to share with us?!
R: YES! We are launching porcelain dinnerware in January called "Thistle & Bee". It's all made in Portugal and has beautiful butterflies, berries, and flowers. We got a sneak peak, and it is GORGEOUS! We are also launching Flower Market cookware and new furniture pieces.
S: Please share a little about yourself that no one knows!
R: I collect silver demitasse spoons. I like little things. They are cute!
Isn't SHE cute?!!! I wish y'all could have met Rebecca in person, and I hope you enjoyed learning more about her and Mackenzie Childs. She is absolutely the sweetest thing.
BTW, Neiman Marcus is having their First Call Sale starting today! This is when I tend to get into trouble! ;) There are some fabulous booties on sale, and I'm especially in LOVE with this navy suede Tory Burch sandals (kind of bootie)! These wine lace-up flats are also on my hit list! And I am SERIOUSLY OBSESSED with this one-shoulder striped romper!!! If only I had a reason to get this into my closet! There are TONS of Fall things on sale, and this is my favorite "wardrobe" time of year because of the colors and layering! I'm trying to keep myself out of trouble, but let me know if you get something fun.
Sorry, I've been MIA lately. Life (home and little ones) has me like a busy bee! I honestly can't wait to get through October, but then the holidays start!!! AAAAHHHHHH!