Parenting is tiring. Yup, it sure is and not just physically, but also mentally and emotionally. On most days, I start off the morning with an abundance of energy and zest but come bedtime, despite having chosen my battles, I am usually worn out and deflated.
Being a stay-at-home mom allows me to say that my life revolves around my kids 24/7 and that I am always busy taking care of one kid or the other. However, the truth is there are always snippets of time here and there for me to rest or relax.
Let's see. My most peaceful time is when all the kids are asleep. That is when I get to take a breather and the irony is instead of catching up on some much needed rest, I end up watching a show, play games, scroll on social media or watch some random videos. That is how I unwind and remember my own needs as a person. When the elder three are in school, I also get a bit of time on my own when the baby is napping or playing by himself. Even a 5-minute break can do wonders at times (I must say that this clingy toddler follows me everywhere though, even to the loo.)
When the hubby is around, he likes to take the baby for a walk in our neighbourhood so it gives me time to be with the other kids or just do my own thing too. Given a choice, I would prefer to spend more family time than alone time but I have to say the latter is crucial for our sanity, even if little.
In this "Happiness is..." post, it is about learning to take a break at times and to cut ourselves some slack. It's okay if we feel tired, it's okay if we want some privacy to ourselves, it's okay if we end up dozing off when doing the laundry, it's okay to not feel like we have it all.
******
I love my one-on-one mornings with the baby. If I've learnt anything from the past years, it's that time flies past and kids don't stay little for long. For now, I cherish all this time I have with him and the things I can do for him, like bringing him to the polyclinic for his vaccination, holding him to give him comfort, hugging him when he is in pain and giving him in a bear hug to let him know he is not alone.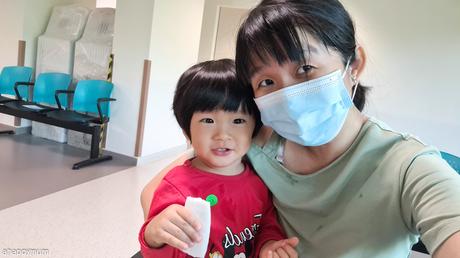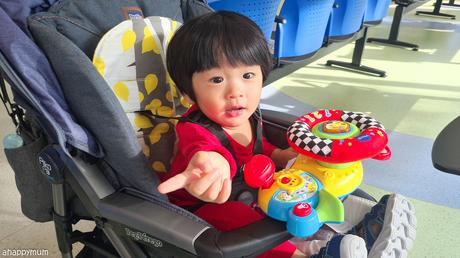 While the siblings are having art class, he gets to roam around, snack, watch fish or just push a chair back and forth around the studio. We are stopping art class next month after nine long years of coming here weekly and it is something we will miss.
But, the end of journey marks the start of another and since we've started Taekwondo classes and I still insist that each kid cannot have more than 2-3 enrichment classes including sports (we still don't have tuition!), it's time to move on.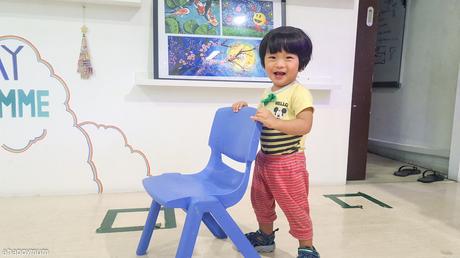 I love sending the kids to school whenever I can but there are also some mornings when I feel like resting with the baby, especially if he is still asleep. I mean, I already wake at 6am every day to wake the kids, make their breakfast, fill their water bottles and pack their snack boxes. Surely it's okay to rest a little afterwards?
Anyway, I'm happy to let the hubby walk the middle two kids to their primary school - the Sec 1 firstborn takes bus on her own - when he is home and not busy with work. It doesn't always happen and on solo parenting days or weeks, I don't really get a choice. Well, I've already told the boy that he can, hopefully, go to school and come home on his own from Primary 2 onwards, so let's see how that goes. For now, I'm cherishing such busy, hectic mornings, even rainy days when we have to we wear rain coats, put on slippers and brings shoes to change. These will be a fond part of their childhood memories for sure.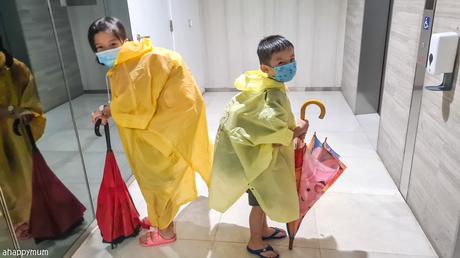 Having more kids means that the elder siblings can help to entertain the little one and take care of him too. That is very helpful when I need to cook, take a leak or catch my breath. 
While the girls are now adept at caring for the baby, korkor is his best friend and the two boys totally love playing and hanging out together. Awww. Having a fourth child changed our family dynamics totally but I think it is for the better. The baby is our glue and a constant reminder that time is fleeting and family is the most important thing.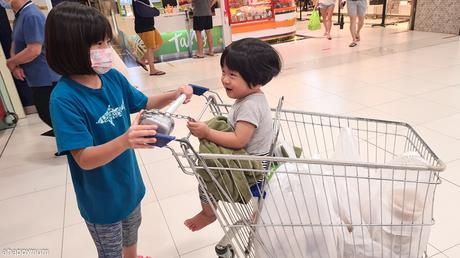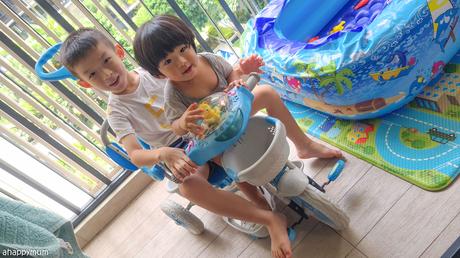 The littlest has begun self-feeding and trying out more new food. His recent favorite is edamame beans and he really seems to enjoy it lots. Oh, and he loves fruits too so I cut it up in small pieces for him to learn to pick up. With him being able to eat on his own, even a little, will mean that I can enjoy my food too instead of always being busy with feeding.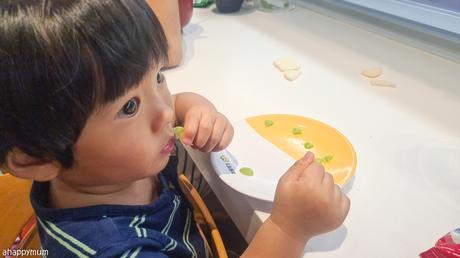 But, there are still many things that he can't do on his own, like bathing, changing diapers and brushing teeth. Yup, he has eight pearly whites now and I've started brushing them for him every day. It's such a joy and blessing to be able to care for a tiny being and I cherish this toddler phase a lot. He is so cute when he tries to spit out the water too, I can never get tired of watching him do it.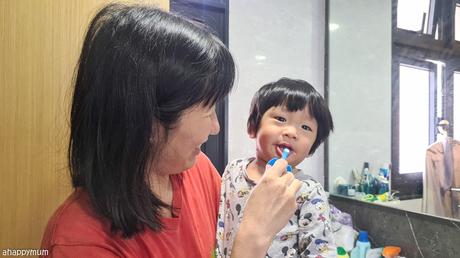 We love watching movies and are so thankful that we get to attend previews and meet mascots. Sonic 2 was awesome and all of us loved Tails so much. We also watched The Bad Guys and it was an engaging show with an unique cast and plot. Since the three older kids are usually engrossed in the show, I essentially only need to take care of the toddler. That usually means lots of snacks and breastfeeding, haha. He is getting very accustomed to it already and most of the time, I still get to sit back and relax a little while enjoying the movie.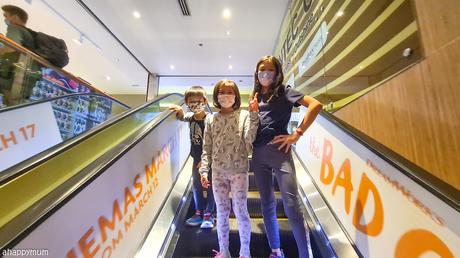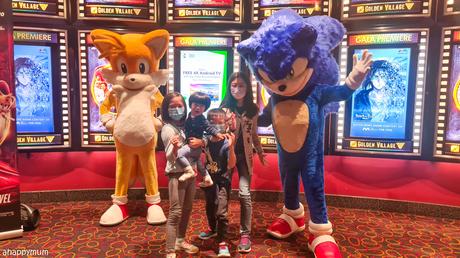 The highlight of the month had to be the March holidays because we always explore, spend tme together and have so much fun as a family come every school holiday.
Let's see. After a long hiatus, we finally revisited USS and the kids were stoked! We had One Last Boogie with Madagascar and thanked them for all the wonderful memories for the past years. It has always been one of our favorite zones and we are sad to see them leave. But well, as always, the end of a journey marks the start of another so let's see what lies ahead.
This trip marked many firsts for the kids - Ansel's first trip to the theme park, Asher's first Puss in Boots ride, Ariel's first time on Battlestar Galatica: Cylon and Human as well as The Mummy, and Angel's first time riding them alone. Woohoo! Good job, my dears!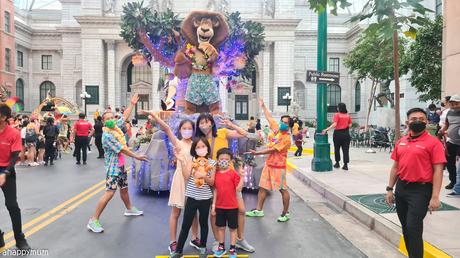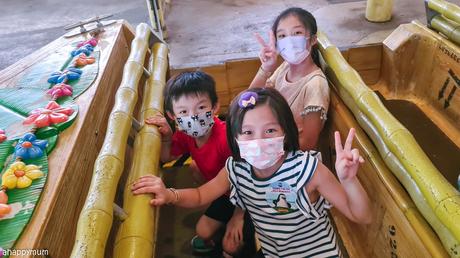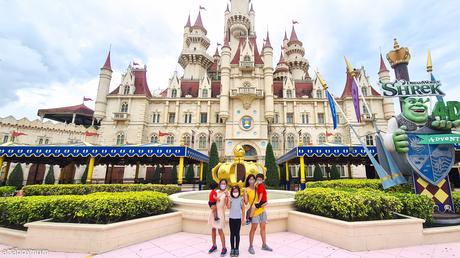 I am truly thankful for media events that we get invited to and we are more than happy to share the happenings with our readers too. During the holidays, we made our way to Changi Airport to take photos with the Chupa Chups pop-ups and also attend a magic workshop.
The airport is one of our favorite places to visit because there are so many things to see, play and eat too. Do you love going to the airport too?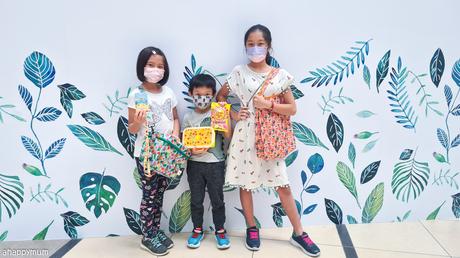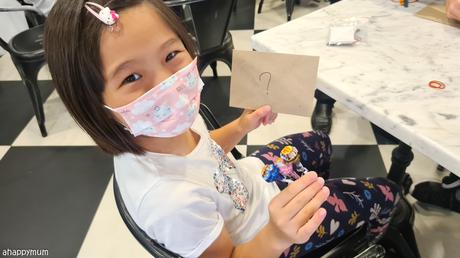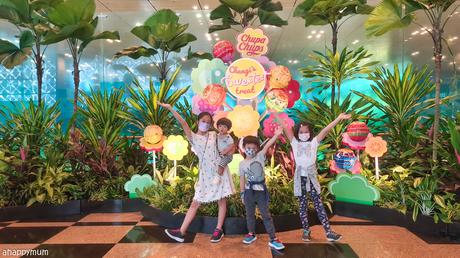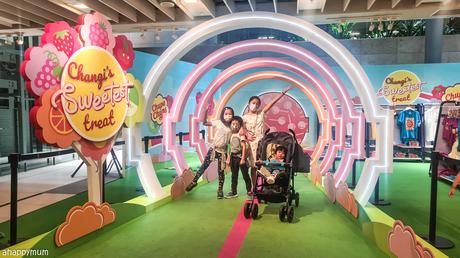 My kids love animals so we will usually plan a trip to one or two of the wildlife parks during the holidays. This time, we visited the Night Safari and other than taking the tram, we also covered nearly all the walking trails.
Yup, not an easy feast considering we have a toddler who needs to be carried and all our barang. I always think it is a good exercise for me to go out with all the kids, haha. It was Ansel's first time trying a popsicle too and yup, of course he loved it.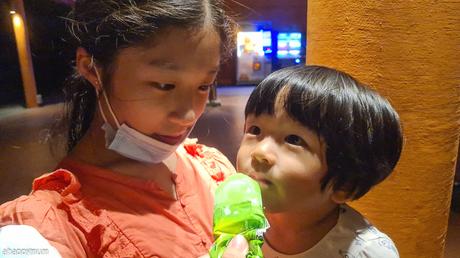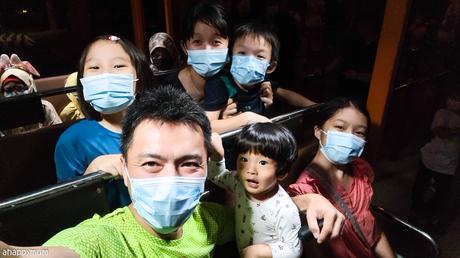 Other than tourist attractions, we also love to hang out at our neighbourhood playgrounds. Playing tag makes the kids very happy and it's nice to see that they have each other to play with and are never lonely.
I think Singaporeans are very blessed to have so many free playgrounds within reach and easily accessible from one to other, don't you think so?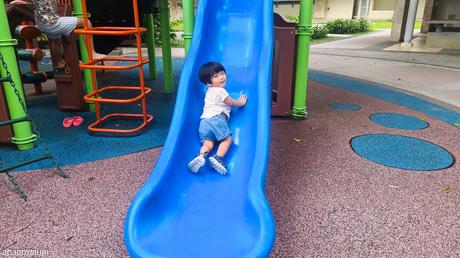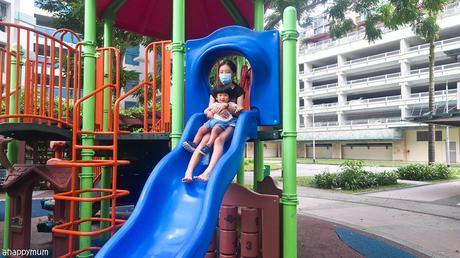 The baby turned one at end of February so we had a Zhua Zhou session for him. The siblings helped to pick out the items from our stash of toys and I think we had a pretty good variety.
Guess what he picked? His first two attempts yielded the same result, much to our surprise. It was..... the book! Well, maybe he will be an aspiring writer or an illustrator next time. But okay, he did move on to the excavator after that. Whatever your dreams are and wherever life takes you, Mama will be here to support you, okay?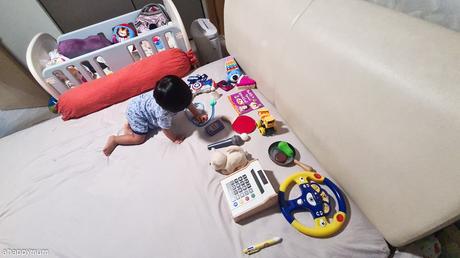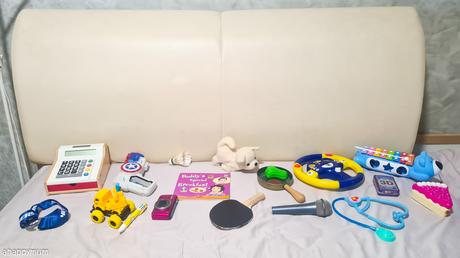 One of the most fun things we did in March was Ansel's Cake Smash Photoshoot with Bloom Photography. Check it out in detail
here
. This was our first ever cake smash party and I loved how all the photos turned out, especially the baby's cute solo shots and our family portraits. Too precious!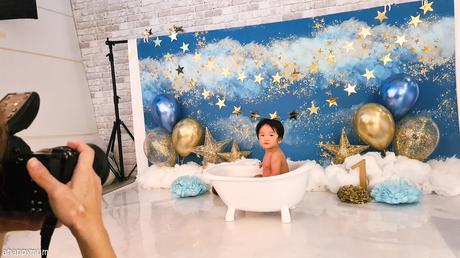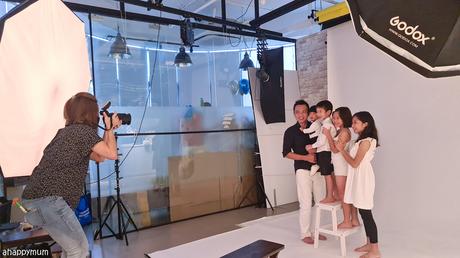 While the kids bicker every other day and I wouldn't expect anything less, it's also heartwarming to see them growing close, taking care and loving one another. It's not hard to see how they dote on the youngest and he gets all their attention.
He loves to sit with Korkor on the pram and when it becomes a struggle to buckle him in, I ask Asher to sit first and the baby will automatically wanna sit on his lap.
Awww.
That is so sweet, never mind my aching arms or them weighing more than the recommended weight limit, I wouldn't trade these moments for anything else.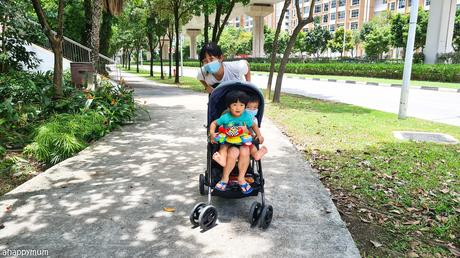 While I was getting stationery in Popular one day, I also saw how the older brother let the baby ride on his balance bike and together with the sister, they carefully pushed him along and helped him to steer. Yup, he was over the moon! These moments affirmed my belief that having more kids is a good thing, you know, and I am blessed to have four.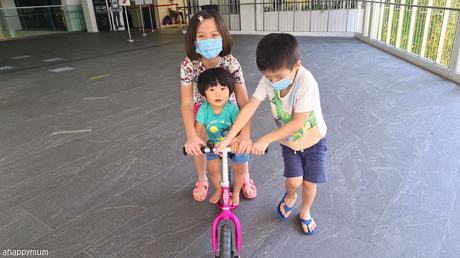 We have also embarked on our Heguru journey for the toddler and so far, he seems to love his class and all the fun learning activities he gets to do. It's the only class he goes to and from our experience with the older kids, Heguru lessons are not just beneficial in right brain training but highly enjoyable too. I love that it is parent-accompanied so I get to play with and guide him too.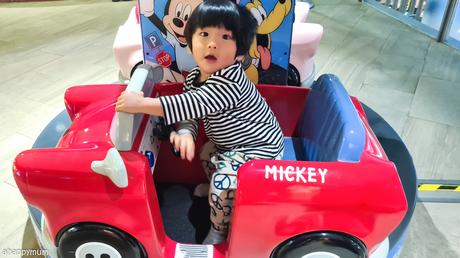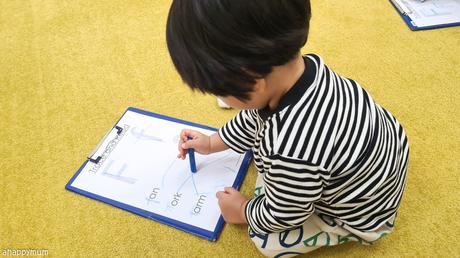 What started off as a year end holiday activity has evolved to something more as the kids seem to be loving their Taekwondo class. They have passed their first grading and we are so proud of them - even the hubby specially rushed down from work to witness their ceremony (he usually comes home past midnight so this was rare). Mama is happy to see you enjoying your class and hopefully TKD can build up not just your strength and discipline but resilience and determination too.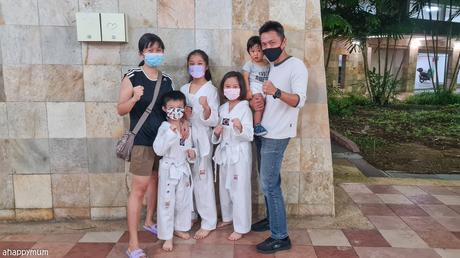 Last but not least, family gatherings take place often in our household and it's nice to have everyone coming together, no matter the festivity or even if there's no occasion at all.

This time, it was to celebrate my mum-in-law's 70th birthday and I specially ordered a 4D/Toto money pulling cake for her. Hope she had a nice surprise because she didn't know the existence of such cakes! A pity it melted a little during the delivery. Still, we had a nice time together and I have to thank the hubby and my father-in-law for  being the master chefs too.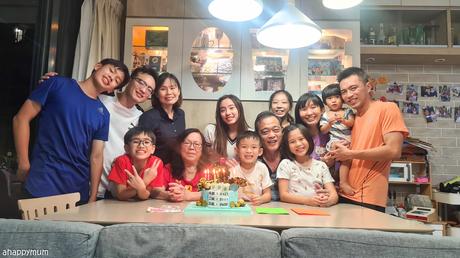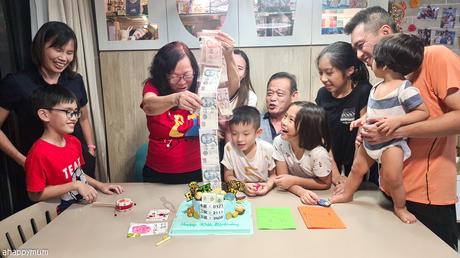 I hope my kids will remember how we always gather to catch up with the grandparents and extended family, how it is nice to have a warm and close-knit family, and how you are never too busy to meet up with your loved ones as long as you try hard enough to set time aside.
When the day comes and I become a grandma myself, I would still love to meet up regularly with my kids and grandkids too. Honestly, I wouldn't know what to do when that happens and I have an abundance of free time, the exact opposite of my life now, haha. Guess I'd better pick up a hobby or two then.
For now, I am enjoying the busyness and the occasional me-time, the endless running around and the small breaks in between, the feeling of being needed yet knowing that one day I will slowly learn to let go of these kids.
Till the next post!