It's been hard finding time to pen down my thoughts since 2020 got off to a rather crazy start. It doesn't necessarily mean in a bad way and I think we are still feeling positive and hopeful for the year, but it does mean we have been so busy spring cleaning, celebrating CNY, getting the kids settled in their new school year, getting accustomed to waking up before sunrise, finding our beat and fine-tuning our routines, gathering with family and friends, catching up with world news and daily updates, explaining to the kids about COVID-19 and reminding them to practice good hygiene and so on.
Come to think of it, it's been seven long years since I started this "Happiness is..." series on the blog and I've not missed a single month along the way. Pretty amazing, right? It's such a good way for me to recap what went through my life every month and while jotting these memories down helps to make them everlasting, it also helps me to look back, reflect, learn and cherish these moments.
December 2019 was one of the best, and likely one of the most hectic, months ever. Let's see, we visited six playgrounds, checked out the Yakult factory, played archery, went indoor climbing, took the kids to the school bookshop to get their new books, spent a heavenly 7D6N in Langkawi, treated our parents to a 4D3N family retreat in Club Med Bintan, went for a 'ice' skating session, organised two birthday parties, took the kids out to celebrate on their actual birthdays and hosted a Christmas potluck for our family to come together. Yup, I say "Fwah" to that! I have no idea how we squeezed so much stuff into the span of a month but I am glad and thankful we did all we could do.
In this "Happiness is..." post, it's all about making memories with our loved ones.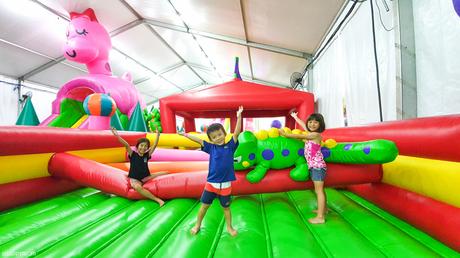 Just a couple of days after we got back from our mum-and-kids 6D5N cruise (read our detailed review of Royal Caribbean's Quantum of the Seas here), we headed to VivoCity to check out the fun-filled Bounce-A-Saurus Fiesta which included four giant inflatables, carnival games and a 5-metre tall water slide! It was raining when we arrived but we didn't let that dampen our spirits in the least. The kids were so happy to try their luck at the games which included basketball, rubber duck fishing, can knock down and bank a ball and we walked away with pretty cool prizes like highlighters, pencils and stuffed toys.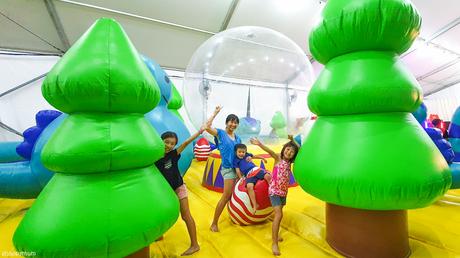 After I was done with the photo-taking (this was a media invite event after all), I decided to put the phone away so I could join the kids on the inflatables and have fun jumping together. The big girl told me "Mama, there is only one adult playing on the bouncy castles - YOU!" and she meant it in a very sweet, grateful way. Awwww. We spent close to an hour playing tag and these kids were not easy to catch, I tell you. There were many times when we stumbled and fell into a heap and couldn't stop laughing because it was just too fun. I hope they don't remember me as just the mom who brings them to fun events but the mom who also joins in the fun with them.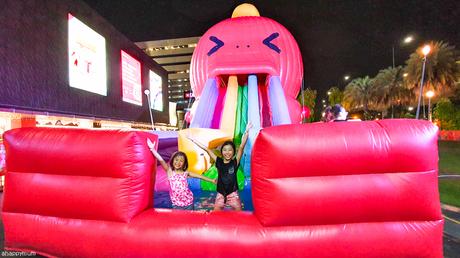 Even though it was still drizzling, I decided to let the girls make their way to the water slide since it was open! I mean, anyway they were gonna get wet, so a little rain wouldn't make much difference, right? You should have seen their faces when I said "Go and have fun!" There were not much other kids (I think maximum three and they didn't play for long too) so it was as though these two had the entire slide to themselves for a whole half an hour. They definitely made a big splash and enjoyed themselves tremendously.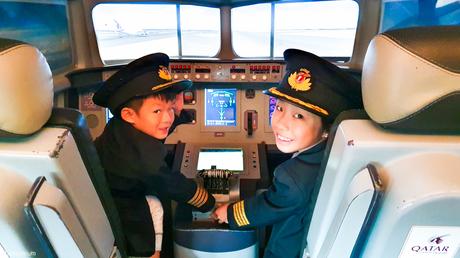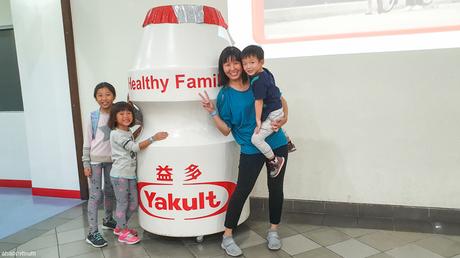 Thanks to KidZania Singapore, we went for a KidZ Day Out which brought us to Yakult Factory and let the kids try out outdoor archery at a camp challenge too. I have always wanted to bring the kids to the factory because Yakult is one of our favorite drinks yet I don't think I educate them enough on how it is made and the benefits of it. It was definitely an eye opener for all of us when we saw how thousands of bottles were being made every minute and we also learnt so much more about the history of this probiotic drink.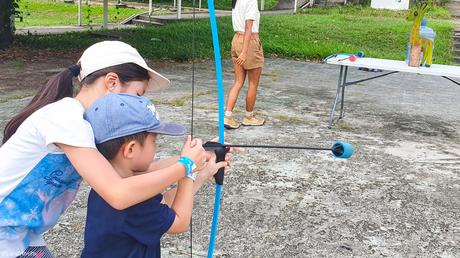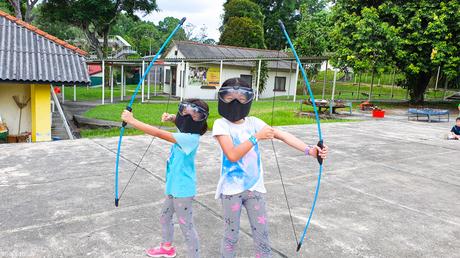 At the archery session, the boy had his first attempt at target shooting while the girls tried out the combat challenge where the kids had to team up to battle against the adults. It was sweet to see how the sisters would guide the boy in shooting the arrows and he was most excited to go again and again. As for the sisters duo, they were awesome in the game because instead of hiding at the back, they surprised me by how they were not afraid to dash to the frontline and try to shoot their enemies. Good job, my dears!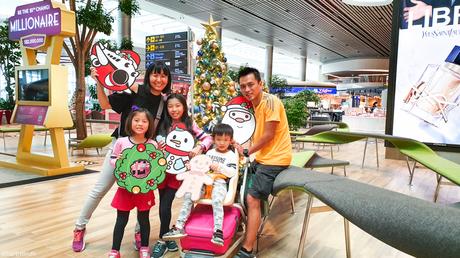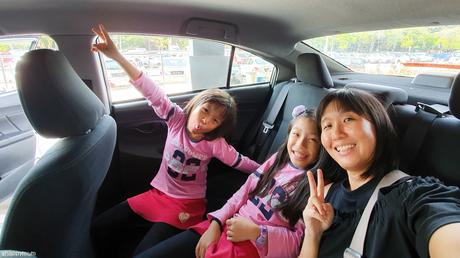 One of the biggest highlights of December was our family trip to Langkawi where we spent six nights bonding as a family. It was so awesome! Some people told us our stay was too lengthy and we would be bored but it turned out that all of us wished we could have stayed for even longer. It wasn't because we wanted to visit every single attraction they had; it was because we truly enjoyed the pace of life, the beach paradise and the feeling of being close to nature. Why? Because we stayed here!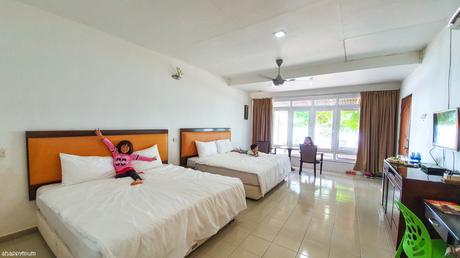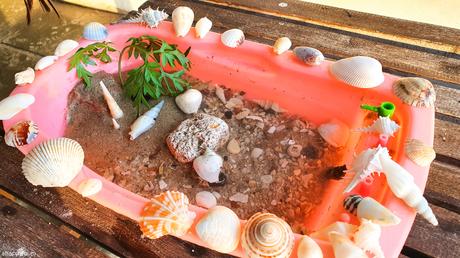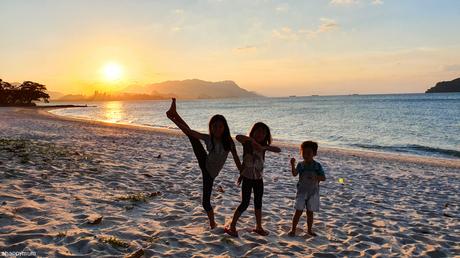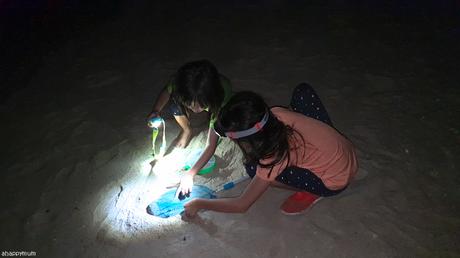 Yup, we stayed at Labu Labi and the beach was right at our doorstep. We loved this chalet style home even if it meant that we had no hotel breakfast, no daily housekeeping or that our room was consistently sandy. The hubby, the kids and I still strongly feel that this place was simply perfect for us and we would not hesitate to go back again next time. The girls were most ecstatic that they were able to go crab hunting every night and believe it or not, they could catch the crabs - both big and small - on their own with a bucket and net. Very incredible! These are the memories that will last us for a long, long time and make us look forward to family vacations. I am hoping to find time to write more about that fabulous holiday but here's sharing some snapshots first, yeah?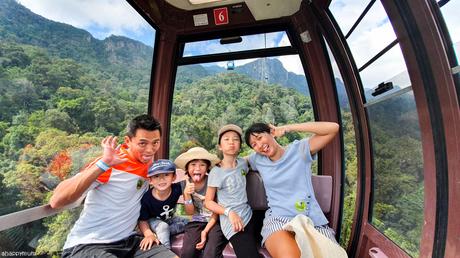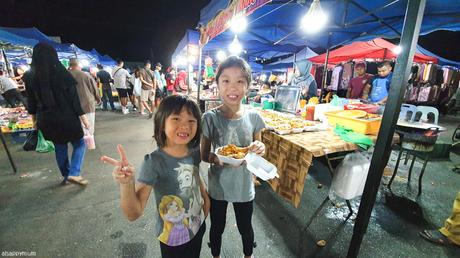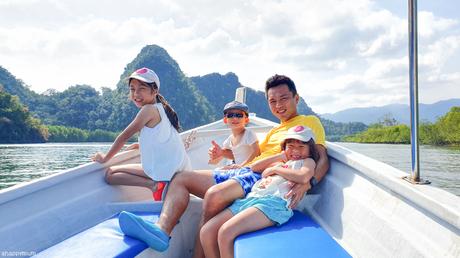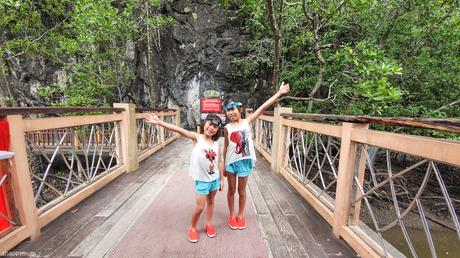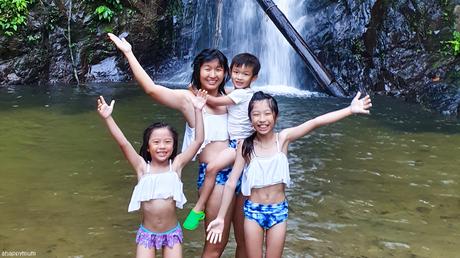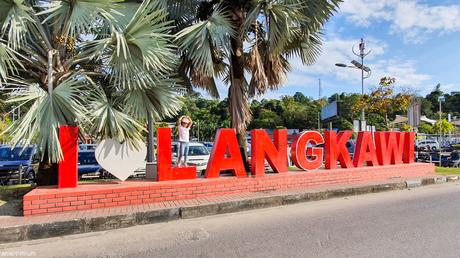 Yup, besides the beach, we also visited many places including going on the world's steepest cable car, exploring a night market, going on a mangrove tour, checking out a bat cave, hiking to a waterfall and jumping into the cold water and so much more. Right, I definitely need a dedicated post on Langkawi because there's a lot more I wanna share with you, so stay tuned for that.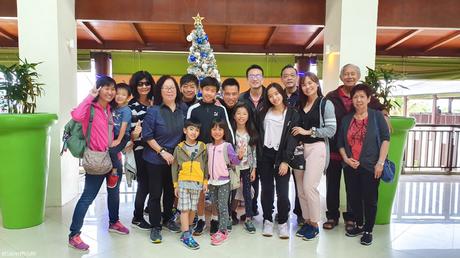 Call us crazy but after lugging three kids for a 7D6N adventure, we only had a day to rest (and to do our laundry and pack all over again) before we headed out for another family trip to Club Med Bintan (read our review of Club Med Bintan here). This time round, we were traveling as a group of 16 and it was definitely the biggest group we had ever been with. Remember when we brought all of our parents to Harris Batam and had a blast there celebrating my dad's birthday? I am so glad that we are still able to give our parents a treat (okay, it is actually the hubby's treat because hello, SAHM here) and bring them to explore new places while they are all still fit and healthy. It is also very heartening to see how they can get along well together and chit chat about anything under the sun (they will arrange and go for karaoke sessions without us and even went for 2D1N overseas trip together too, how nice!).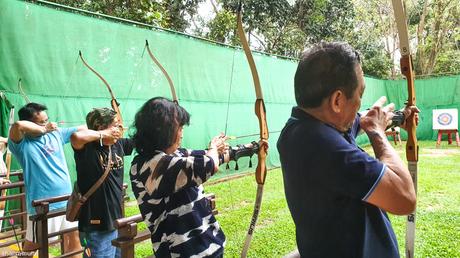 It was a long walk to the sports center and with all the flights of stairs we had to climb, I was just glad that the parents persevered and didn't give up, only complained. Haha. Well, it isn't always that you get to try your hands on outdoor archery, right? I was glad my parents got to do it side by side because this, to me, was a moment to remember.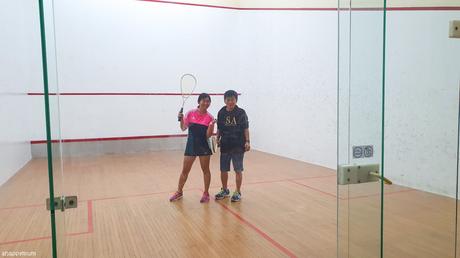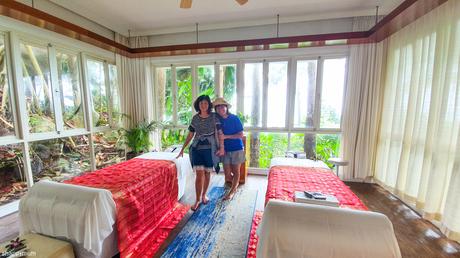 For the first time ever, I also played squash with my dad. Yup, 36 years old and I don't remember we ever did this together. If that's not called making priceless memories, I don't know what is. My mom wanted to go for a spa session and after failing to persuade my dad to go with her, I decided to chuck the kids and accompany her for a full 90-minute session since they were having a 1-for-1 promotion. Shiok ah! I also don't remember that we ever had a mum-and-daughter spa session (it is not exactly our cup of tea but both of us will try to do it when we are holiday) so this was an afternoon I relished and cherished deeply.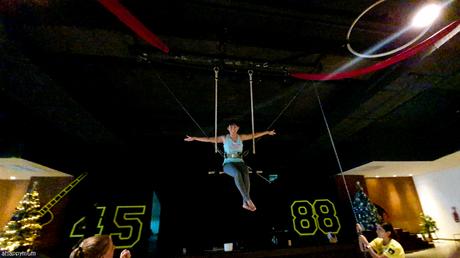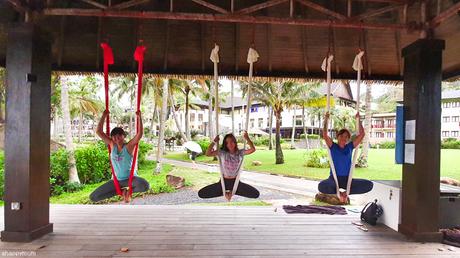 I always love a challenge so I was glad to have the opportunity to pick up a few trapeze tricks (watch me in action here) as well as try out aerial yoga with my sister-in-law and niece. Both were not easy but very fun and I find it amazing just how you get to experience and try so many different activities in Club Med - which is probably one of the reasons why we love it so much, in addition to the late night parties and free flow booze, haha.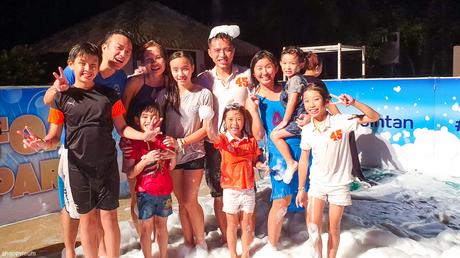 Speaking of parties, besides a limbo rock party where both my spontaneous mom and mum-in-law joined in the fun, we also had a very memorable foam party during our stay. Initially, only the kids were playing inside and while the hubbies were chilling out, my sister-in-law and I were taking photos of the little ones. Then I decided "Why not?" and went to ask my mom to look after my belongings before I hopped right into the foam and make the kids thrilled to see Mama trying to put foam all over their heads. The hubby and sister-in-law soon joined in and we then decided to drag the brother-in-law in too when he refused to come over. Haha. Yes, and we succeeded! It was fun feeling like kids once more and I think our kids were all very happy that their parents were all wet and soapy like them. Haha. Once again, not many adults were inside, okay, why ah? Anyway, I wanted a group photo before we left and the hubby was shaking his head and saying that the staff was clearing up already but I decided to go ahead and ask for help to take one anyway. Haha. I have to be brave, if not I would lose many of these precious moments. The staff said "Sure!" and was more than happy to help us and she took like half a dozen shots. Thank you for the precious memories from this fun night!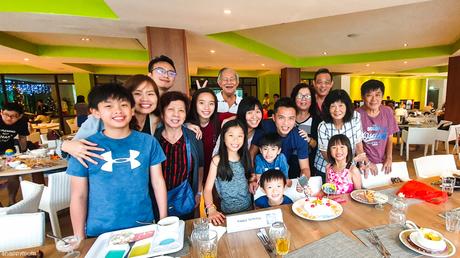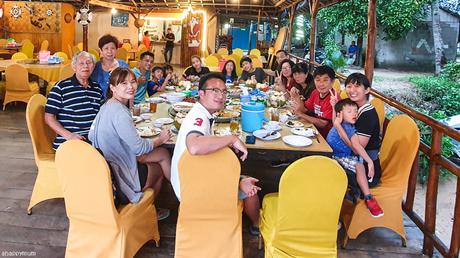 Besides feasting like kings and queens at every meal during our stay, we also came together to celebrate Asher's birthday and made our way to a kelong on our last day to enjoy a yummy seafood dinner. It is never easy coordinating when you have a big group of people traveling together but we made it work well and I think all of us, from the young to old, had a good time on this trip too. Till our next family trip together!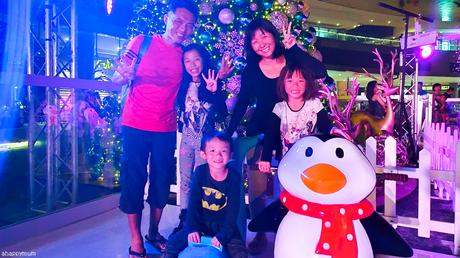 On the boy's actual birthday, we coincidentally passed by a skating rink set up at the mall and with a stroke of luck, the hubby had kept the dinner receipt so we could claim play passes for the kids! Woohoo! Sure, it was a synthetic skating rink and was not so slippery but hey, there were cute skating aids, we were right in time for the 'snowfall', parents were allowed to accompany the kids and we all had a good half an hour of fun. It reminded me of how the best things in life might not be planned at times. They just happen. All you can do is to cherish and enjoy every moment of it.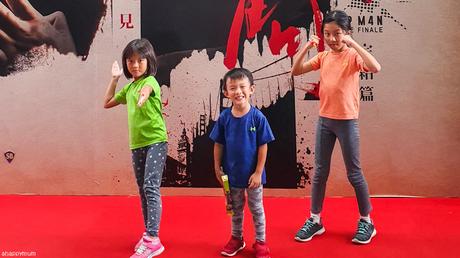 By now, you do know that we watch plenty of movies and the kids always tag along, right? Yup, they did so since they were babies and we still strive to make every Friday a family movie night. It doesn't mean we always hit the cinema (not cheap ley) but we can also be snuggling on our couch and watching a family-friendly show on Netflix. There was a movie we were looking forward to in December and that was the finale installment of 叶问! We watched all the first movies and were excited to find out the ending in this newest movie. The last time Asher watched was 叶问 was when he was two weeks old (yar lor and we still brought him along, haha) so this was the first time he was properly introduced to the kungfu master and let's just say he was so inspired to learn kungfu too and even tried to do 咏春拳. Haha. This emo Mama also teared at the part where Ip Man was struggling to communicate with his rebellious son and it was only when he revealed that he had cancer that his son broke down and reunited with him. Aiyo, so tear-jerking!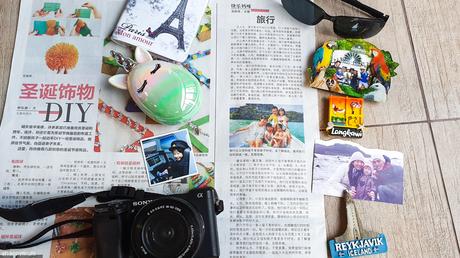 I am still keeping up with my monthly 快乐妈咪 column (which reminds me, my next one is due soon!) and it is always a joy to see my writing appear in the papers. This latest one was about traveling as a family which I managed to write in between our trips and it was a reminder to me on how important it is for us to make memories together while the kids are still young and willing to follow us everywhere. Thanks for all your encouragement every time an article comes out, you have no idea how much I appreciate that.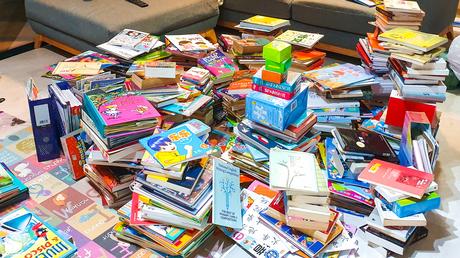 With CNY fast approaching, I also decided to do a spring cleaning and we started off with our library. Oh yeah, all these books were from our own treehouse library at home, that's quite a lot, right? I think it's important to let the kids join in the spring cleaning process because this is after all their home too and they should feel like a part of it. We went through book after book to decide which to keep and which to donate and it turned out to be not as tedious as I thought because we were in it together.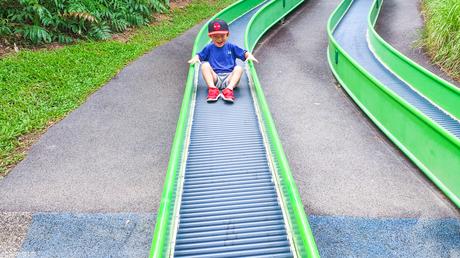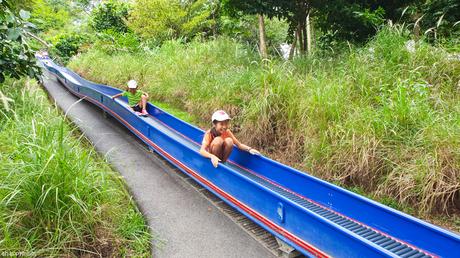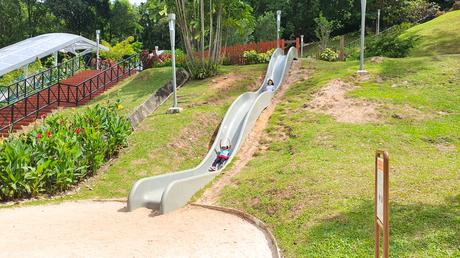 This being the year end school holidays and the girls had no homework to do, we made sure we played... a lot! We visited the playground in Admiralty Park again and this time, the big girl made sure she went on all of the 26 slides! Instead of just watching, I also joined in the fun with them as usual and let's just say that the long roller slide we went on was not all that pleasant for my bum but at least we laughed a lot and made fond memories from those rides.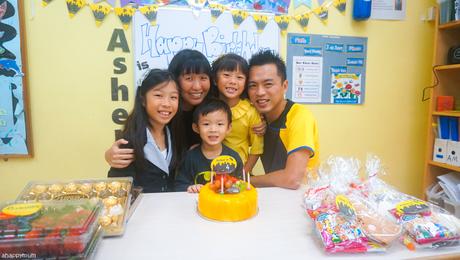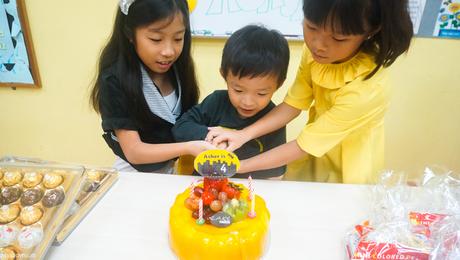 The boy also had his first ever birthday celebration in school and he was super excited about it! We didn't do anything fanciful except cut a cake, gave out goodie bags and treated the classmates to strawberries and chocolates. The best part was having an impromptu game where we played charades which was themed "Superheroes" since the boy had a Batman birthday theme. Yup, so the hubby took charge of this and acted out Ironman, Superman, Thanos and more before some of the kids decided it was very fun and wanted to try too. Yay! It's always nice seeing the smiles on the kids and their friends too, I think that is a very meaningful and important part about birthdays and we always create such precious, unique memories from every milestone.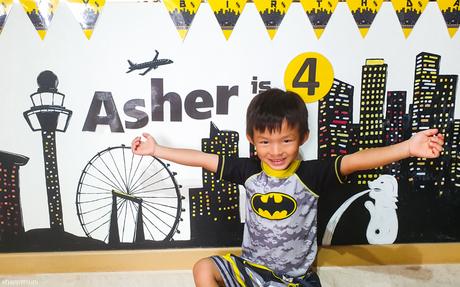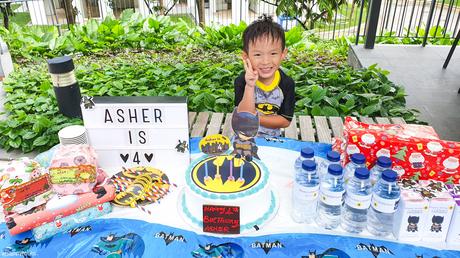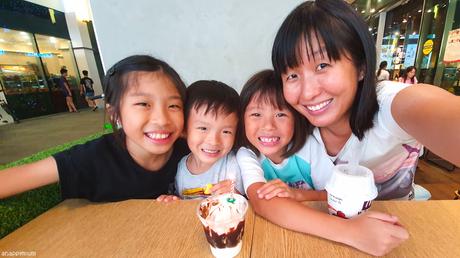 Of course, we also held a small-scale party to celebrate the boy turning 4 and this time round, we invited just a handful of his best friends over for a poolside BBQ. I will share more about that in a separate post so stay tuned for that! On the day of his birthday, we had a mum-and-kids lunch at McDonalds and a 'ice cream' ceremony where he blew out his candle which was in the middle of a hot fudge (I brought a candle and lighter out, smart right?). Haha. We must have sung the birthday song pretty loud because not long after, a staff came over and surprised out with a brownie with the words "Happy Birthday" written on it. So sweet and nice of them!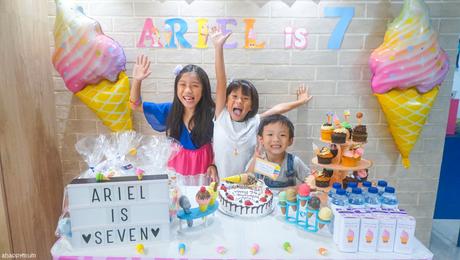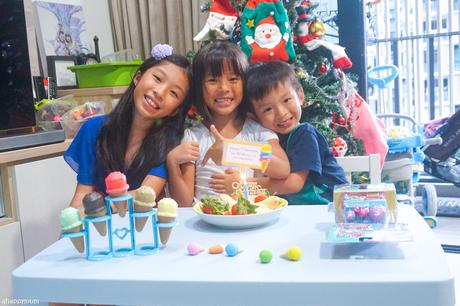 Just two days after the boy turned four, the little sister celebrated her 7th birthday too! Fwah, two birthday parties in one weekend, can it get busier than that? Oh well, at least all their birthdays fall in the holiday period so we are able to have parties and go out and play! I kind of like it that way. Nope, I didn't plan for that and having three year end babies is all but a pure coincidence! All natural birth too - the girls were even born at exactly the same time though different day. 命中注定。
Anyway, Ariel chose an ice cream theme for her party this year so we invited her good friends over to play games, have a tea party and celebrate her big day for her. Still find it hard to believe that my baby girl is growing up so fast but happy to see that she is enjoying school and loving her life. I will share more about her party too in another post which means I have lots of posts to write. Haha. But I will catch up somehow.
On the morning of her big day, I also surprised her with a yummy banana boat sundae since we had ice cream in our fridge and that made her really happy.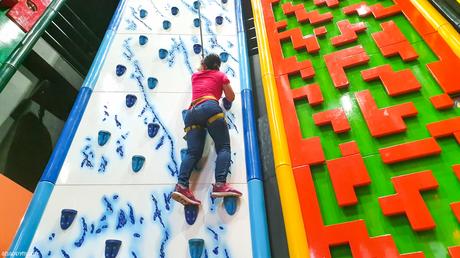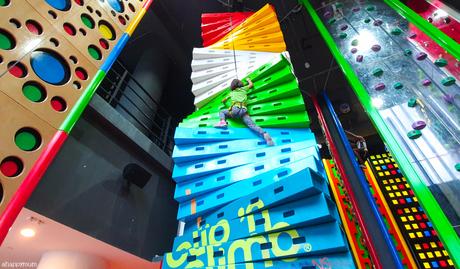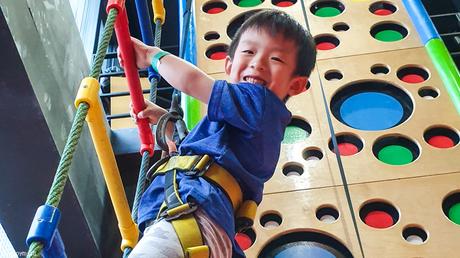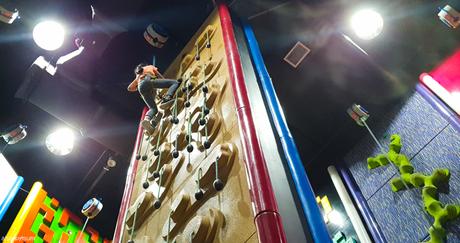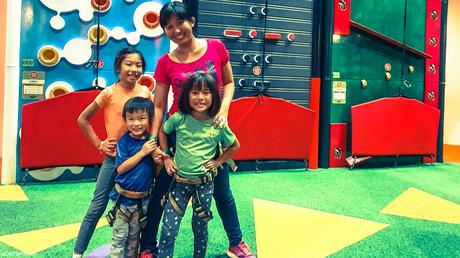 I would usually let the birthday kid choose a place to visit on their big days so this girl decided she wanted to go to Clip n Climb and do indoor climbing. I think it was a great choice as all of us had fun and enjoyed ourselves. Previously, the boy was scared to the max and not only refused to climb but didn't allow me to climb too, haha. This time, he was so brave as to try out a few different walls - never mind that he only climbed a little each time - and even helped to photograph me when I was scaling up the walls too. As for the girls, they conquered nearly a dozen walls and reached the tops and even had a friendly competition with each other too. Fun!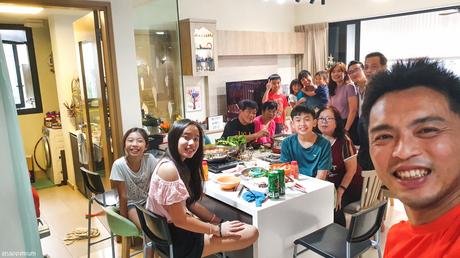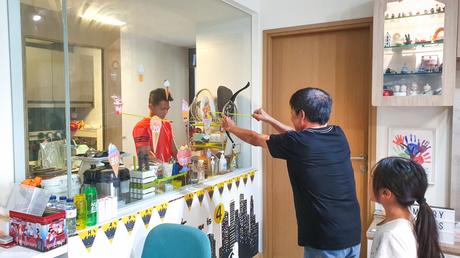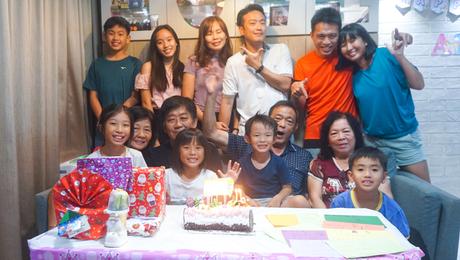 We always host a Christmas party for our family and last year was no different. We had a steamboat lunch, the adults had a gift exchange, the kids received lots of presents, we played Bingo and our parents even tried out some of the games played during Ariel's party like the ice cream archery. Haha. It's always nice to see everyone come together and have a good time and I think this is the kind of Christmas celebration that suits us best.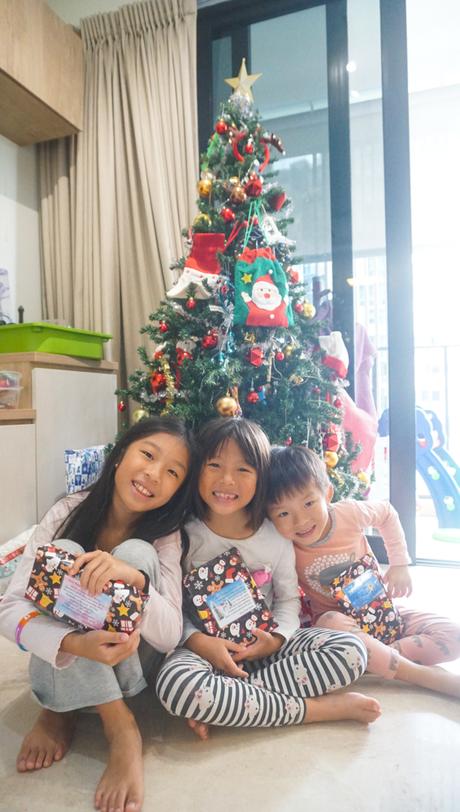 Thanks to Santa Claus who visited us and dropped off these lovely presents for the kids too! The kids were really delighted to see that their milk and cookies were well-received too. Oh, and here's our Christmas tree which gets reused year after year and yet we love it just the way it is. It's always fun setting it up with the kids and it's something that they look forward to every December too.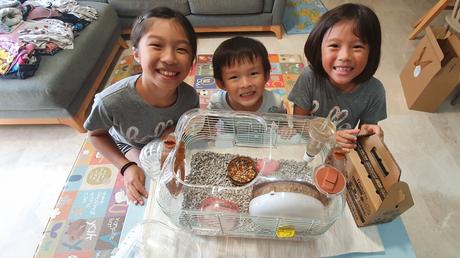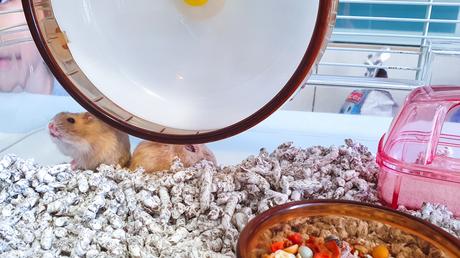 Last but not least, we did something very special on New Year's Eve and that is.... getting the girls their birthday presents! They have been waiting for this for the past two years but we wanted to wait till the moment is right. Here's presenting our two new family members - Lyra and Kyra! Aren't they super duper cute? The girls chose and named these yellow pudding hamsters themselves and are over the moon to have them in our humble home.
I guess 2020 is gonna be a very busy year for everyone but we are looking forward to it with hope and joy in our hearts. That marks the end of our December and another happy year that has passed. Till more updates in the new year, people!