We were going to highlight the handcrafted accessories items in this post for
Valentine's Day
but then we realized, these beauties could and should be worn everyday, so we decided to highlight them as such because you shouldn't have to wait until Valentine's Day to give or receive a beautiful gift. We once again bring you the unique pieces from the artisans of The Artisan Group, stunning jewelry, and one or two bath products that work very well as gift all-year 'round.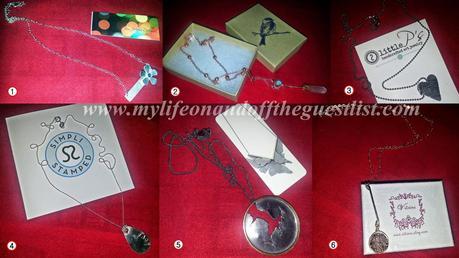 Kim Jakum Designs - a sweet necklace with single five-petaled, fine silver flower, accented with a gorgeous 3mm, blue spinel gemstone that sits on a stamped silver bar. Two words come to mind when looking at this piece - sweet, and charming.
Of Nature Designs - this stunning necklace features vintage and recycled materials. We love the pop of turquoise color against the copper, and the addition of the crystal as a pendant.
2 Little P's - love the texture of this uber-romantic Tree Bark Heart Necklace made from precious metal clay and pure fine silver on an oxidized sterling silver ball chain. Since these darling pieces are made by hand, one at a time, no two will feature the same design. 
Simpli Stamped - not only is this pretty Blood:Water Mission charity Necklace charming in its simplicity, it also benefits a great cause. 50% of the purchase price will be donated to Blood: Water Mission and help change lives
Seth Papac Jewelry - sometimes an androgynous piece sets the right tone for a look. We love this Torn Inside Circle Pendant for this unisex appeal, rugged aesthetic, and modern artistic feel. 
Vitrine - we love the elegance and femininity of this Druzy Drop Pendant Necklace and how it adds softness to the textured stone. The eye-catching druzy stone hangs from a lightly textured, 14K goldfilled stick, and delicate gold chain.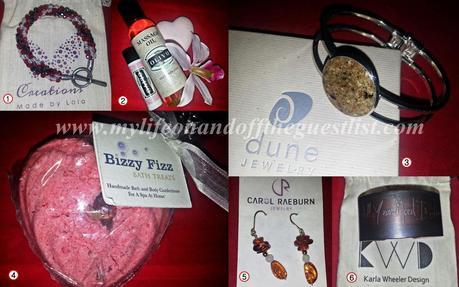 Creations Made by Lola - we were introduced to Kumihimo, the ancient Japanese form of braiding materials through pieces like this Queen Of Hearts Kumihimo Bracelet. The bracelet is made with Czech glass crystal beads in shades of red, black, and white, finished with a silver plated swirl clasp or an antique silver toggle clasp.
Oliv端 426 - people fall in love everyday, so it doesn't have to be Feb 14th to enjoy the benefits of the Falling in Love Gift Box. Make every date night special with this set which includes a massage oil (blended with rose petals), classic lip balm in Cupids Kiss (a blend of strawberries and champagne), and hand-poured goats milk soap.
Dune Jewelry - have you ever been to a beach so beautiful that you wanted to take it with you everywhere you go? Provide your own sand or have Dune do it for you and create a stunning piece like this lovely Silver Plated Sandollar Bracelet, which is set on a spring hinged cuff bracelet, filled with your choice of sand & polished to a final domed finish.
Bizzy Fizz - it may look like dessert, but this cute, heart-shaped, He Love Me fizzy bath treat will make you feel delicious. It is packed with shimmer, rose petals, milk powder, and topped with a real rose bud, just what you need to feel loved, and smell decadent.
Carol Raeburn Jewelry - if you're looking for handcrafted jewelry made with natural gemstones, you'll love this designer. These dainty Golden Amber Earrings boasts natural rainbow moonstone, Baltic Amber, and gold-filled beads and findings.
Karla Wheeler Designs - we love this All You Need is Love copper etched cuff because we can rock it as an everyday piece. To get its unusual look, it's been darkened with liver of sulfur, sanded for contrast and treated with Renaissance Wax to protect the color. A great piece every day of the year.
We continue to be wowed by the talent and passion of the artisans from The Artisan Group. We appreciate the fact that because these pieces are handmade, we can be sure to own beautiful, unique pieces. So if you're in the market for a gift for someone special, whether it be Valentine's day, birthdays, etc, start with these designers.