Looking back, it's like the year 2016 has zoomed past and we are nearing the halfway mark already! I mean, come on, I thought I just delivered my baby but look at him, he's already nearing six months old now, how can it be?
Well, in other words, I've survived being a mom of three kids for half a year now and that's probably something worth celebrating. Anyway, May was a happy month for us because not only did we cross a few milestones, we also got into the holiday spirit because we'll be going away for our first family vacation of five this week! Yes yes, we're flying off this Saturday and it'll be Asher's first flight!
So, in this month's "Happiness is...", it's all about bidding farewell to school, spellings and quizzes and getting ourselves into the holiday mood. Woohoo! Here's a look at what we did this month!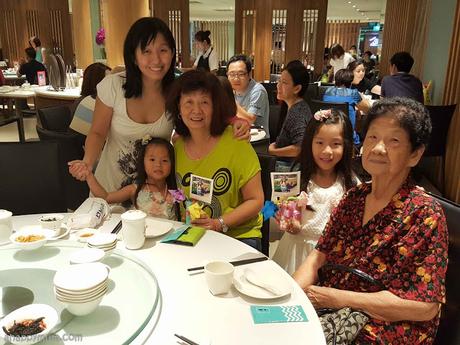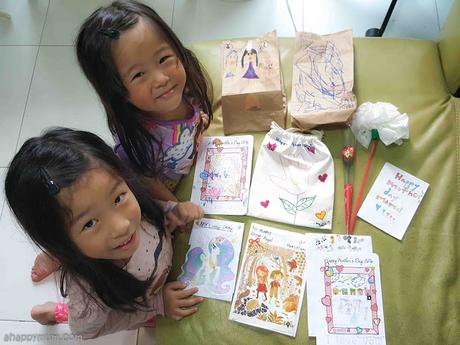 We had a nice lunch on Mother's Day with my mom and grandma at Pu Tien and the hubby even treated us to bird's nest (can't say it was yummy but it was the thought that counted)! My heart was so full of love when the girls gave me present after present, card after card and now I know how my mom used to feel when I did all these and why she would keep my handmade cards for years and years. Awww. I've said it before but I'll say it again, becoming a mom was the best thing that ever happened to me and I'm so thankful to be where I am now.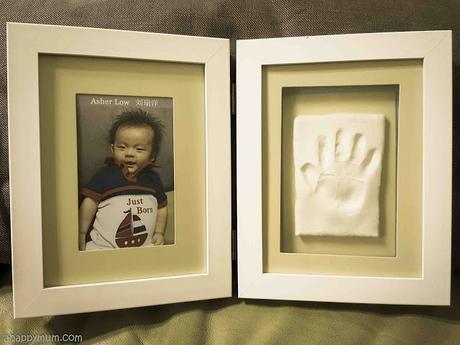 I finally got down to doing this handprint for Asher and despite doing it for a third time, it still felt so magical to see how tiny his hand was and I reminded myself that these babyhood years will fly past and I need to, simply need to, cherish them as best as I can.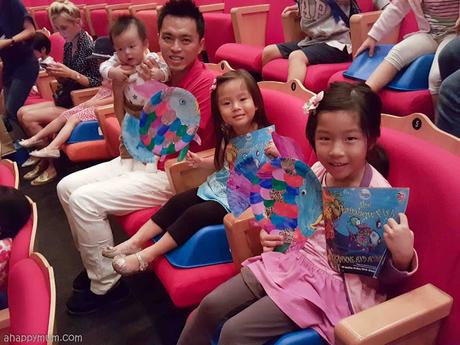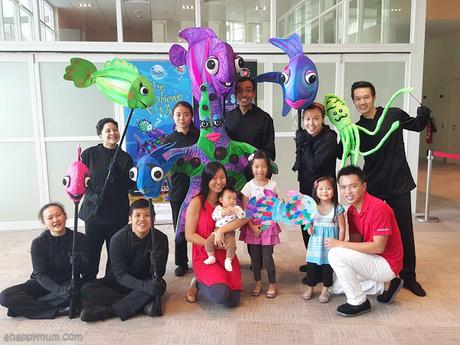 We went to watch Rainbow Fish, thanks to iTheatre, and the girls totally enjoyed the show. They also brought along their DIY rainbow fishes and were the envy of so many kids there that day (no, that wasn't my intention in the least). I felt thankful to have a husband who would accompany us to such events whenever he could, and even though he fell asleep during the show (and many other shows that we've watched), at least he was there beside us and I couldn't have asked for more.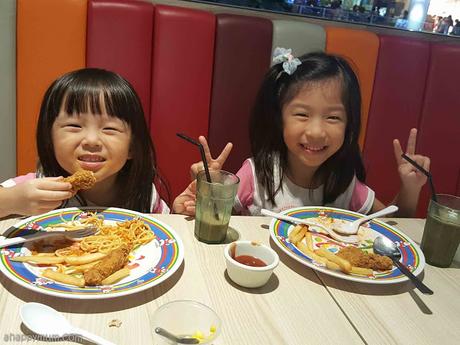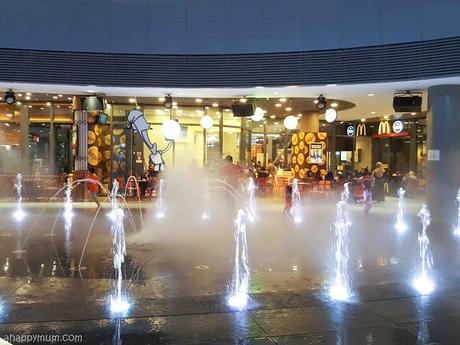 I've somewhat gotten the hang of bringing three kids out with me and even though it will always remain a challenge with the unexpected surprises (not enough diapers, poo explosions, toddler who needs to go to the toilet halfway through a meal, kids who can't sit still, forgot to bring nursing shawl etc), I can at least say that I'm starting to enjoy these nights out with my kids. We eat out, we play around, we get wet, we go for desserts, we just basically enjoy life as much as we can.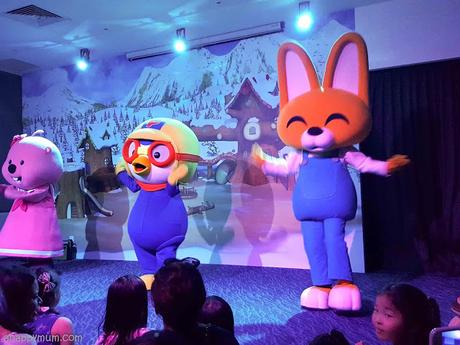 The kids also got up close with Pororo and his friends and we had a fun day hanging out with fellow mom bloggers and their kids. I've got a review coming up and tickets to give away, so stay tuned for that if you are keen to visit Pororo Park in Marina Square.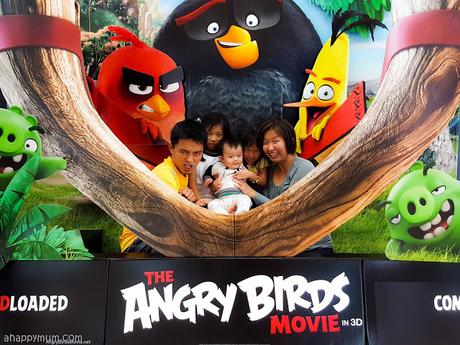 Thanks to Sony Pictures, we were invited to the preview screening of The Angry Birds Movie and it turned out way better than I expected! I love that the plot was easy to understand, I love the part about how you would fight hard and get 'angry' when it comes to your family being bullied, I love how hilarious it was and how I kept laughing in my seat, I love that my kids loved it too. In fact, I was also thankful that I managed to give away tickets to my Instagram followers and also ask for more tickets so that more of my mom blogger friends could attend too! Good things must share, right?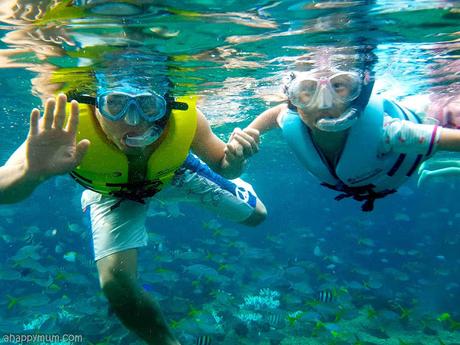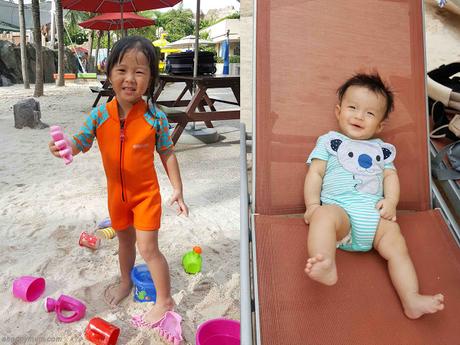 On a rare afternoon, I also managed to steal some time to catch up with my best friends while the hubby took two of the kids to Adventure Cove. Yup, he took the girls, of course, as baby has to be with me 24/7 for now. Well, I'm not complaining in the least because he's such a darling and a joy to be with. We managed to join them later on in the afternoon (we had free tickets, so we needed to use them up as they were expiring!) and I was so happy to see that the big girl was not scared on her second snorkeling attempt! It was definitely worth the 40-minute queue and I'm pretty sure my hubby is very looking forward to teaching the kids to snorkel and even dive when they are a bit older!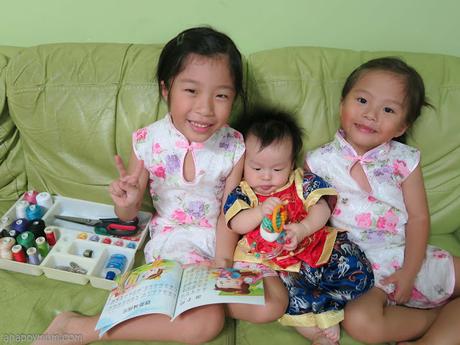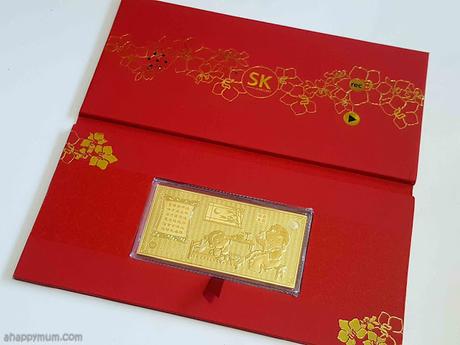 Remember the kids recited the poem 游子吟 for Mother's Day and we shared a video we did as part of a collaboration with SK Jewellery? I was elated to be able to receive the 游子吟 gold bar which bears an inscription of the poem and a cute picture of mother and child. This poem speaks to my heart and its deep significance on motherly love is unlike any other. That reminds me, I had better remember to teach the kids more Tang poetry and practice with them before they forget all!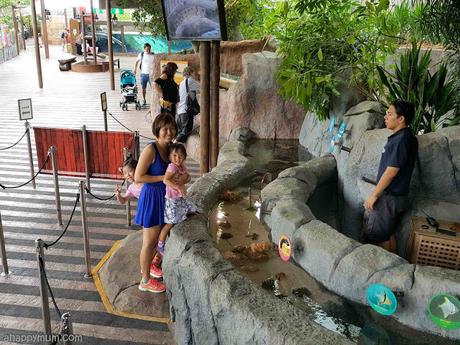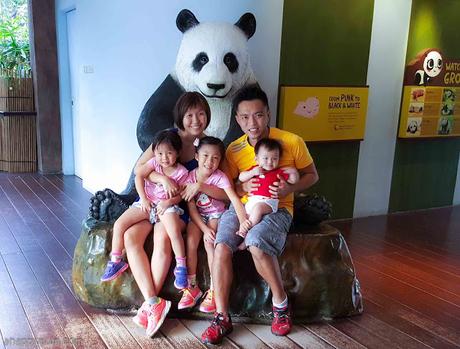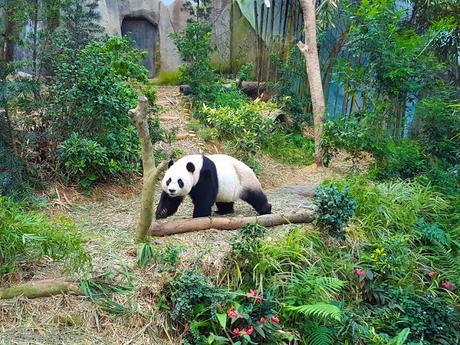 On one weekend, we made a trip to the River Safari, much to the delight of the kids. We've been here so many times now but it seems like their excitement and joy whenever they are in this place will never subside. We touched sea cucumbers, we posed like tiger fishes, we ate the Panda Pau, we tried to spot angel fish, and best of all, it was the first time we managed to see Jia Jia so closely and her good mood that day was infectious and made all of us smile.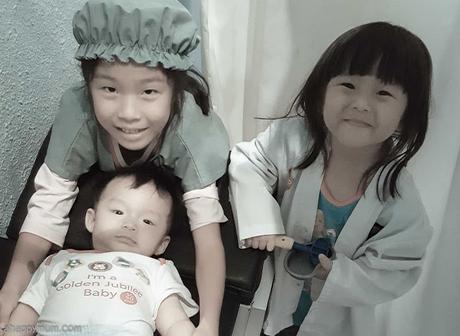 Some friends think I am crazy to bring the kids on the public transport and travel all the way to Jurong East so that we can visit the Science Centre. It's never easy and I'm usually in the limelight on the MRT, especially when the girls get too loud and when the baby acts up. I can't count how many times passers by stop to ask me if all three kids are mine or if I'm really alone and have no husband or helper or in-law with me. It's funny to always hear them saying I'm an awesome mama when they don't even know me and all they see is me being out with my kids. Well, I do think they will totally change their mind when they see how I can flare up and lose my temper or use up all my patience when I'm home too. Which is why I always think being out is a much better option because I have the world to help me occupy, entertain and at the same time teach my kids. Anyway, we went to KidsStop one day when the big girl had no school and with a stroke of good luck, the hubby managed to end work in the late afternoon and so we even hopped to Westgate after that. We ate Tim Ho Wan for the first time ever (I loved it, especially the crispy pork buns and laksa wanton) and let the kids continue playing at the playground till late at night. Might as well make the most of the trip, right?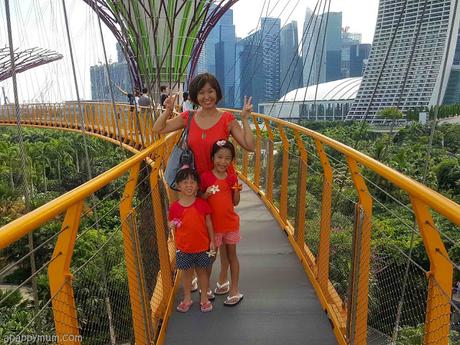 Since we became Friends of the Gardens, we've been wanting to visit the OCBC Skyway but didn't get a chance to because the queues were always long. So, on a Saturday afternoon (yes, a hot and sunny afternoon), we made our way there and were thankful to be able to take in all the awe-inspiring views.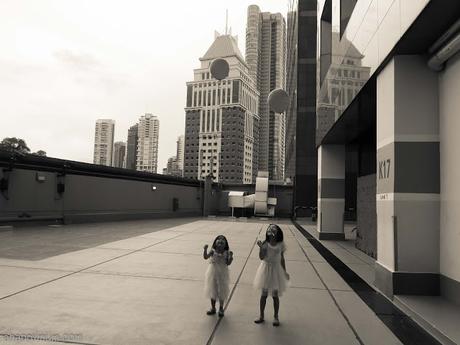 I'm not sure why but we've managed to get hold of free helium balloons more than once this month, which you can expect, totally delighted the girls. On one occasion, the daddy had to ask them to release their balloons into the sky as our car was too full and they did so, albeit a little reluctantly. Another time, we had a total of five helium balloons left behind by a couple where the guy had just proposed to the girl. Can you guess what I did? Well, I tied them down to the stroller and lugged all of them home on the MRT, in addition to our bags and the kids. Yeah, I told the hubby afterwards and he thought I was crazy.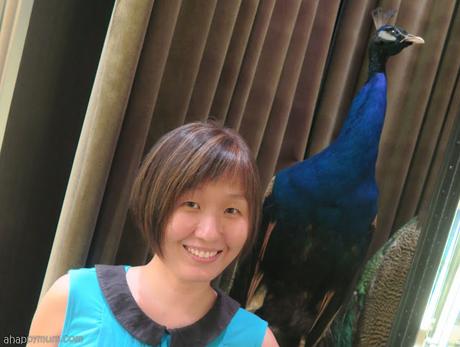 Oh, you know by now that I chopped off my hair, right? A lot of it. I'm actually loving my new hairstyle so much that I wonder why I did not do it earlier. For the first time after eight long years, I also coloured my hair! I honestly think my stylist and technician at Kim Robinson did an awesome job and I'll share more about my experience soon!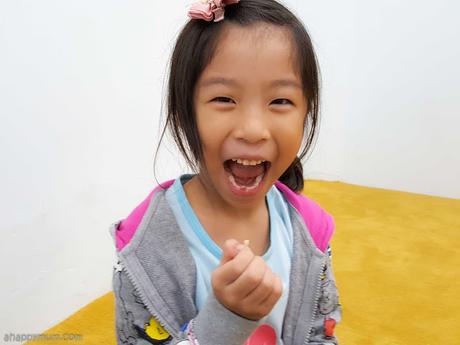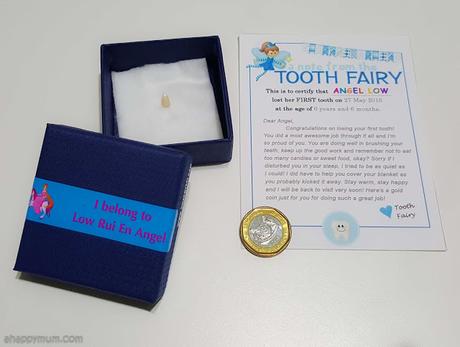 The big girl also finally lost her first tooth at 6 years and 6 months of age! Woohoo! Before it happened, she had already listened to her friends as well as read up on books about tooth fairies. So it was only right that her dream should come true and she got a surprise visit from the tooth fairy. who took away the tooth from underneath her pillow and left her a gold coin and a note instead. This girl was so, so, so happy the next morning and exclaimed "So cool!" and went around telling everyone the tooth fairy came but she didn't manage to see how she looked like. Oh well, one day, I'm sure you will, my darling.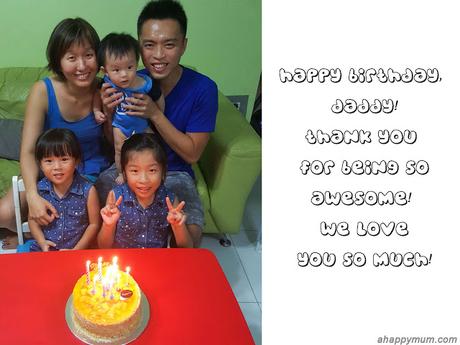 Last but not least, the hubby also turned a year wiser over the weekend. He had a night out celebrating with his pals and the next day, we went to watch X-Men Apocalypse and had a family reunion at our house. The girls presented him with their handmade cards and I hope that made his day. Happy birthday, my dear, don't worry you still look the same as the day I met you 14 years ago! Thank you for being our wonderful hubby and Daddy!
How did the month of May go for you?