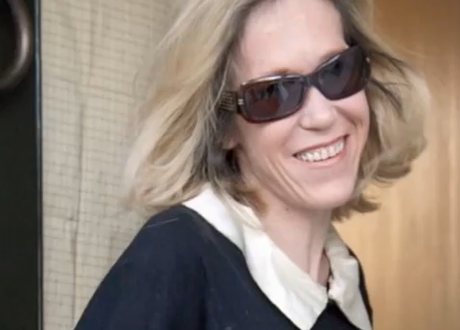 Eva Rausing. Photo: http://youtu.be/ZT_bf-l6rVM
The background
TetraPak heir Hans Rausing this week confessed that he'd been unable to cope with the reality of his wife Eva Rausing's death. He used a deodorising powder to try to mask the smell of her corpse, which he left under clothes and black plastic bags. He has, however, avoided prison for the offense of delaying burial and will have to attend a private hospital for two years.
Eva Rausing's body was found after Hans was discovered driving erratically by police, under the influence of drugs. Her body was kept in an apartment only used by the Rausings, and the door was sealed with industrial tape. Hans Rausing's QC, Alexander Cameron, told Isleworth Crown court that Rausing didn't remember what happened after his wife's death, and couldn't face telling anyone she'd died. He accepted he'd acted in a "cowardly" manner.
"I know it sounds selfish but I just didn't want her to leave," said Hans Rausing when confronted about the corpse, quoted on The Daily Record.
Rausing isn't the only person to have kept quiet about a corpse.
Linda Chase
Linda Chase, a 71 year old woman in Michigan, kept the mummified body of her friend, Charles Zigler, in a chair, for two years. The body was kept dressed and clean. Chase said that she didn't want to be alone.
Count Carl von Cosel
In 1931 in Florida, a young woman called Elena Hoyos died from tuberculosis. What happened next was not entirely conventional: her stalker, a chap who called himself Count Carl von Cosel, embalmed her, and buried her in a mausoleum; he later stole her body, and kept it in his house. For seven yeras. He replaced her decaying flesh with wax, plaster of Paris, and wires. He even slept next to her in bed. When he was busted, it didn't stop von Cosel – he carried on writing about her till his death in 1952. And you know what they found next to his body? A wax dummy of Elena. Life size.
Jean Stevens
A Pennsylvania woman, Jean Stevens, is a 91 year old widow who kept the embalmed corpses of her husband and twin sister in her rural house in Wyalusing. "I think about them all the time," Stevens told The Associated Press, "and I always will." The corpses were taken away from her; but authorities said she could have them back if she kept them in a vault above ground. Because keeping them below ground would be weird, huh?
Eva Peron!
Of course, bodies can have totemic properties. That of Eva Peron was preserved at great cost and carried around in secret. Three years after she died, her body vanished. It was embalmed, don't worry, and carted around as an object of veneration; then taken to Italy, and eventually ending up at her husband's house.  And if you want to see philosopher Jeremy Bentham's preserved corpse, then you can – he asked for it to be put on display in a cabinet, and so it has. It's in University College London.