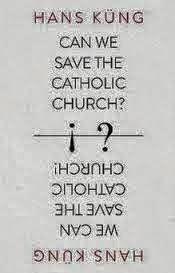 Hans Küng, 
Can We Save the Catholic Church?
(London: William Collins, 2013), on what makes a church a church — at the most fundamental level of all:
Without a concrete and consequent return to the historical Jesus Christ, to his message, his behavior and his fate (as I described it in my book On Being a Christian [1977]), a Christian church — whatever its name — will have neither true Christian identity nor relevance for modern human beings and society (58).
And: 
All reforms have to be measured against the central benchmark of the Church, against the historical Jesus as we come face to face with him in the New Testament: the Christ of the Christians, inimitably present in the outlines of his Gospel, his behavior and his destiny, notwithstanding all attempts at critical deconstruction (253).