Taking my weekend back I traded a night out on the tiles for a sightseeing day in Hankou, Wuhan. During July 2015 I spent a little time in Jianghan District but I wanted to take some time to look further into Hankou Bund and the nearby Riverside area. I was schooled beyond belief about Wuhan's expansion into a trading powerhouse, I was about the British Concession!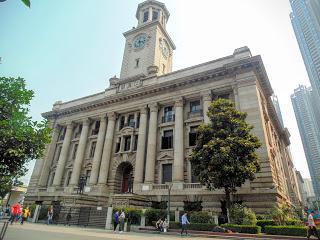 Forgive me but I didn't feel an Oriental vibe as I checked out Wuhan's Hankou Customs House, the former headquarters of Wuhan's booming import and export empire. Beginning its life on January 1st 1862 by a British man, T. Dick opened this trading house to help unleash Wuhan as a key trading hub during those early imperialistic years. I had passed this Wuhan sight too many times before making it my mission to see what secrets lay behind this regal looking Customs House. Nowadays, I'm not sure where the dealings of Wuhan's modern trade take place but the former Hankou Customs House sits beneath an imposing complex of high-rise apartment blocks, it definitely provided a striking comparison. Opened as a museum during late 2015, I knew that Jianghan would require my attention once the weather brightened up, Wuhan's central location provides some awful weather! Yes, Jianghan District was British!
Along with Tianjin and Shanghai, Wuhan was chosen to become a trading empire under a special treaty after the Second Opium War, I made it my mission to read up as much as I could about the history of Hankou and the early formation of Wuhan as those three Hubei mega-towns began life as a trio before they joined forces. Taking my time to appreciate the restored Realness of Wuhan's Customs House I was appreciating the stature Hankou and the surrounding Wuhan City possessed. The period features of the Jianghan Customs House gave me a feeling of European classic, throwing shades of a British style that I saw in Shanghai along it's very own Bund. Irrespective of the differing views of Wuhan's phase of British rule, it's evident to see that 154 years later Hankou and the rest of this Hubei province capital has prospered beyond belief. Jianghan District was showing me so much more than it had done before, I was definitely proud of being British! Oh, Jianghanguan serves on!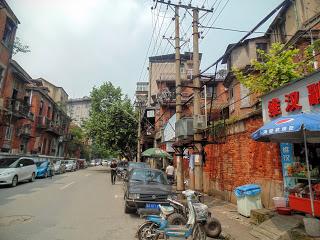 Hankou's Jianghan corner is famed for Jianghan Road, a nonstop pedestrian shopping street that maybe great for some but I'm not one for shopping all the time! After stopping for lunch following my Jianghan Customs House museum visit I was in hot pursuit of Poyang Street. Away from the bright lights and crowds of Jianghan Road, it's not difficult to find an historic kind of Jianghan District that presents something from a former Hankou moment in time. Searching for some Realness on Baidu Maps, Poyang Street looked to be the avenue within Jiaghan's Riverside District for me! Still inhabited by Wuhan City people that vintage Hankou street gave me life, I loved the rustic feel of this hidden Jianghan gem. A previous visit to Hankou's nearby Jiang'an District showed me a slice of Urban Decay, Poyang Street had me in the same head-space for certain! Oh WUH, I definitely felt another colonial vibe!
The local city dwellers of Poyang Street must of thought I was crazy to be snapping away with my camera, I was loving the sunshine and sights too much to care that beautiful Sunday afternoon! Staying within the former British Concession, my mind couldn't help but run wild as some of the abandoned buildings looked old enough to have been part of Wuhan's British influence. It was insane to think the craziness of Jianghan Road was less than a five minute walk away from the uncomplicated vibe of Poyang Street, I'll only be going back to Jianghan Road when I use the Wuhan Metro to get my ASDA milk from the Walmart superstore. Yes, ASDA milk in Wuhan, China! As I came to the crossroad with Qingdao Road I noticed a huge restoration project was powering ahead, I hope that development gives me another reason to see Poyang Street again?! Poyang Street took some digging, nothing good comes easy so that slice of Urban Decay was worth it! Go, Jianghan!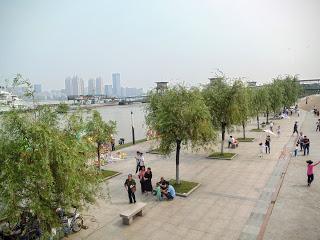 Take me to the river! Taking a break from my Jianghan District mission I took a rest alongside the banks of the mighty Yangtze River. Hankou's Beach Park was heaving with all sorts of Wuhan folk, from families who's children were flying their colouful kites to fashion forward young professionals, it was the perfect environment for all! That June afternoon had reached thirty degrees, that city Riverside view helped chill things out. I had been to Hankou's Beach Park before but I hadn't experienced such good weather within the Jianghan section, the Jiang'an section back in January 2016 was as cold as ice! The concrete design may overpower the plant-life but I wasn't going to complain about my Yangtze view, that mega waterway was working hard that afternoon with countless vessels passing by, it only added to the nonstop atmosphere that Wuhan owns! Summer, hurry up already! Now!
I'm nearing my first year spent living in Wuhan, China, during that time I have been extremely lucky to hop on the Wuhan Metro to spend time along the Hankou Bund at the Beach Park alongside the Yangtze River. Almost like when I lived Newark, NJ I would jump on the PATH Train to New York City, I'll always be grateful for these opportunities! The Yangtze never stops, owning the fast paced waters this Chinese waterway fills the Wuhan section with a number of cargo and passenger vessels everyday, with hopes of a new super inland port, its an exciting time to see what new trade this gargantuan river will see?! When the sun bothers to shine along Jianghan's section of the Beach Park everyone comes out to relax and to spend time with their friends or family, I have to say that whether its night or day there's always a relaxed mood as this frantic city pushes onwards. There's no doubt in my mind that within Jianghan District this is one of my top places to take it easy! Zǒu!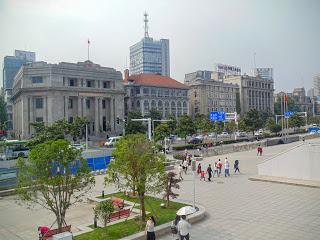 Hankou's Jianghan District makes up just one part of the Hankou Bund, primarily showcasing the buildings of the former British Concession. Being a citizen of Great Britain I always relish the chance to capture a piece of history that dates back to the days of the British Empire, we may not of been popular for our unorthodox methods of colonization but Hankou's Bund within Wuhan's Jianghan District looked as regal as ever to me. Once the playground of the British, American, Russian and Japanese diplomats and traders this prominent Riverside facing boulevard has a line of worthy buildings that still look on-point today! Casting my mind back to my first five days spent in China, I marveled at the elegant Shanghai Bund, it served a sense of Liverpudlian Realness as it resembled the striking waterfront historical buildings. Hankou Bund stands in a league of its own for we've all got to serve uniqueness WUH!
Jianghan, Hankou showed me that Wuhan has many hidden depths, ranging from a controversial trading history that paved the way for it's modern day successes in this Chinese city! Jianghan was schooled to make the best of its waterfront location, the Yangtze River was taken to new heights with the influence of foreign interest that called Hankou their home for many years. A new museum had been fashioned at the Hankou Customs House to educate people about the vast history and the future of this progressive Central Chinese city in Hubei Province. Turning back the hands of time I adored the Urban Decay of Poyang Street and I do hope to see more historical gems brought back to life in the near future! Rolling on a river, the Beach Park showed me another section since my previous Jiang'an District visit! The bright lights and department stores of Jianghan Road may glow nicely when the sunsets, I'm all about the historic charm and nonstop energy that Jianghan owns!
I'm Living For Jianghan!
Joseph Harrison