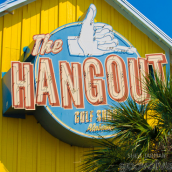 Written by Lindsey Jo Hand
Picture by Shea Jarman/Groovelive Photography
Hangout Music Fest, one of the Southeast's largest music festivals held in Gulf Shores, AL, has a stellar line up for this year including headliners Stevie Wonder, Tom Petty and the Heartbreakers, and Kings of Leon. Aside from unbelievably amazing headliners, the lineup of this year's festival includes three days of music bliss from the Yeah Yeah Yeahs, Macklemore & Ryan Lewis, Imagine Dragons, The Shins, Trey Anastasio Band, Passion Pit, and so much more. If three days of amazing music isn't enough, the Kick Off Party on Thursday, May 16 will give attendees one extra day of festival activities with acts including Umphrey's McGee, Benny Benassi, and Lotus. To view the full lineup, click here. If you haven't gotten your tickets already, time

is almost up!
If you are unable to attend, MTV, VH1 and CMT will livestream from the festival and will provide on-stage and backstage access and news coverage that will give viewers an unparalleled look into festival activities. Fans at home will have access to their favorite stars and up-to-minute updates on festival news.
The festival's music performances will take place across five stages — including two located just steps from the Gulf of Mexico. All fans will enjoy access to extraordinary amenities including: the comfortably shaded relaxation area, Hammock Beach; the Sky Bar tower, which offers 360-degree views of the festival; amusement rides and games; diverse dining options, including fresh Alabama Gulf seafood; and much more.
VIP pass-holders will reap such prime upgrades as easy access to the site through special entrances; prime viewing areas, including swimming pools with views of the main stage; a shaded VIP Grove with complimentary beverages as well as private, air-conditioned restrooms; and more. Super VIPs will also receive 24/7 concierge services; access to a private, air-conditioned dining room and lounge featuring exclusive meals; admittance to the Pre-Fest Party; golf cart chauffeur service; priority on-site lodging reservations; and more. For the ultimate experience, "Big Kahuna" pass-holders enjoy all of the above, as well as on-stage access for many performances at the main stage.
Festival attendees are strongly urged to avoid traffic by taking advantage of the easy and fun way to get in and out of the festival, the Hangout Music Fest shuttles. Due to overwhelming demand, the "Golden Shuttles" will be back and offering even more exciting prizes than last year.
WHEN: May 16, 2013 (Kick Off Party) and May 17-19 (Music Festival), 2013
WHERE: Gulf Shores Alabama
TICKETS: $229-General Admission; Click here for General Admission tickets; Click here for more information on VIP Ticket packages.