Save energy and effort in the kitchen




Let the dishes dry themselves!


Little know outside of Finland is the Dish Draining Cabinet. It's a simple idea really, after hand washing the dishes normally we then grab a tea towel and dry each item individually before putting it away. The other method is to leave all the dishes stacked in a rack on the draining board of the sink.
My better half really hates it when I don't finish the job and dry the dishes, put them all away and leave the kitchen benches and sink clean and bare. This fantastic Finnish Invetion could be the ideal solution to the problem.
The dish draining cabinet is a simple cupboard that is mounted above the kitchen sink normally. It combines the normal appearing exterior of an overhead cabinet with draining racks instead of solid bases to each compartment.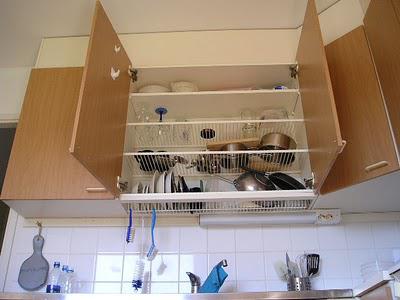 A bloke from Finland called Maiju Gebhard invented the "astiankuivauskaappi" in the 1940's. At the time he calculated that the average amount of time drying dishes by hand throughout a lifetime was a whopping 30,000 hours.
Probably not commercially available outside Finland, But any half capable DIY type could soon enough bang up a dish drying closet with an old kitchen cabinet and a few wire racks.
You can see more photos here and here. You can go and read about the dish draining closet on Wikipedia, If you're really exited about this, become a fan of the astiankuivauskaappi on Facebook. You can also see the setup in use in Italy.
There is a thread discussing the whole idea and availability here: http://www.ikeafans.com/forums/ikea-hacker/22946-dish-drying-cabinet-over-sink-escurreplatos-scolapiatti.html