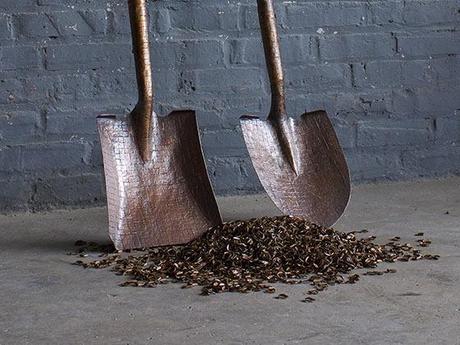 Stacey Lee Webber, Detail, The Craftsman Series: Shovels, 2011, pennies, Courtesy of the artist
Now that winter has descended on DC after a two year hiatus, it's time to come inside. Tomorrow evening's Handi-hour at our Renwick Gallery features 40 under 40 artist Stacey Lee Webber who joins out team of "craft-tenders"! We'll be making jewelry and other accessories using one of Webber's preferred mediums: pennies. She has pounded and punched hundreds of pennies for this event, and we can't wait to see what you create with them.
While you're penny pinching, enjoy craft brews hand-picked by Greg Engert, beer director at Churchkey, while listening to the vocal stylings of Brad Pugh of Practically Einstein. The date is tomorrow, January 23 and remember, admission is limited; $20 at the door, cash only, and includes two drink tickets, snacks, and all you can craft. Ages 21 and older.
Hope to see you there! And, no one need pay with all pennies. We've got enough waiting for you inside. 40 under 40: Craft Futures runs until February 3, 2013.