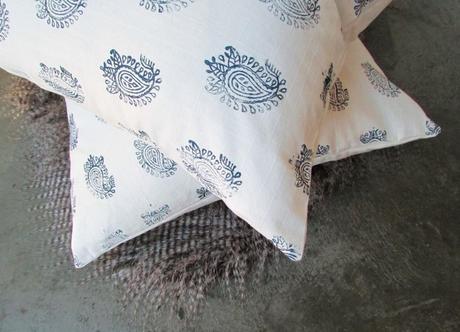 Beautiful textiles will always be one of those things that can make me swoon, and the giant bin of neatly folded fabrics I'm hoarding in our closet for just the right project to come along is a good affirmation of my mild obsession (or just ask Ken). Recently I've been reading up on woodblock fabric printing, and I find the centuries old, hand-carved and hand-printed process so intriguing. West Elm created a short video a few years ago (to launch their block printed blankets) which beautifully depicts the process. Click here to view.
I purchased my wood blocks from TATA Indian Wood Stamps, who source their blocks from three incredibly talented Indian artisans at fair trade prices. The beautifully carved blocks make the finished result look alot more difficult than it actually was (Thank goodness for the block carvers!) Printing a small amount of fabric (like pillow covers) at home is actually quite simple. It's really just a matter of marking where to stamp and then stamping! These were so much fun to make–probably my favorite project I've done in a while. I hope you enjoy it too!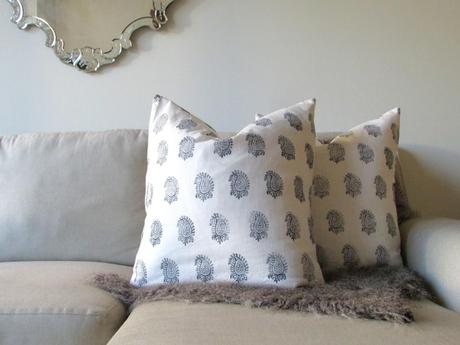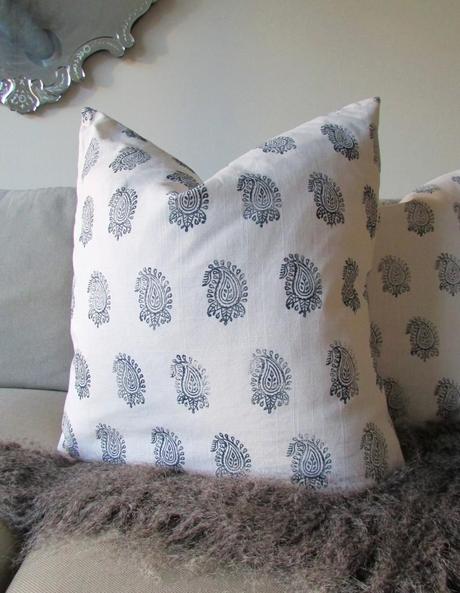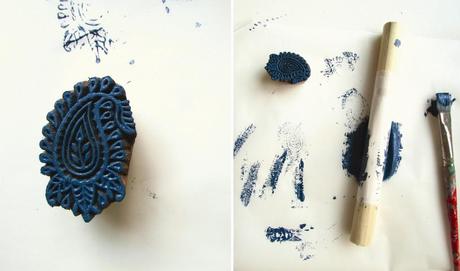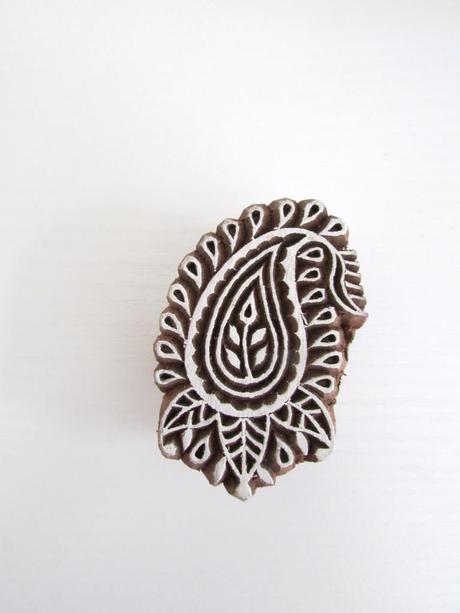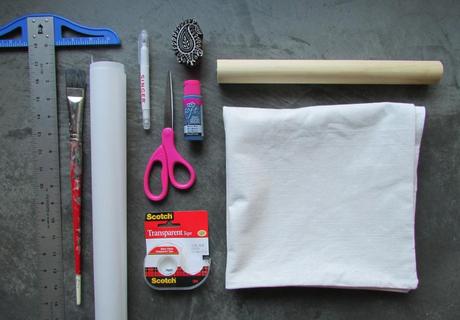 Materials List:
22″ square white linen or cotton pillow covers. I sewed the covers up from old linen drapes.
Singer disappearing ink pen
t-square
fabric paint
hand carved woodblock stamp
paint brush
ink roller OR parchment paper + 1″ dia. wood dowel + tape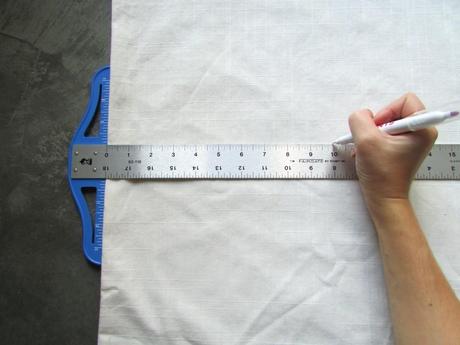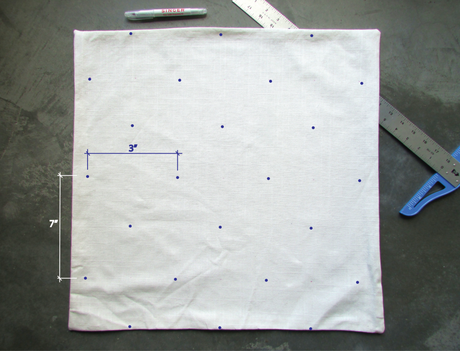 Step 1. Using a disappearing ink pen, mark where and how far apart on the pillow case you'd like your motifs to be. I chose 3″ apart horizontally and 3.5″ vertically staggered. Non-staggered motifs are 7″ apart vertically. It helps to find the center of the pillow and work outward. Even place marks on the outer edges of the pillow as you'll do partial stamps at these locations.
Step 2. If you do not have an ink roller, now's the time to make one by wrapping a 1″ wood dowel (or I suppose you could even use a rolling pin) with parchment paper and securing with tape. If you have an ink roller, skip this step!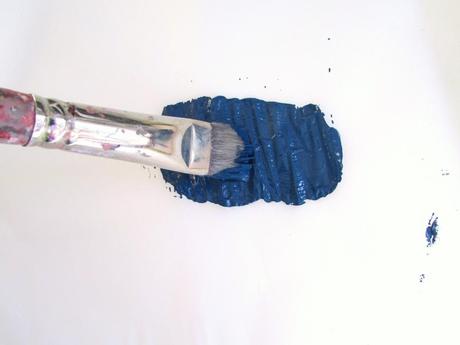 Step 3. Lay down a piece of parchment paper to use as your paint station. Secure to your work surface with tape. Place a dime size amount of paint on the parchment and use a paint brush to spread it into a thin even layer (about the size of your stamp).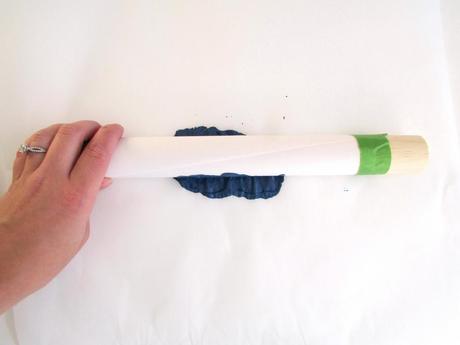 Step 4. Roll your "roller" in the paint transferring a thin layer onto the roller.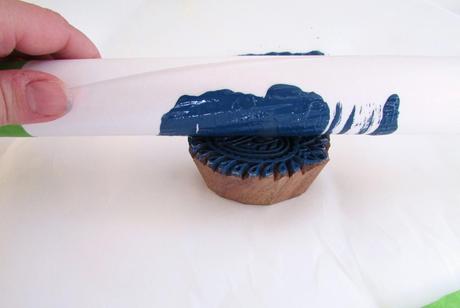 Step 5. Place your "roller onto your motif and rock back and forth until the motif is covered in a thin layer of paint.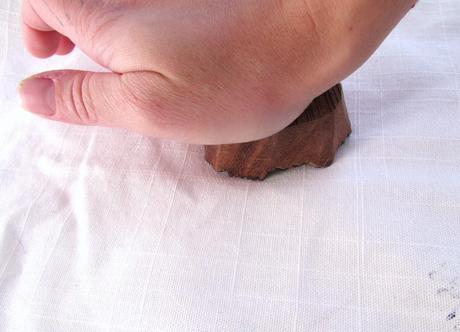 Step 6. Eyeball the center of the stamp and with even pressure, place it firmly on each of the dots you made in Step 1. Repeat until all dots have been stamped.
For the outer edges, place a piece of parchment underneath the case, and center the stamp over your mark even though only half the stamp will show up on the pillow case. This gives an illusion of a continuous pattern.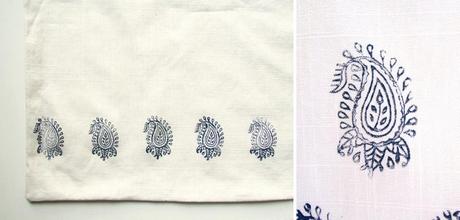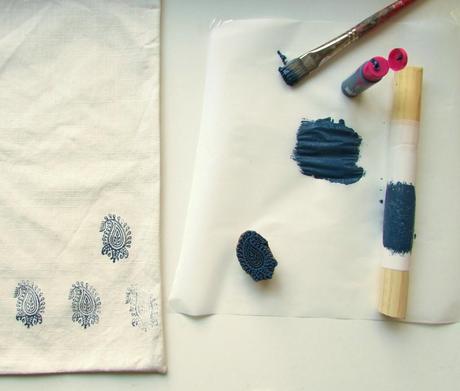 Step 7. Lay flat to dry and voila!