This is pretty funny. The Hamodia newspaper is known for being one of the newspapers that does not publish pictures of women, and also leaves out the first names of women. You will find Mrs Almoni, but never Rachel Almoni or Sarah Palmoni.
Funnily enough, in today's newspaper (Hebrew edition), there was a mazel tov placed by the newspaper to someone who had a baby. The notice blesses Mrs. G Cohen and her family on the birth of a baby boy. Very nice.
Yet, while Her name, Gili, is shortened to G, it actually says "to Mrs G Cohen, owner of Studio Gili Cohen".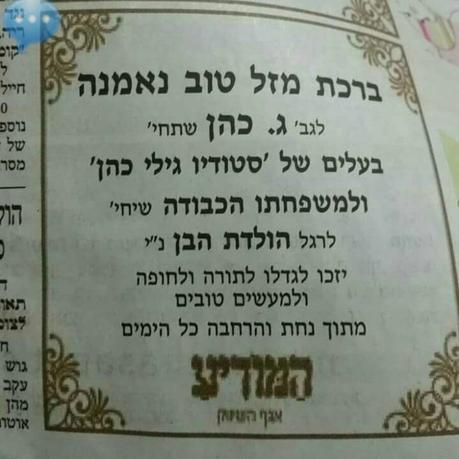 By her name they would not print her name, but by the name of her business which includes her name they did..... did they not notice? why did they not just leave the business name off it? Why not bless the husband by name and add "and his wife and family"? this whole thing is silly.
------------------------------------------------------
Reach thousands of readers with your ad by advertising on Life in Israel ------------------------------------------------------